An Office Site to See and Be Seen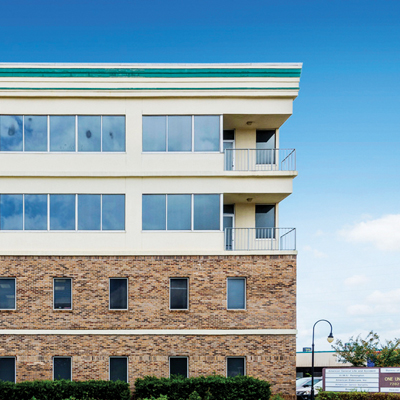 ---
In an area surrounded by shopping plazas and restaurants, this four-story brick and stucco building stands out on Plantation Road in the best way. The facade is classic with a twist, which attracts attention from neighbors like University Town Plaza and is easily seen from I-10 and I-110.
Once you slip through the doors, you are greeted with an impressive lobby that features marble floors and hardwood paneling. The office spaces provide plenty of room for tenants to conduct business.
Quick Look
Address: 7282 Plantation Rd., Pensacola
List price: $2,590,000
Square feet: 42,292
Contact: David Valletto Beck Property Co, LLC
(850) 477-7044
The third and fourth floors provide balcony access and a plethora of windows letting in the Florida sunshine. With top-notch furnishings and recent upgrades, this building is the epitome of professionalism.
"It is structurally very sound with appealing features inside and out," said listing agent David Valletto of Beck Property Company.
This office building presents a steady and still growing market, with recent redevelopment in the area by Simon Property Group. The area expects even more development to come in the future. Major nearby highways allow easy travel for clients as well as employees.
Ample parking is available with 172 parking spaces situated on .64 acres. The spacious structure has 42,292 square feet.
"It is ideal for an investor or user looking for a solid investment with plenty of upside at a very reasonable price," said Valletto.
The building is listed at an irresistibly low price of $2,590,000. The building was constructed in 1989, and qualified tenants will be considered for improvements.
With an ideal location and eye-catching structure this office building won't stay empty for long.