An Airport is A Major Selling Point for Bay Economic Development Alliance
Focusing on Aviation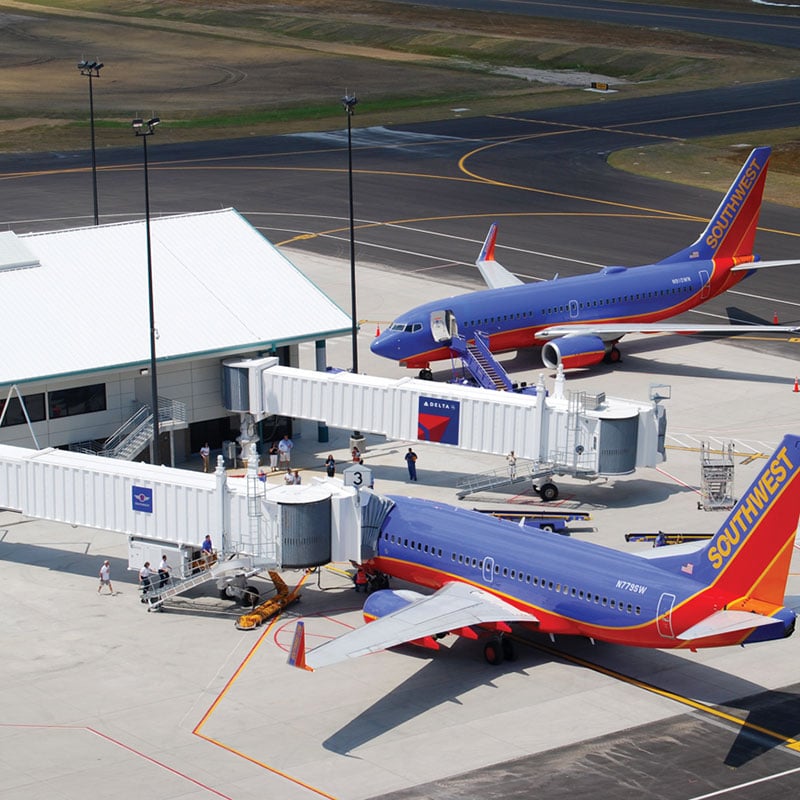 Becca Hardin would love to score home runs, but right now she is completely happy with getting singles and doubles in her efforts to help Bay County's future economic development.
"We had to reevaluate what makes sense for our county," she explained. "The big projects are few and far between. So for the past year we've focused our marketing efforts on what makes us different. Our key focus now is on aviation and logistics."
Hardin, who took over as president of the Bay Economic Development Alliance in January 2015, has spent a lot of time on the road going to trade fairs and international air shows and meeting with aviation company leaders. The EDA has even hired an aviation consultant to help set up one-on-one meetings, especially with those companies that focus on aircraft maintenance, repair and overhaul.
"We've got great project activity targeting the airport that could range from 100 to 500 employees," Hardin said. "People are starting to know us. We have an airport with a 10,000-foot runway and a port with access to Cuba. We tell people all the time that economic development is a marathon, not a sprint. And the increase in activity tells us we are gaining traction."
Opened on May 23, 2010, Northwest Florida Beaches International Airport has a runway long enough to accommodate the world's largest cargo and passenger planes and has long been considered one of the county's biggest economic development assets. The airport is surrounded by a 1,000-acre commerce park, VentureCrossings Enterprise Centre, which is owned by The St. Joe Company and offers direct runway access to tenants.
"We have sites and facilities to accommodate a variety of projects," said Jorge Gonzalez, St. Joe's senior vice president for development. "We support Becca's strategy. A sequence of well-placed singles can score runs as well as one homer."
The recession and the Gulf oil spill hindered the commerce park's early development, but ITT Exelis is leasing a 105,000-square-foot commercial facility that includes office and manufacturing operations.
"They were looking to expand and possibly leave the state," Gonzalez said. "We ended up making a case for them to stay and expand in Bay County."
This fall, Edge Aerodynamix, a pioneer in the aviation industry, is expected to get the go-ahead from the FAA to test and manufacture at the airport a new product designed to improve fuel efficiency, creating about 120 new jobs.
While there were expectations that the airport would immediately attract a host of new companies to the area, Gonzalez says St. Joe takes a more long-term view of the commerce park's development.
"We're still optimistic about what the airport might bring to the area, but it takes time," he said. "Several hundred acres have been master-planned, and the infrastructure is in place. There has been a lot of interest but, like always, it's a matter of finding the right match at the right time."
This summer, the EDA moved its offices onto the campus of Gulf Coast State College and into a building it shares with CareerSource Gulf Coast, forming a new economic development center of excellence that Hardin said will foster stronger partnerships to promote Bay County's economic future.
"We're creating synergies to show our community is focused on growth," she said. "This is the first time there is a concerted effort showing that everyone in this community wants to do great things."