AMIKids Maritime Academy
The marine environment is its classroom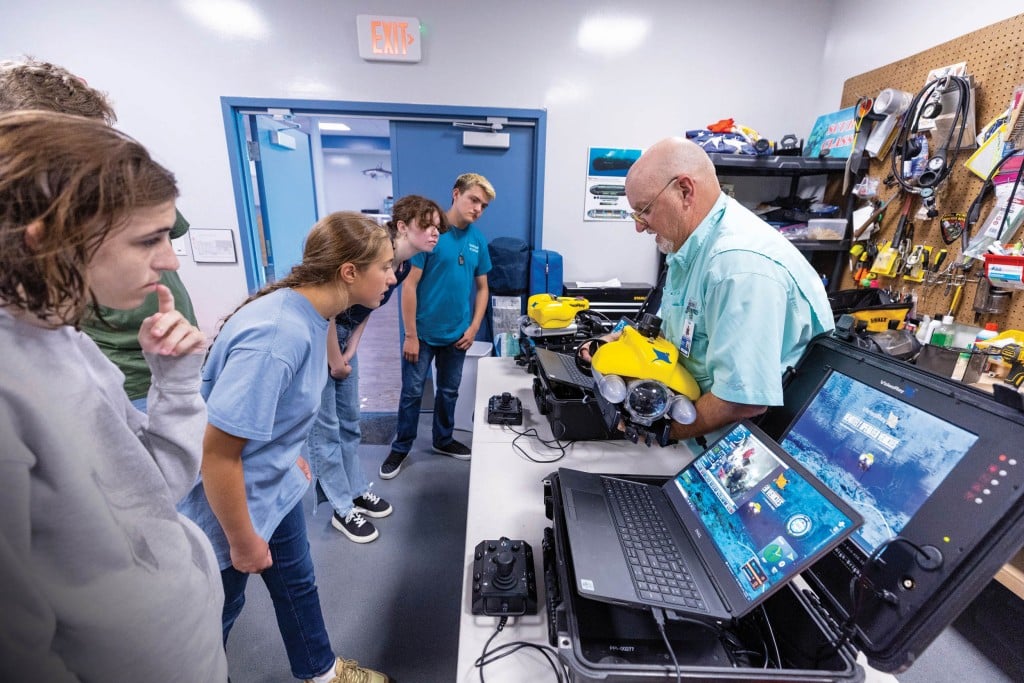 A week before AMIKids Maritime Academy welcomed a class of 32 ninth graders for the inaugural fall semester, general contractor and school chairman Lavoy Anderson was diligent in putting the finishing touches on Bay County's newest public charter high school.
He was also eagerly awaiting the arrival of two Federal Aviation Administration-approved flight simulators, the same training devices utilized by aspiring aviators and certified pilots in recurrent training. They were due to join the facility's impressive tech catalog of underwater remotely operated vehicles, forklift and heavy equipment simulators and aerial drones to prepare students for STEM careers in the fields of aerospace, military operations, construction and marine and environmental sciences.
"We're going to be heavily based in technology and the environment, which we believe are two of the most important jobs of the future," Anderson said, anticipating the academy's August start date. "What's exciting is that the curriculum is going to be very hands-on. We're offering all the important classes required for college, but, at the same time, we are going to absolutely be unique with the extra programs we have to offer these young adults."
Another reason the academy stands out from the crowd is the facility itself. Located on the St. Andrew Bay waterfront in Panama City, the school's vision is "to use the ocean as our classroom to prepare our students to be leaders for the future and responsible stewards of our environment."
According to Anderson, it's a concept that has already proven fruitful. Following the devastation of Hurricane Michael, AMIkids Panama City Marine Institute — a nonprofit that has for decades helped positively influence the development of at-risk youth in Bay County through vocational training, education and counseling — lost funding for its major day-treatment program.
To maintain its special marine education programs, PCMI partnered with another local charter high school, North Bay Haven, to facilitate its Navy Sea Cadet Program. Through that collaboration, PCMI students achieved SCUBA, lifeguard or commercial drone operator certifications. The program's success, said Anderson, was a catalyst for PCMI's charter school application.
"With the ocean as our backyard, we'll be able to teach snorkeling, SCUBA diving, first aid, water safety, sailing and our marine science lab will be going out to identify and study all types of sea creatures," AMIKids Maritime Academy Principal Jamie Vickers said. "We also are going to be doing water testing with a local grant, so several different places will transport our students to do water testing for the FWC."
Vickers, who has been an educator and administrator at the elementary, middle and high school levels for the past 27 years, said the academy will also specialize in small class sizes.
"Our goal is to have no more than 50 students in our ninth grade class," Vickers said. "With that, we can all go on a whitewater rafting trip. We've got the ability to suspend curriculum for a sailing event in the bay. There's a lot of flexibility we have that doesn't always come about in a larger school."
The smaller student body allows for critical, one-on-one interactions with instructors. Each student will be equipped with either a personal laptop or Google Chromebook, and teachers will assign video clips for their pupils to watch at home, so they are familiar with the lesson before class starts.
"Our instructors can then take their students' background knowledge and expand upon it, so they can practice what they've learned right there with their teacher," Vickers explained. "The worst thing to do is to send a student home who doesn't quite grasp the concept and have them go and do 50 math problems incorrectly. Our instructors will work side-by-side with our students to ensure they have a strong, firm concept of whatever skill they're being taught."
Applying those skills, added Anderson, is the neat part. The academy's 90-minute class-block schedule means students might learn a concept in math class, and then apply what they've learned in their aerospace class the next period. The immersive equipment and experiential labs combined with fun and practical activities provide students with a strong incentive to learn, he said.
"All of the things we're doing require you to be really good at reading, and really good at math, which are the two most essential things in life you need to become successful in everything," Anderson said. "To do the cool stuff, students are going to want to learn some of the things they might typically get bored with."
That approach is crucial for kids who might fall through the cracks of the public education system and struggle to secure jobs. Graduates of the academy will receive a high school diploma, and dual enrollment students and those who complete Advanced Placement classes might earn credit toward a college degree.
Should students not wish to pursue college, a variety of career training programs will help them get their foot in the door to high-wage, in-demand careers.
"For our construction program, we've brought in a forklift simulator," Anderson said. "Now, becoming a forklift operator doesn't sound as glamorous as going to college. But, if you apply at Walmart with a forklift certification, that's already a difference of about $5 an hour."
That forklift certification has the potential to lead to warehouse management roles as well as jobs at airports, car dealerships and many other businesses, he added.
"Our whole goal is to build a successful student, to help them prosper on whichever path they choose post-high school and have fun along the way," Vickers said. "It's the integrity of the curriculum, and the quality of our instructors that will help us achieve that."