Amazon Lays Roots in Marianna
Officials hopeful the tech giant will add more operations in Marianna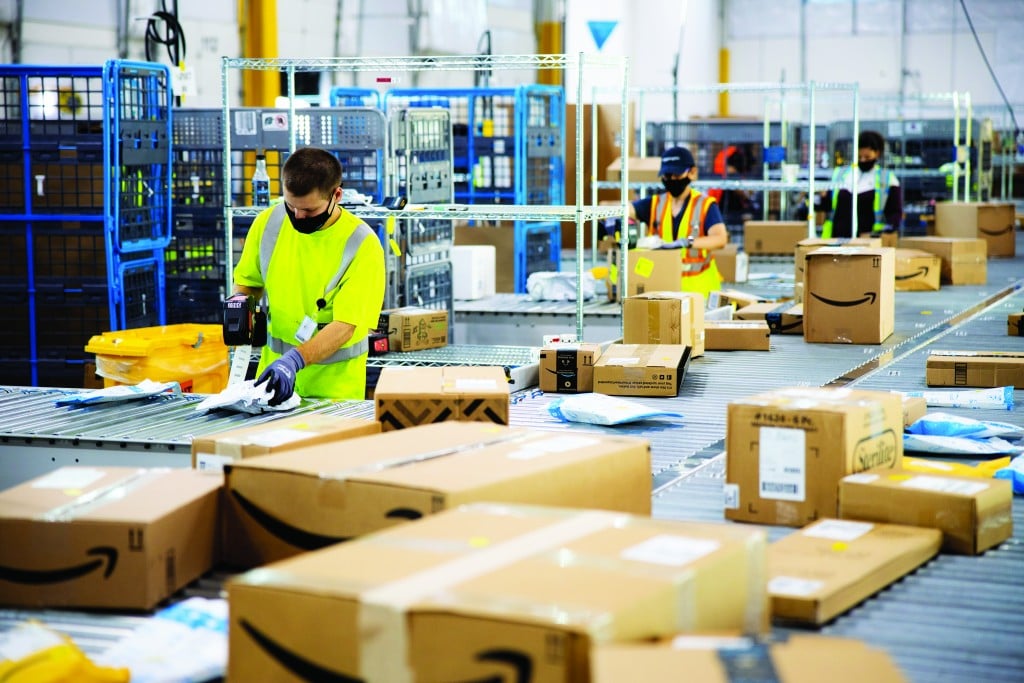 The four Amazon shipping containers stationed at 3529 Russell Road in Marianna may not look like much, but they are significantly expediting e-commerce in Jackson County.
The site is one of hundreds of Amazon last-mile delivery centers that are popping up around the country and has resulted in about ı5 new jobs locally.
Last year, Amazon announced plans to establish ı,000 delivery hubs in cities and subdivisions across the U.S. Last-mile delivery centers, as described by the e-commerce giant, receive customer orders, sort them and load them into trucks for delivery.
According to Zach Gilmore, the Director of Business Development at the Jackson County Economic Development Committee (Jackson EDC), the Marianna facility launched this February and works to ensure that the Amazon Prime service's two-day delivery promise is fulfilled.
"Obviously, Amazon has been overwhelmed from COVID," said Gilmore. "With so many more people shopping from home, they've struggled to be consistent with two-day delivery. But, because of these centers, everything is going back to form."
Gilmore said Jackson County was already on Amazon's radar. The e-commerce giant tasked local economic development teams with scouting potential sites as early as March 2020.
The nearly 20-acre Russell Road parcel proved ideal in that it already was home to a 30,000-square-foot office building that Amazon currently leases. However, it is Gilmore's hope that this space will eventually function as a distribution warehouse.
"Right now, Amazon is testing a pilot program from those four shipping containers to see if similar setups will work in other locations," Gilmore said. "The building is there in case the pilot program falls through, or if they outgrow what they're doing now. We hope it evolves to where they distribute more packages from this location and can move into that building."
Gilmore hears the program is thriving. The Marianna center already handles around ı,200 packages a day, and thanks to Amazon's Last Mile tech team, Jackson County customers can monitor orders from the moment they are placed to delivery.
According to Amazon's website, new package-tracking technology uses "solutions from machine learning and operations research-based routing and planning algorithms, our in-house maps and navigation platform, IT and hardware innovations, doorstep delivery experience and the consumer-grade native mobile apps that bring all these experiences together."
Say you live in Sneads and order some home supplies on Tuesday. Upon confirming your order, Amazon will now assign your package a delivery window via the Amazon app. It may say your Windex will arrive between ı0 a.m. and 3 p.m. on Thursday. You'll know as soon as your order arrives in Marianna and is sorted, loaded and out for delivery.
You'll even know how many stops remain before it reaches your doorstep.
Tiffany Garling, the interim executive director for the Jackson EDC, said Amazon enlists local drivers who utilize their personal vehicles and that they, too, rely on the latest Amazon technology to execute deliveries.
"Drivers use an app similar to Uber which tells them when to pick up packages from Marianna and which stops to make," Garling said. "From what I've seen, drivers are also taking pictures of where they leave the packages that then get sent to the customer. Customers can then leave feedback and let Amazon know how things went on the consumer side of things."
Attracting an international company is a great stride toward recovery for rural Jackson County, which was devastated by Hurricane Michael in 20ı8. On top of creating more jobs, Gilmore said, landing Amazon further solidifies the area as a distribution and logistics hub.
"More companies are coming for site visits now than they have in the last decade, and I think that has to do with the change in the way people are doing business," Gilmore said. "People are looking to expand their markets, and our location is ideal. I-ı0 runs straight through us, and we also have U.S. 23ı that goes south to Panama City Beach and all the way up north to Chicago."
This April, Cowan Systems LLC, a Baltimore-based transportation and logistics company, announced plans to develop a new terminal at the Marianna Airport Commerce Park. Cowan plans to initially hire 50 drivers and office workers and told Jackson EDC officials that they expect to have ı00 drivers on the road in a year.
And, Jackson County is ready for more.
Gilmore said the county is looking to capitalize on their shovel-ready sites and eager workforce. He said the county's elected officials and city managers are committed to attracting new business in any way practical.
In Amazon's case, the groundwork for expansion has already been laid.
"We're going to continue to maintain and further our relationship with Amazon and work with them in any way possible to make sure they're happy with the service they get from the county," said Gilmore. "We want to help them see what kind of talent we have here and show them, should they expand, we have the people to fulfill the positions."