Allen Boyd Reconnects With Constituents
You may recognize him from Florida's 2nd Congressional District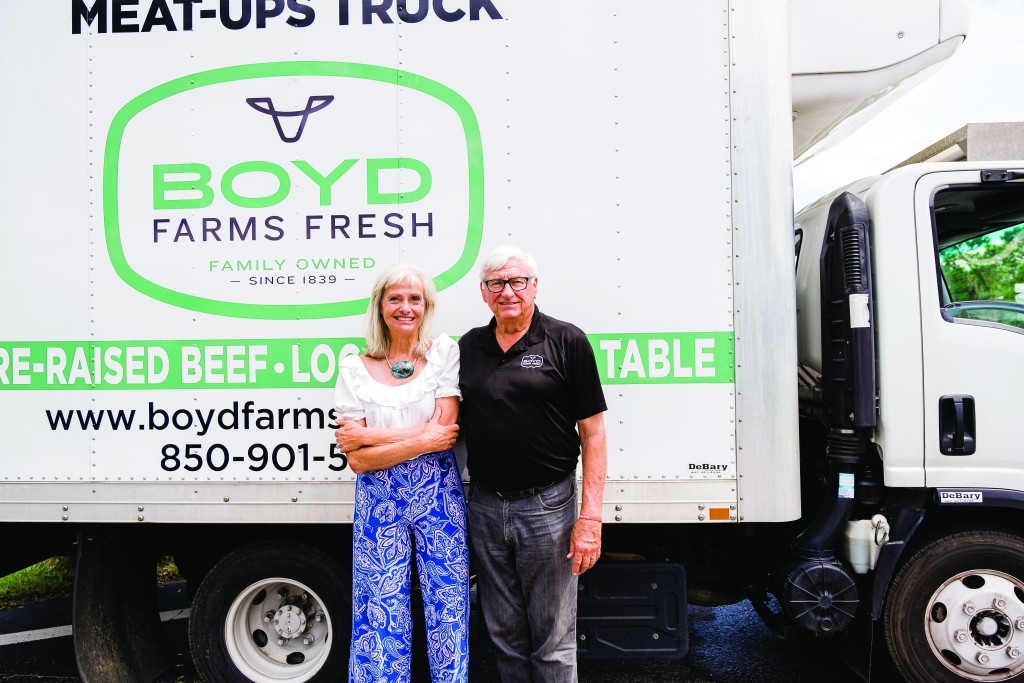 The sky was starting to spit a little bit and the farmers market, held at a green space adjoining Scipio Creek in Apalachicola, was shutting down early.
Allen Boyd Jr. gathered up some folding furniture, a receipt printer and a cash box and stowed them in a refrigerated truck that was prominent among the few vehicles remaining at the scene.
Boyd, a fifth-generation cattle rancher located in Greenville, has begun for the first time to sell cuts of beef directly to the consumer and, in the process, has eliminated several links in a traditional supply chain.
On a given day, you might spy his truck in Carrabelle, Eastpoint, Panacea, St. George Island, Port St. Joe, Panama City, Crawfordville or Tallahassee. He calls his stops "Meat Ups," and one suspects that his daughter Suzanne, a broadcast journalist turned public relations agency owner, may have had something to do with that.
"I never mean to criticize any retail grocer," Boyd said. "They buy meat in a supply chain where they can get the quantities they need. But, and most people don't realize this, when you purchase a piece of meat out of a grocery store, you become the eighth owner of that meat."
Boyd represented Florida's 2nd Congressional District for 14 years and was a state legislator for seven years before that. He has retained the same shock of white hair that made him readily recognizable during his years as an elected official. And, he still wears a blue ball cap emblazoned with a dog, a reminder of the years he spent as a member of the moderate Blue Dog Coalition while in Congress.
It's been great fun, he said, to reconnect with people from Tallahassee all the way to Panama City while running his meat route. In Boyd's system, the consumer becomes just the third owner of the beef, after buying it in a face-to-face transaction with "a guy I think I know from somewhere."
"We've enjoyed a fantastic reception," Boyd said.
The pandemic dictated the dramatic change in Boyd's business model by forcing the closure for a time of harvest plants (where cattle are killed) and fabrication houses where carcasses are reduced to steaks, ribs, loins, briskets, ground beef and roasts. Those plants are located primarily in the Midwest, Boyd explained, "because the feed is grown out there and it is cheaper to ship calves to the feed than it is to ship feed to the calves."
Florida is a state given to cow-calf operations, and when the pandemic hit, beef supplies got short, prices went up and Boyd couldn't sell the calves on his farm.
"My wife and children said, 'Dad, stop fussing about it and do something,'" Boyd admitted. "We put our heads together and figured it out."
Boyd found a state-of-the-art, USDA-certified harvesting/fabrication plant in Florida and became a member of the Florida Cattle Ranchers Association.
"We put our calves in with theirs," Boyd said. "We all feed our cattle the same way, and they go through the same feed lot and harvest plant."
Here is the way Boyd's three-owner system works …
Boyd puts bulls on cows. Nine months later, calves happen.

Cows nurse their calves, which eventually begin also to graze.

When the calves are weaned, they are moved to a finishing yard, where a contractor feeds them a high-protein, high-energy ration until they attain finishing weight as cattle.
To this point, Boyd has been the cattle's only owner. Next, he sells them to the harvest/fabrication operation. That business retains byproducts, including hooves, heads and hides, and markets them and meanwhile sells the butcher-case cuts back to Boyd. He then sells them off his roving Meat Up truck.
As involved as that may sound, it is less complex than the eight-owner chain that includes the farmer; a pre-conditioning yard; a finishing yard; the harvest plant; the fabrication house; a wholesale distributor; the retailer; and, finally, the consumer.
"Our prices are comparable to grocery store prices, but we offer a better product because of its freshness," Boyd said.
He went to his phone and showed me a video of cattle about to be loaded onto a truck for the trip to the harvest plant southeast of Gainesville.
"Those cattle were harvested Friday a week ago, and next week I will be marketing that meat," Boyd said. "And part of that time, the carcass will have been hanging to let it age a little bit."
Boyd, 76, was an Army infantry officer in the Vietnam War. He thought, but not for long, about a military career.
"I realized that what I really wanted to do was come home and farm," he said. "And when I left public life (he was defeated by Republican Steve Southerland in 2010), that was OK. Then, I got to devote more time to the farm."
For years, Boyd favored straight Angus bulls but found at some point that his calves' weaning weights had plateaued.
"With climate change, my wife and I decided that we probably needed to put some Brahman influence in our cattle in North Florida," Boyd said. They bought Braford bulls, which are a cross between a Hereford (white-faced) bull and a Brahman cow.
The Brahman breed, usually associated with South Florida, is known for its heat tolerance.
"We bought those (hybrid) bulls, and that's really worked," said Boyd, who has retained the same fascination for animal husbandry that he had as a 4-H kid who raised rabbits and chickens and had his own steer. "It's upped our weaning weights significantly."
Boyd said he thinks he is in the direct-to-consumer approach for the long haul, but the refrigerated truck may be retired.
"My children want to move to shipping rather than running product out of the back of a truck," he said in mid-June. "Next week, we will be making our first test shipments. I am sure it will go well, but shipping fresh beef has its own tricks."
Off the truck, I bought a strip steak and a bottle of habanero hot sauce. Good stuff, I can attest.
Boyd and I had promised each other we wouldn't go there, but our conversation drifted into the political realm.
"When I first came to Congress after the 1996 election, there were about 15 or 18 of us in the Blue Dog Coalition — Republicans and Democrats — and we grew it to over 50 and then in 2010 after the Tea Party movement took hold, most of the ones who went out (Boyd included) were moderates.
"When you get a national wind, the people who lose are the centrists. Not the folks that are crazy left or crazy right. They are in districts that have been gerrymandered so that they can't lose. But the moderate is always in play."
We talked about the death of bipartisanship and could have gone on for a while that way, but we were interrupted by a gravelly voiced fellow in a noisy pickup truck.
"You the guy I hear about on the radio?" he barked.
"Yessir."
"How much for a ribeye?"