Alex Sanchez Proudly Represents the Nation's Economic Engine
"The banking industry is meeting the needs of the American people."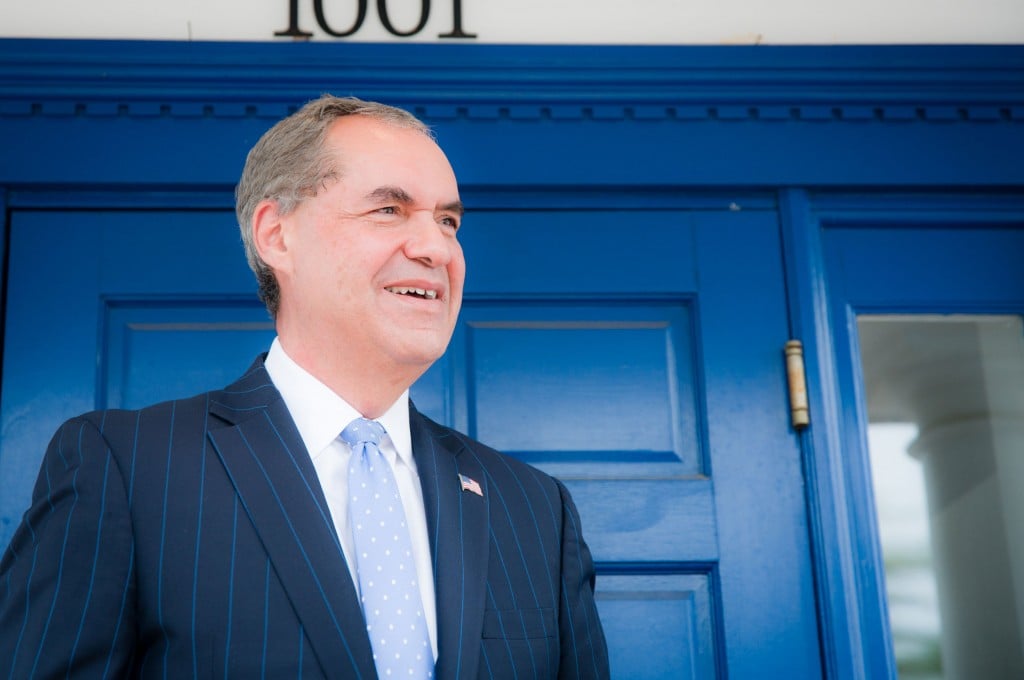 Alex Sanchez winces noticeably as he rises from a chair to greet his visitor. He is tall and welcoming and affable, precisely as I remember him from my years spent working as a bank marketer.
Sanchez, since 1993, has been the executive director of the Florida Bankers Association. He is among the most recognizable spokespeople for the financial industry in the country, is often seen on cable news programs, and is a prolific writer of opinion pieces that land in Florida dailies and the Wall Street Journal.
Cuban born, he escaped the island with his mother at age 4 on a U.S.-sponsored Freedom Flight during the Kennedy administration and has always retained an immigrant's perspective on the United States. A priest smuggled his father onto a freighter bound for Spain a year before Sanchez and his mother got out. The family set up housekeeping in the Bronx and later moved to Florida.
Sanchez is an effusive personality who uses the word, "wow," a lot. Should a conversation lag for a moment, he is likely to insert his steadfast belief that "we are living in the greatest country on earth, you know."
A military veteran, attorney, subject-matter expert, lecturer and lobbyist, Sanchez is nonetheless approachable. If you need a pick-me-up, an attitude adjustment, he's your guy — unless, perhaps, you happen to be the CEO of a giant credit union. He refrains from jargon and, in the manner of one-time "explainer-in-chief" Bill Clinton, breaks down issues with comfortable hypotheticals and metaphors.
Someone, a long time ago, taught Sanchez to frequently say the name of whomever he might be speaking to. People like that.
"Steve, look, our country is the greatest country in the world, right?" Sanchez said. "My mother, she's 90, I'm her caregiver, she asks me all the time, she says, 'If we had to leave the United States, where would we go? Great question. Think about it. Where would you go? Netflix has a great documentary on Cuba. I'm watching it right now with my wife; it's called The Cuba Libre Story. Five hundred years of history. I watch a lot more television these days than I did before COVID. But this series, it's really good."
Like Sanchez, his eventual wife Patsy also fled Fidel Castro's tyranny. As a ı3-year-old, she boarded a small boat with 25 others, including her mother, brother, father and grandmother, during the Mariel boatlift in ı980. The boat failed in turbulent seas, and Patsy was lifted to safety by a 2ı-year-old Coastie who went by the nickname Rocky and was part of the crew on a reliance-class cutter, the USCGC Vigorous.
"Rocky squeezed orange juice into Patsy's mouth and gave her apples, and she didn't even know what they were," Sanchez said. "He took a Polaroid picture of Patsy and himself and gave her his hat," the kind with the ship name emblazoned on the crown.
Patsy would keep that photo and, 26 years later, would succeed — as the product of a coincidence, many phone calls and the advent of the internet — in locating Rocky as he was about to retire from the Coast Guard with the rank of captain.
"They spoke for an hour on the phone, and he invited her to attend his retirement ceremony on his ship on the Mississippi River in Kentucky," Sanchez said. Rocky didn't expect her to attend, but she did, and when she stepped away from the crowd at the event, he recognized her. "They hugged and had dinner."
Today, Patsy, a breast cancer survivor, is a member of the Florida CareerSource State Board, having been appointed to her seat by Gov. Ron DeSantis.
"You should write a story about her," Sanchez said of his wife. "Much better story than me."
An appetite for news
As a schoolboy growing up in New York, Sanchez bought the Daily News every morning to catch up on sports.
"There was no ESPN," he said. "I couldn't find out who won the game last night by turning on the TV. There was no sports until the local news came on at 6. In those days, we looked forward to the Game of the Week with Curt Gowdy and Tony Kubek. I grew up on that. I started reading sports, and then I gravitated to the news section."
He has been a newshound ever since.
"We moved to Miami, and I bought the Herald all the time," Sanchez aid. "When I lived in Tampa Bay, I had both the Tampa Tribune and the St. Petersburg Times delivered to my house. Up here, I wasn't really a big Democrat guy, but I went to the Black Cat newsstand on Monroe Street and they had newspapers from all over the state. Lobbyists and everybody went there. I used to wait until about ı0 so I could buy the final edition of the Herald that they sold in Miami. I would buy three or four papers, the Tampa Bay Times, the Orlando Sentinel and others and read them all while riding a stationary bicycle at my house."
Sanchez finds it remarkable that his two daughters, both successful professionals, have never bought a printed newspaper.
"We need strong papers, but I don't think that is gonna happen," he said. "The news media, to me, are the watchdog of our democracy. The average person doesn't have the time to go to City Hall and find out what's going on. It's gotta be that beat reporter that writes a story and we find ourselves saying, 'Oh my god, the commissioner said that!' A commissioner from Tallahassee goes on a trip to Paris to learn about the Parisian train system and he spends $7,000, but if there is nobody to report it … ."
Well, you might have to wait until Dominic Calabro at Florida TaxWatch gets onto it.
With the Democratic Caucus in the U.S. Senate numbering 50 members and with 50 Republicans in the Senate, Sanchez was hopeful that a spirit of bi-partisanship not seen lately might take hold.
"Wow, I'm saying to myself, now they are both going to be forced to come to the table because neither side can do anything without the other," Sanchez said. "You want vanilla, and I want chocolate, well, how 'bout a swirl ice cream? But you are insisting on vanilla, and you've got a one-person majority (with Vice President Kamala Harris's tiebreaking vote). It doesn't make any sense. How 'bout if we have vanilla this month and chocolate next month? That's the great art of compromise and our country isn't there, but it needs to be."
In any event, Sanchez, while he stops short of calling himself a libertarian — he's more of a center-right guy — believes that government's role should be limited. Throughout the Trump presidency, even conservatives didn't talk much about the national debt, but Sanchez is growing increasingly concerned about it.
"In any society, you need rules and regulations," Sanchez allows. "Government has a role to play. It should take care of the needy and the defense of this country, protective services, police and fire. But banks shouldn't say I'm going to open up a bakery or a furniture company, and neither should government. You remember in the old Soviet Union when people would try to buy Wrangler and Levis jeans right off the backsides of Americans because Soviet-made jeans weren't any good?"
Unlike Sen. Sherrod Brown, D-Ohio, chairman of the U.S. Senate Banking, Housing and Urban Affairs Committee, Sanchez says the government has no business being in the banking business.
"Public banks, that's over the line," Sanchez said. "Spain got out of the public banking business 35, 40 years ago. Why would we be getting into it now? The extreme positions of either party are best left alone. The banking industry is meeting the needs of the American people."
Runaway train
Sanchez, as is his fashion, wades into talk of the national debt with a spontaneously manufactured scenario.
"What would you think if you were here interviewing me because you think I am someone important, and you learn that I owe Publix $800,000?" Sanchez began. "I buy all of my groceries on credit, I eat a lot and I buy the best and I haven't paid any of it off in years. But I know the Publix CEO and he says, 'Don't worry about it, Alex, just put it on your Publix tab.' But eventually he calls me and he says, 'Man, it's up to $800,000. How are you ever going to repay this?' "
Sanchez believes that Americans, like the grocer in his example, should be getting nervous.
"The national debt is at $28 trillion right now," Sanchez said in April. "It will be $30 trillion once the money in the COVID relief bill is spent. I am not arguing that we didn't need that bill, but what I want for people to realize is that this is all borrowed funds. Are you OK with that? Alex Sanchez passes a law that gives everyone a brand new car. Yippee! But we don't have that money.
"Our national debt when President Clinton left office in 2000 was $5 trillion. Twenty-one years later, we are soon to be at $33 trillion once we get the infrastructure bill. Is this a runaway train? When will it stop, and what does it mean to our country? What does it mean to our grandchildren? We can't just wipe out the debt. That means no one is going to buy our treasury notes. And then we're going to have to really tighten the belt. Already, the interest payment on the debt is $400 billion on a $3.5 trillion federal budget."
Sanchez pauses. Before him, neatly organized on the coffee table in the middle of the sitting area in his office, lie books about Ronald Reagan, Winston Churchill, a king of Spain, a chairman of Coca-Cola.
"Steve, this is the greatest country in the world, man," Sanchez resumed. "I can say that as an immigrant. (And as a world traveler.) I have been the graduation speaker for Bangor University in Wales. I spoke to 200 bankers two weeks ago in Edinburgh, Scotland. That's a country I go to a lot. I have lectured at the business school at the University of Edinburgh.
"They give me topics to address, but what the students really want to talk about is life in the United States," Sanchez said. "They want to know how difficult it is to emigrate to our country. I tell them I'm not an immigration attorney, but if you get a U.S. job, the company will probably help you obtain a green card. People ask me that all the time."
Sanchez, with Florida Bankers Association executive vice president/COO Pamela Ricco and executive vice president for government affairs Anthony DiMarco, have traveled to Tanzania as part of a Financial Services Volunteer Corps training program. At this writing, they are planning another such ı0-day trip to Tunisia.
The FSVC, created by President George H.W. Bush's administration, is a not-for-profit, public-private partnership whose mission is to help build sound financial systems in transitional and developing countries. Based in New York City, it focuses on combating money laundering and financial crimes, strengthening commercial banking systems, building capital markets and developing central bank capabilities.
"There were a lot of Chinese interests in Tanzania, sucking the minerals out of that country," Sanchez observed. "The Africans don't interact with the Chinese. The Chinese go back to their living quarters at the end of the day, but we had dinner with our African hosts every night. They are fascinated by America; they love American football. You make trips like that, you feel like you are an American ambassador."
Sanchez decries calls for more oversight and regulation of the banking industry in the U.S.
"The American banking system is the highest and best capitalized, strongest banking system in the world," he said. "Right now, we have the optimal blend of banking regulation and operations. And we are in the greatest market in the world. Canadian banks are strong, too, but some of the European banks still have not fully recovered from the (2008) financial crisis."
Sanchez listed federal agencies that oversee banking activity: the Consumer Finance Protection Bureau, the Federal Reserve Bank, the Office of the Comptroller of the Currency, and the Federal Deposit Insurance Corporation.
"And then you have the Florida Department of Banking," he pointed out. "We are well regulated. Let our bankers concentrate on hiring lenders, not compliance officers. That way, we can fulfill our mission, which is helping to make Americans' dreams come true. Homeowners and business owners — we're the ones that provide the capital that makes the economy go. Most people don't have enough money to buy a home. They need a loan. We all did, and you pay it off. It's a great adventure. You start a business that way. Our community banks do a great job of that because they fly lower to the ground.
"You see them at the Kiwanis Club meeting. You meet them for breakfast to talk about the business you'd like to start."
Sanchez said governors Jeb Bush, Rick Scott and now Ron DeSantis have all helped make Florida "not only a great place for business, but also a great place to live." Sanchez served as a member of DeSantis' Re-Open Florida Task Force.
"I can tell you that in working with Gov. DeSantis and his team, he was very concerned about the medical data, and that's why he reopened Florida gradually, step by step," Sanchez said. "We took steps depending on what the medical data told us was happening in different regions of the state."
Sanchez is satisfied that the approach worked well and that the state's most vulnerable residents were well protected.
"Look at New York, look at California," he said. "They lead the nation in COVID cases and they have been closed. If you are a small business owner in New York, I don't know how you survive this. Gov. (Andrew) Cuomo has raised taxes again by another $5 billion. I think the exodus of people and businesses from New York and California is just going to continue. Florida is a beautiful state, and we still have room to grow. And we are growing up vertically now. For business, whether you are selling shoes, computer components or banking products, this is the state you want to be in."
California, Sanchez said, is about to lose congressional seats due to declining population for the first time since it was made a state.
"People there are fed up with high taxes, high costs, and I think our future is bright and I thank Gov. DeSantis for his leadership," he said.
Florida's popularity and its attractiveness as a market extend to the banking industry. Big banks from elsewhere are buying Florida community banks in order to gain a presence in the state.
"Somebody approaches you and wants to know much would you would sell your community bank for and you say, 'Oh, it's not for sale,' " Sanchez began another hypothetical.
"But, Steve, you know how that goes. You've got that '57 fire engine red Chevy convertible in your driveway. It's got that cream-colored leather inside. People drive by it all the time. Finally, here comes someone who offers you seven times the Blue Book value, and you toss him the keys. That's what's happening with banks because people want very much to be in Florida."
Sanchez, then, acknowledges consolidation in the banking system, but said, too, that he is encouraged by the number of new community banks that are being established in the state.
"People should have choices, and I am doing everything I can to encourage the formation of new community banks," he said.
Popularity exacts a price
Florida's popularity is also driving up land prices and making it less possible for young people to buy a home. Do banks have a role to play in increasing the supply of affordable housing?
"Yes, but only in conjunction with local governmental authorities, and maybe state authorities," Sanchez said. "Banks are definitely a good partner, but we can't do it by ourselves. It is an issue in Florida, especially when you get into our urban core areas and coastal cities."
Everything, of course, is relative.
"New Yorkers come down and they see housing in Florida as highly affordable. The Europeans come in and buy that condo in South Florida. 'You kidding me? I love the price, it's great,' they say. But housing is an issue for Floridians and one that municipalities are going to have to tackle. I mean where does a schoolteacher or a Publix employee find an affordable house in Destin or Palm Beach? They wind up driving 40 miles one way to work."
Never will Sanchez exit a conversation with a journalist without bringing up what he considers to be an egregious fairness problem. For decades, he has been trying to undo the tax exemptions extended credit unions.
"Let's say that 70 years ago, your grandfather and my grandfather were homebuilders," Sanchez teed up another one. "Bornhoft Construction builds them for everybody, but Sanchez Construction builds them only for low-income Hispanics. The government decides to tax-exempt Sanchez because they build homes exclusively for low-income minority buyers. Your grandfather doesn't have a problem with that because, hey, he's operating in a different market.
"Our fathers play things the same way. They stay in their lanes. But I graduate from Harvard and I come back to Florida and I say, 'This is silly, why am I restricted to low-income Hispanics? I should be able to build homes for everybody.' And the regulators go along with me. They give me the cardinal blessing, and I get to keep my tax exemption."
Suddenly, Sanchez can build the same homes that Bornhoft is building and sell them to whomever he wants at a distinct competitive advantage given the tax treatment that the business enjoys. Bornhoft may be inclined to cry foul.
"In ı925, Congress created financial cooperatives so people could borrow a little bit of money to get through until payday, maybe buy an icebox," Sanchez said. "It was the St. Mary's Catholic Church Credit Union. You had to be a member there. You need three bucks for the week? Here you go.
"Now you have a Navy Federal Credit Union. Have you seen their commercials? Ran during the Super Bowl, Steve. The Super Bowl! They made $2 billion in net income last year. After they paid for their campuses in Virginia and Pensacola, their car expenses for executives, incredible salaries for the senior executive team, after all that, they still made $2 billion. I was an enlisted guy. They're not making that money off of enlisted guys. They're not making it off of officers, either. Our troops don't have that kind of money. They're hiding behind the military and financing yachts."
A tax exemption should be tied to a public purpose, Sanchez argues.
"That's been lost, Steve. Come on, dude!"
Sanchez gets up to see me out, and there is the wince again.
"Sciatica," he said. "But I'm working on making my back stronger. I do 88 laps of backstroke every morning. Great exercise."
A little sciatica. Nothing to complain about. Just gotta work through it.