Air Temp Adds Panama City to The Family
Venturing into the U.S. for the first time, the company has a lot to offer the area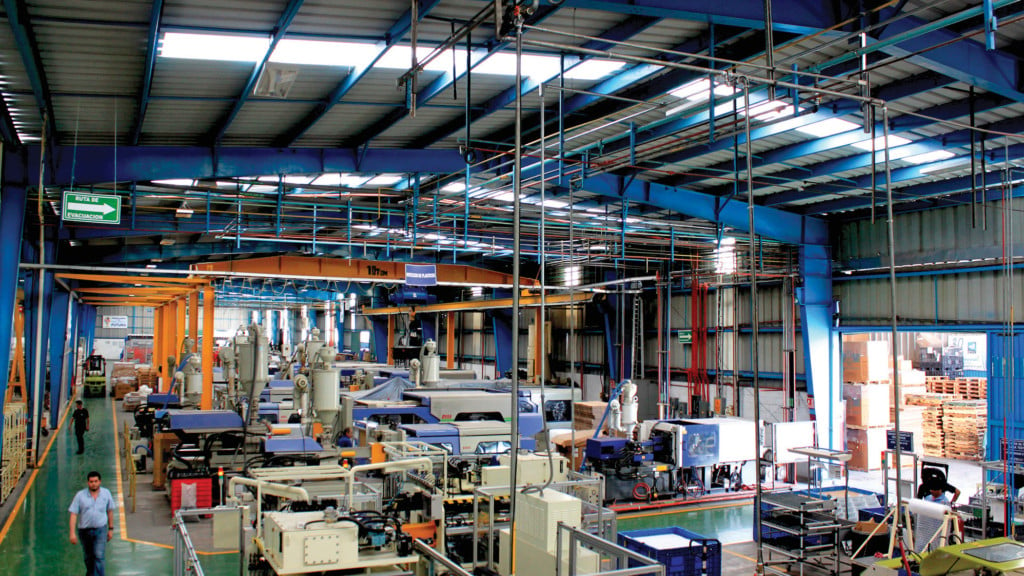 Jorge Habib Jr. surveys the storm-ravaged and otherwise dilapidated buildings that litter the grounds of a bygone printing company and he is not bothered by what he sees, so clearly can he envision what will be: green spaces, gardens, spotlights, new and bigger warehouses.
A manufacturing facility in a building that once housed German printing presses will become home to plastic injection machinery operated by a combination of robots and humans.
The plant that once produced real estate books and magazines will generate cooling components built for Volkswagen automobile engines from German aluminum.
In May of last year, the Bay County Economic Development Alliance announced plans by Air Temp de Mexico to establish a subsidiary, Air Temp of America, in Panama City.
The move came as the culmination of eight years of conversation and negotiation between the company and the EDA, a dialog that began as the product of Air Temp's relationship with Port Panama City.
The business, founded in 1982 in the Yucatán Peninsula by Habib's Massachusetts-born father, today employs 850 people in Mérida and 350 in Puebla.
Upon commencing production in Panama City in May, Habib said, the company would employ 10 people at its first U.S. operation.
Employees will be added as contracts are won and, potentially, as operations are moved from Mexico.
"We will start with the Volkswagen contract, building parts that we will ship to their assembly plant in Chattanooga," Habib said.
"Then, we will begin to offer U.S.-based production as an alternative to other customers. If they say they would prefer to have their parts manufactured in the U.S., we will bring a production line to Florida from Mexico."
Most of Air Temp's customers are automakers in Europe and the United States, but it is also making spare parts for Ford trucks.
A relationship with GM dissolved years ago, owing to its preference for dealing with global companies. Indeed, when Air Temp, aware that GM was having problems with condensers, engineered a better part and presented the automaker with a prototype, GM sent it to China for manufacture there.
Ford, Habib said, could benefit if parts were produced in Panama City, explaining that orders would be turned around more quickly and less expensively.
As a college student who studied accounting, Jorge Habib Sr. wrote a thesis on how to develop an auto air conditioning company in the Yucatán.
His wife, who owns a business that services and repairs air conditioning systems and sells after-market parts, helped him type it.
The thesis became a reality.
Air Temp was launched as a designer and manufacturer of air conditioners and heat exchangers for the automotive industry. Renault Mexico was an early customer.
Volkswagen came on board in 1987. Air Temp's product line has come to include condensers, evaporators, heaters, radiators, refrigerant gas and fans, and fan motors.
The work is exacting; tolerances are miniscule.
"A car is like a human body," said Habib, who serves as Air Temp's branding, sales and public relations executive and reports to his dad, the CEO.
"It has the equivalent of veins, a heart, lungs, a face and skin. So, our facilities should look more like a hospital than a factory."
BMW, he said, insists that its parts-makers' floors be white. No part leaves an Air Temp plant until it is tested. 
Habib, who keeps appointments, schedules and travel plans in a leather-bound calendar book, never stays in one place for long.
But, to the extent that he has developed a relationship with Panama City, he is pleased.
He praises Hardin and the EDA for its service after the sale — "It's not like they close the deal and wish you good luck," he said — and he was encouraged by Florida State University Panama City's addition of a mechanical engineering major.
He likes what he has heard about STEM programs in public schools.
"If you are going to attract big industrial employers, you have to have an appropriately skilled labor force," Habib said.
"That process must start with children. Exposure to other cultures is important. You're not going anywhere if you stay in a bubble."
Air Temp employees include some who have been with the company since the beginning. The company prizes loyalty, Habib said, and, in exchange, treats people right.
Facilities in Mexico have cafeterias that serve breakfasts, lunches and dinners.  Company doctors, nutritionists and psychologists are on site.
"We are like a large family," Habib said. "Management stays close to the employees. And, from everyone, we appreciate honesty. An employee who tells you the truth is more valuable than one who just tells you what you want to hear."
At the center of it all is the nuclear Habib family.
Habib has sisters and a brother-in-law who are involved in the company, playing roles as an accounts manager, a lawyer and a risk and investments manager.
"My father always said that he would start a business by hiring family members," recalled Habib, who started accompanying his father on business trips as a child of 8. "He could scream at us without feeling guilty."
Habib's commitment to Air Temp is solid.
"The only way anyone is going to take me out of our business is feet first," he said.