Aerospace Pitch
Sitting in the middle of a highly active aerospace neighborhood, Santa Rosa County launches a program pointing out why it's a good choice as a home for aviation-focused companies.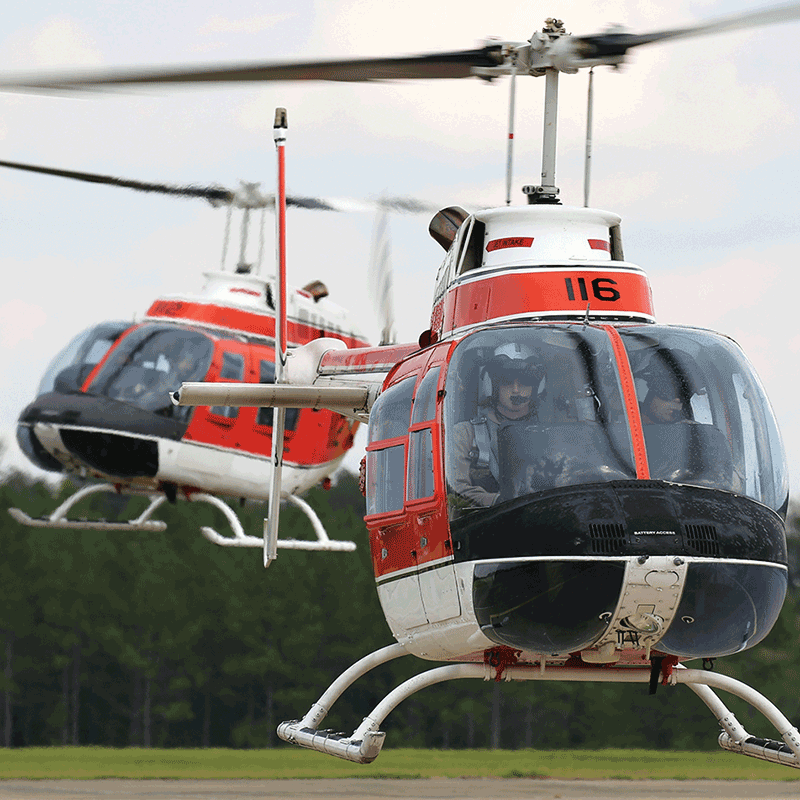 Orange and white Navy planes and helicopters are a common sight in Northwest Florida's Santa Rosa County — home to one of the most active naval aviation bases in the world.
On top of that, it's right in the middle of a three-county neighborhood with five aviation-focused military bases and two commercial airports, and centrally located between five aircraft manufacturers in the Southeast.
With hundreds of defense contractors, land available for development and a sizeable workforce, the county's economic development office is making a push to get the word out that Santa Rosa County is at the "heart of a growing aerospace cluster."
It's doing so in part through a new brochure, and eventually a special section on its website that will highlight aerospace and aviation in the county.
Shannon Ogletree, executive director of the Santa Rosa County Economic Development Office, said the outreach is designed "to increase awareness of Santa Rosa County and the region." He said he hopes people "will see our locations and our area as a good place for doing business."
Military footprint
Santa Rosa County along with neighbor Escambia County make up the Pensacola-Ferry Pass-Brent Metropolitan Statistical Area. The MSA is one of the Navy's most active training areas where pilots, flight officers and aviation maintenance personnel are trained at Naval Air Station Whiting Field and Naval Air Station Pensacola, home of the Naval Air Technical Training Center, the Navy's largest. It graduates 15,000 students a year.
The military jewel for Santa Rosa County is NAS Whiting Field, just north of the county seat of Milton. The 4,700-acre air station is west of Blackwater River State Forest in a sparsely populated area of Santa Rosa County. Across the state line in Alabama is Conecuh National Forest.
Whiting Field, one of the Navy's two primary pilot training bases, provides services and material support for the training of U.S. Navy, Marine Corps, Air Force, Coast Guard and international student aviators. With two separate primary fields and 13 outlying fields, it trains 1,200 students every year and is the busiest air station in the world with 1.5 million flight operations and over 160,000 annual flight hours, 14 percent of the Navy's total.
The county values the base so much, it has an Encroachment Partnering Program with the base, county and state. More than 3,000 acres have been buffered/conserved around Whiting to protect its mission.
The replacement value of the Whiting is considerable, according to the Department of Defense fiscal year 2015 base structure report. NAS Whiting has a plant replacement value of $708.2 million. To the west, NAS Pensacola has a plant replacement value of $2.57 billion. In addition, the Navy's Corry Station in Pensacola, which trains information warfare personnel, has a replacement value of $813.8 million.
The MSA's bases are close to three other aviation bases. Neighboring Okaloosa County has R&D powerhouse Eglin Air Force Base, which also trains F-35 pilots and maintainers, Hurlburt Field, home of Air Force Special Operations Command, and Duke Field.
Beyond those are Tyndall Air Force Base, which trains F-22 pilots, and the U.S. Coast Guard Aviation Training Center in Mobile, Alabama. Also in the region is Fort Rucker, where Army aviators train.
Not surprisingly, there are a lot of contractors in the area who do work for the military here and elsewhere. In 2015, Santa Rosa County had 200 defense contractors who won 124 contracts that year valued at $14.5 million. Between 2000 and 2015, contractors in the county were awarded 1,491 contracts valued at some $353 million.
In good company
Santa Rosa County and its neighbors are highly active in a state that is a hot spot for defense. And the military impact goes beyond aviation.
Florida's $52 billion military and defense-related industries are the state's third top economic sector. It tops the list in Santa Rosa County.
In fiscal year 2015, Florida was ranked No. 5 in the nation in defense spending at $17.6 billion, 2 percent of the state GDP and 4.3 percent of the total U.S. defense spending.
Okaloosa, Escambia and Santa Rosa counties were all in the top 10 counties in the state for defense spending in 2015. Okaloosa County accounted for $1.7 billion (3rd), Escambia accounted for $1.5 billion (6th) while Santa Rosa accounted for $459.7 million (10th).
Florida has a total Department of Defense payroll of $6.6 billion and 126,292 personnel. Of those, Escambia County is second in the state with 19,900, Okaloosa County third with 14,048, and Santa Rosa County fifth with 7,466.
And it's clear many of the former military opt to stay in the region. According to the brochure, about 34,000 military retirees and a wealth of civilian DoD contractors provide a unique workforce ideal for aerospace, defense and information technology. The number of military retirees grows by roughly 2,400 each year.
Santa Rosa County boasts a workforce of over 70,000 people. Half of those people travel to jobs away from their homes, outside the county.
From high school forward, aviation-specific education programs are in place across the region, including the University of Florida Research and Education Engineering Facility near Eglin Air Force Base.
Other aviation
PricewaterhouseCoopers for two consecutive years ranked Florida best in the nation for attractiveness to aerospace manufacturers, and No. 2 in the 2016 survey. Florida is one of the most dynamic of a broader trend bringing aerospace to the Southeast.
Santa Rosa County is using that to its advantage. It helps that the county is located centrally for five aircraft manufacturers: Airbus in Mobile, Alabama; Embraer in Jacksonville and Melbourne, Florida; Gulfstream in Savannah, Georgia; and Boeing in Charleston, South Carolina.
In Santa Rosa County, qualified aviation and aerospace manufacturing companies can receive Incumbent Worker Training (IWT) Grant funding. Incentive programs also are in place for companies purchasing lands owned by the county.
Santa Rosa also has three shovel-ready Certified Florida First Sites: Santa Rosa Industrial Park East, Vic's of Navarre and Northwest Florida Industrial Part at I-10.
In addition, the aerospace-specific property at Whiting Aviation Park has limited access to Navy runways at Whiting for testing and development opportunities.
Transportation
Transportation infrastructure includes two commercial airports. To the west is Pensacola International Airport, the busiest commercial airport in Northwest Florida, and to the east Destin-Fort Walton Beach Airport.
Santa Rosa County's public use airport, Peter Prince Field, is located south of NAS Whiting Field.
Interstate 10, U.S. 98 and U.S. 90, major east-west highways, run through the county, which also has access to CSX rail and the Port of Pensacola, a designated foreign trade zone.
And on top of all that, the county is known as a vacation hot spot. Not bad.
---
Reprinted with permission from the Gulf Coast Aerospace Newsletter, a bimonthly covering the I-10 aerospace region between Southeast Louisiana and Northwest Florida.