Aerospace Manufacturer Lands in Lynn Haven
Advanced Composites & Metalforming Technologies is putting down southern roots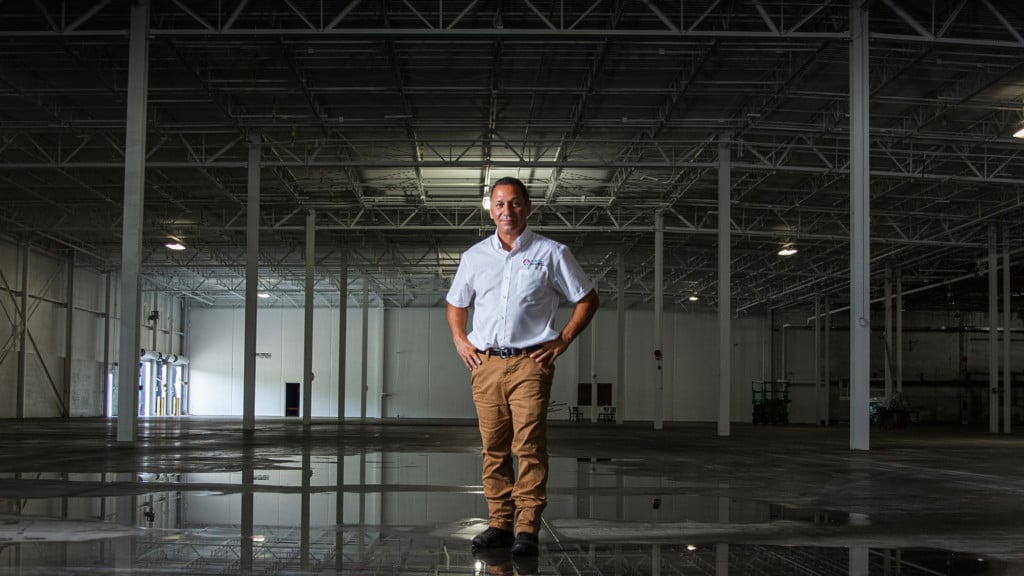 Danny Polo nodded toward a table on wheels in the middle of a vast empty space inside the former Honeywell plant in Lynn Haven. Atop the table were a few modest chairs.
"I'm going to make that my mobile war room," Polo said, one that can be moved among centers of activity as the Connecticut-based Advanced Composites & Metalforming Technologies (ACMT) creates its second home.
Redevelopment of the building comprising 150,000 square feet in total will occur in phases with the first phase encompassing 43,000 square feet. At this writing, garage doors and "man doors" were being replaced as part of securing the building, a measure that must be accomplished before equipment is installed.
ACMT, Polo said, is owned by his brother, Michael, and his father, Paul. Danny is its general manager. The 33-year-old company specialized in its early days as a maker of adhesives and chemicals for aerospace applications such as bonding rubber to sheet metal parts. As of 2004, ACMT moved into areas including fabrication work and, said Polo, "We just kept going from there."
Today, the company relies heavily on emerging technologies.
"We are always looking for new, automated equipment," Polo said, "and faster, better ways of doing things. Customers are always wanting to reduce costs."
ACMT employs robotics, lasers, waterjet cutters and computer numerical control (CNC) machining equipment, the latter involving computer software that dictates the movements of tools.
"We produce items that may be an inch in size or 20 feet long," Polo said. "Most of it is sheet metal fabrication, but we are getting further into composites and machining. We do a lot of repair work for the government, and we are going to start overhauling commercial engines also. Customers send us engine components, we assess what's wrong with them and then make repairs."
Immediately, "ACMT South" will have a close working relationship with GKN Aerospace in Tallassee, Alabama.
"And, once we get more established, we'll start working with GKN at VentureCrossings; we've already started conversations with them. We're also interested in doing work for Tyndall Air Force Base. There are a lot of good aerospace companies within a few hours of here, so it's a good place for us to be."
ACMT does both military and commercial jobs for Pratt & Whitney, a key customer; does some work for Rolls Royce; and anticipates doing an increasing amount of work for GE.
For starters, the 43,000-square-foot, phase-one space will be devoted mainly to two large projects that came to ACMT via GKN. They involve developing and producing 20-foot-long protectors for Sikorsky helicopter blades.
"Those projects are in development right now," Polo said. "We will be manufacturing the parts sometime next year."
Before that manufacturing can begin, ACMT will need to achieve AS9100 industry certification. Auditors will assess the building and ACMT equipment and operations, issue a report and specify needed corrective actions before certification will be granted. Then, original equipment manufacturers (OEMs) will do their own audits before authorizing ACMT to make their parts.
"It's a process," Polo said.
He said ACMT will hire 35 employees in conjunction with phase one.
"We will have jobs for engineers, quality control and production personnel, welders, machinists and fabricators," Polo said. "Most employees will come from the local area. Only five are moving down from Connecticut."
The lead time on some of the specialized equipment that will be used for phase one projects is 26 weeks.
Already, ACMT is working with Gulf Coast State College on an apprenticeship program, an initiative that has proved successful in Connecticut. The company has found that growing its own employees has advantages.
"When you begin working with people as students, they don't have bad habits," Polo said. "'We can teach them our habits."
ACMT also figures to snap up students emerging from the welding program at Tom P. Haney Technical Center and the mechanical engineering program at Florida State University Panama City. Too, it will tap into the large pool of retired military personnel in the area. Polo has been impressed by the database of 8,500 such individuals that has been compiled by CareerSource Gulf Coast.
GKN is not the only reason ACMT is in Bay County. In fact, the company had been shopping for a site for a couple of years and had considered options in Texas, Georgia, North Carolina and Florida.
"We got to the point where we didn't want a single point of failure for any of our processes," Polo said. "We wanted to be somewhere in the country that would not be affected by a large-scale event in New England. Economic development officials from a number of locations furnished us with proposals. But right from the start, Becca Hardin and her team at the Bay County Economic Development Alliance were fantastic. They were very responsive, they understood what we wanted, and they did a really good job in getting us some incentives to get us down here."
For its part, ACMT pledged to create 105 jobs within five years. Its Bay County capital investment will be about $22 million, according to Polo.
ACMT acquired the Honeywell building on Sept. 26 of last year, just two weeks before Hurricane Michael ravaged communities including Lynn Haven.
"Timing is everything," Polo said with a resigned look on his face.
Some 130 downed trees littered the property. The storm necessitated a $2 million roof replacement job. Much of that cost was covered by insurance, but the need for extensive repairs — 75 feet of block wall was lost — dramatically altered ACMT's building redevelopment timeline. It had hoped to move in by the first quarter of this year.
Nonetheless, Polo is enthusiastic.
"We've been very happy with everything we have encountered in the Bay County area," said Polo, who purchased a home in Bayou George in March. "The people are great, everyone has been very accommodating and we're excited. We are looking forward to becoming a part of the community."