Aerial Opportunists
The commercial drone industry is lifting off in the Panhandle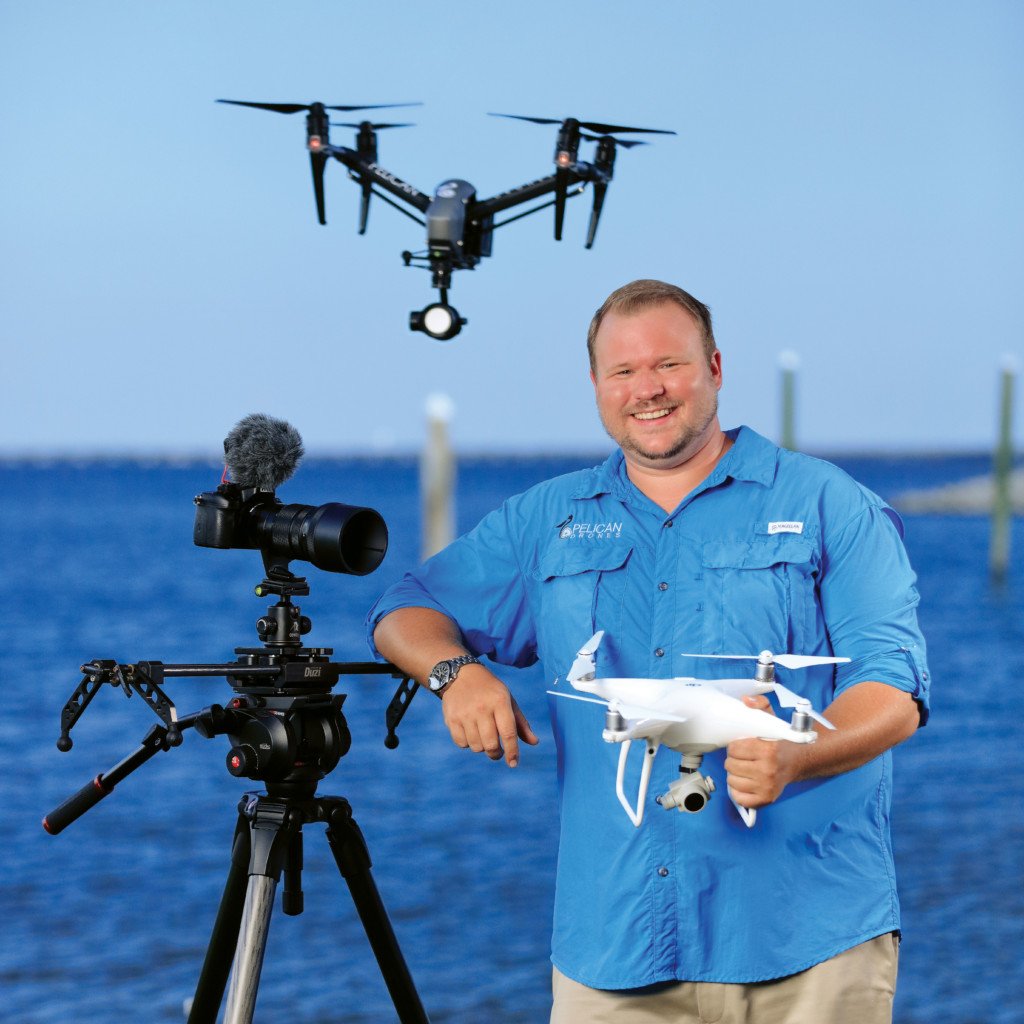 They seem to be everywhere, and they're here to stay. Unmanned aerial systems — also known popularly as "drones" — can be spotted hovering over beaches, local landmarks, special outdoor events, industrial sites and real estate. These remotely piloted aircraft carry high-tech video gear and stabilizing gimbals that allow their users — and their clients — to see the world from a different perspective.
Over the past few years, drones have evolved from a curious, innovative hobby to a serious industrial tool with plenty of growth and potential. According to BusinessInsider.com, the number of drone permits issued by the Federal Aviation Administration dramatically increased in just two years: In 2014, there were just two; in 2016, there were 3,100. Drone operators, sensing the need for professionalism and accountability, are working hard to increase their viability in a competitive market.
"People loved the idea of drones for construction project shots, parking lot studies, traffic light studies, on and on; but if you don't have the licensing and insurance and professionalism, those opportunities aren't obtainable," said Chris Tonn, CEO of Pelican Drones in Pensacola. His company is FAA-licensed and carries aviation insurance as well as commercial automobile insurance. Pelican started two years ago and has since broadened its coverage area to include New Orleans, Tallahassee and all points in between. Pelican provides aerial photography and videography, ground-based videography, professional editing, industrial inspection, damage assessment, hazardous materials inspections and more.
"We stay busy traveling," Tonn said. "It's exciting to see where we'll go. We've 'chased' multimillion-dollar yachts and have documented a 93-year-old tree farmer. It's unique to have a lot of opportunities, especially in the tourism industry, to really show the area from a new perspective. We've done a lot of fun ones, from engineering firms to construction firms to ship builders. You name it, there's a wide spectrum beyond just real estate."
Using drones for such commercial purposes got easier and more streamlined with new rules published last summer by the FAA.
Before the "Small UAS Rule" was put in place last year, commercial drone operators had to apply for a special FAA exemption called a 333 Exemption, which took months to acquire. The exemption also required the drone operator to employ a pilot with a manned aircraft license from the FAA, according to DJI, a major drone manufacturer. Meeting those requirements was a source of frustration for companies wanting to make the most of this technology, a DJI spokesman said.
"We've chased multimillion-dollar yachts and documented a 93-year-old tree farmer. (We) have a lot of opportunities to show our area from a new perspective."
— Chris Tonn, CEO, Pelican Drones
"The new rules codify common sense, making it easier for a farmer to fly a drone over his fields, for a contractor to inspect property without climbing a ladder and for a rescue service to use drones to save lives," said Jon Resnick, DJI policy lead. "The FAA recognized that the system needed to change and worked closely with its industry partners to build a better system. We look forward to continued collaboration with them in the future."
The Small UAS Rule, technically called Part 107 of the Title 14 Code of Federal Regulations, defines safety and security requirements for pilots and aircraft. Pilots must be at least 16 years old, must pass an aeronautical test at an FAA-approved testing center and must be vetted by the Transportation Security Administration. The drones themselves must be registered with the FAA, must weigh less than 55 pounds and are restricted to an altitude of 400 feet. They can't travel faster than 100 miles an hour and can only be used in daylight hours. The new rule allows operators the freedom to work in uncontrolled airspace at or below 400 feet without requiring permission from air traffic control. If the operator intends to work within a controlled airspace, the rule supposedly makes it simpler to get permission via an online portal.
Tonn said that last part sounds great in theory, but it's not exactly working out that way. At least, not yet.
"It's very time-consuming because we have exceeded the FAA expectations," he said. "There are 15,000 or more guys requesting flights. It's a strain. Now the FAA says it takes up to 90 days for
approval, so it's not business-friendly, yet. But we can get some blanket coverage for low-altitude ops in certain areas."
The FAA said that according to industry estimates, the Small UAS Rule could generate more than $82 billion for the U.S. economy and create more than 100,000 new jobs over the next 10 years. Entrepreneurs in the Panhandle are working diligently to comply with new laws and new technology to realize some of that money.
For Joshua Lanier, president of Sky Pro Imaging in Panama City Beach, what started out as a hobby has turned into a full-service, high-end video production studio that handles TV commercials, concerts, documentaries, public service announcements, music videos and more. The business covers from Tallahassee to Pensacola. And, like Pelican Drones, Sky Pro Imaging is FAA-approved, licensed and insured.
"The bulk of what we do is real estate, vacation rentals," Lanier said. "We do a lot of those and a lot of events — outdoor events like the paddleboard racing event and Digital Graffiti (a festival where artists digitally project original work onto the iconic white walls of Alys Beach in Bay County). Pretty much anything that could apply to aerial imaging to market these events is what we do. RC flight was a hobby of mine growing up, so I was familiar with the control and orientation that you need to fly a drone."
But today's drones are a far cry from something you might cobble together in the garage. Advances in camera technology allow pilots conducting industrial inspections to safely stand off and do their jobs, Tonn said.
"Here recently, some of the drones have integrated zoom capabilities and zoom lenses. It takes our inspection ability to a whole new level, like an inspection of a cell tower or hazmat situation," he said. "Before, we'd have to fly closer, and that's more dangerous. Now we can stay farther back and zoom and take various photos, see a crack in a bridge, some erosion on a junction box. We can see those things accurately and safely. That's a unique thing to industrial inspection."
Advantages and Challenges
Technology plays a key role in the drone business. For starters, back when aerial drone photography was a new thing, it was difficult to achieve the desired stability necessary for a "smooth" video. The advent of stabilizing gimbals changed that and has improved over time. With that technology in place, drone operators can focus on system adaptability and greater performance.
"Nowadays, the true advantage goes to who has the modularity and software combination," Tonn said. "DJI is the industry leader. Those drones are capable of going from a normal videography camera to a 30x optical zoom inspection camera to a FLIR camera, so you have a very versatile platform."
And speaking of software, high-definition video feeds take up a lot of computing space. That's a constant challenge to any company doing large volumes of video production and editing.
"Your files can come out huge, so you have to have a powerful computer to edit it and store all that data when you're done," Lanier said. "It's an expense to the business, and you have to keep expanding servers. Keeping up with all the files is a time-consuming and challenging task, sometimes."
And, he added, you need to be patient.
"Any time you're dealing with technology that changes constantly, the more you have to stay on top of and learn and stay competitive and be on the top of your game," Lanier said.
The Future is Now
Drones are becoming increasingly capable instruments of commerce, and not just in the field of aerial videography and marketing. For example, Amazon made news when it envisioned delivering packages by drone. But drones might be capable of delivering other items, such as packets of life-saving blood, either between hospitals or to remote, disaster-stricken areas. Johns Hopkins University researchers have already proved that in concept, blood products can be safely delivered this way. And drones could save lives in other ways, Tonn said. Cruise ships could be equipped with "lifeguard" drones for search and rescue operations if someone falls overboard. Or drones could be equipped with defibrillators that land at the scene of a medical emergency and tell you what to do. And it could be a boon to certain law enforcement activities, such as border patrol.
"There are some exciting capabilities in the future," Tonn said. "The list goes on and on. But long story short, the tech is there. Once we figure out the regulations, it's going to be exciting."
Playing Catch-Up
Issues of safety, security and privacy have been debated as drones have become more prevalent. That's why the FAA issued the new regulatory framework last summer. It had to catch up with a quickly growing technology. But Lanier said the FAA has done a good job getting in tune with the times, and drone companies themselves are working on onboard devices to help pilots meet FAA safety limits.
"The tech companies are designing software onboard to keep people within the guidelines of the FAA. For example, they don't want you flying at a certain altitude, so now you can set the max altitude using a built-in altimeter," Lanier said. In addition, "geofencing software keeps you from flying into a prohibited area. Those are things I'm seeing — more synergy between manufacturers and the government — and that's a good thing for everybody."
That said, it's uncertain how municipalities will deal with the increasing presence of drones. On the state level, there are already laws on the books that govern drone operations. Chapter 934.50 of the Florida Statutes prohibits law enforcement agencies from using drones to gather evidence or other information. It also prohibits drone operators from spying on privately owned property or the property owner. But it's OK for businesses to use drones within the scope of their business license, and it is also permissible to use drones for appraising property, photographing public utilities and for aerial mapping. That doesn't mean municipalities won't institute their own ground rules for pilots.
"In the future, certain areas may impose certain ordinances, but the hope is they will still permit commercial operations," Tonn said. "The other thing is privacy. We don't know where exactly the definition of privacy is going to land. Is it 100 feet above someone's yard? Is it 500 feet? We try to announce to folks in the neighborhood that we're going to be filming with a drone. We try to be as transparent as possible, but the perception over time will be interesting."