Adding Life to Days
Covenant Care improves positions itself as provider of a complete array of post-acute care services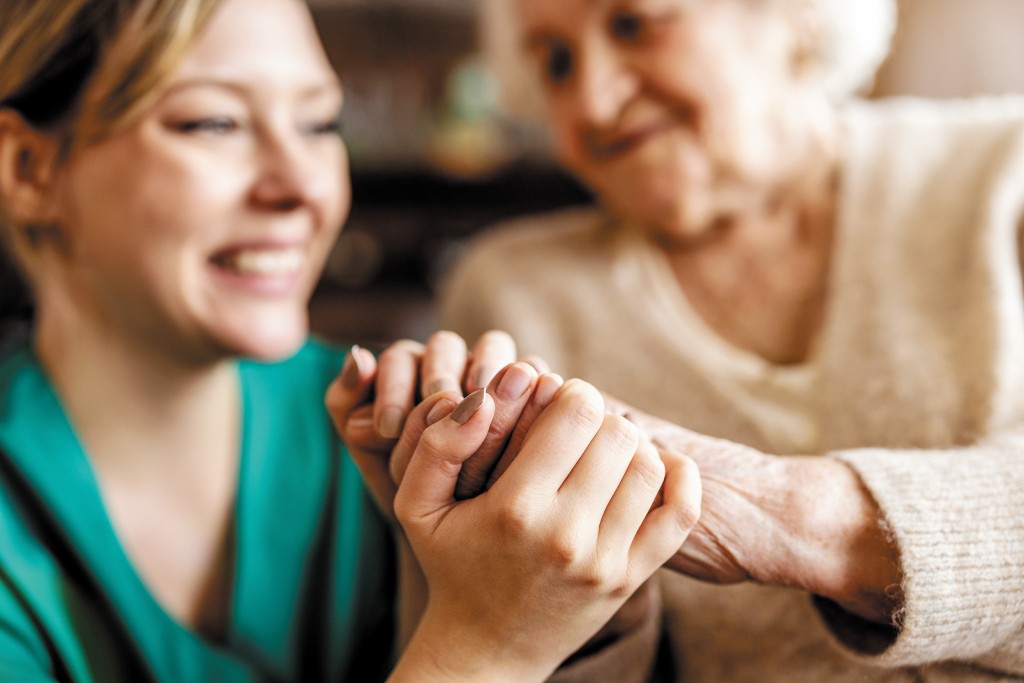 The course of a consumer's encounters with health care systems is not often a straight line
That may be particularly true of post-acute care, that is, services that providers deliver to patients following hospital stays, especially near the end of life.
A given patient may proceed from hospitalization to palliative care to hospice care, said Jeff Mislevy, president and CEO of Covenant Care, headquartered in Pensacola. But more typical is the case where a patient is discharged from the hospital and he's fine, and then all of a sudden he is not.
"So, he goes back to the hospital and may come out the second time requiring home health care. He is doing well and then something else happens, and he needs palliative care. He is stabilized and then his needs change again, and he may need 24-7 personal care. And eventually, he may need hospice. It's hard because everyone takes a different path."
It stands to reason, then, that a patient and his family might benefit if afforded the option of dealing with a single provider that offers multiple services.   
Just a few years ago, Covenant Care, then known as Covenant Hospice, specialized in just one aspect of post-acute care. But its board of directors was looking to grow and pivot in a different direction. To that end, they tempted Mislevy out of the Upper Midwest.
Mislevy had been working in Grand Rapids, Michigan, for the health care giant Spectrum Health, building out its portfolio of post-acute services.
"Like most big systems, they were hospital-centric," said Mislevy, who helped plan and oversee the addition of home health, hospice and skilled nursing services, patient rehab hospitals and long-term acute care hospitals. 
"I thought that at some point I might want to do something similar outside of the confines of a big, multi-billion dollar health system," Mislevy recalled. "And, at the same time, I was getting tired of the bleak, miserable winters up there."
Mislevy resolved to keep his eyes open.
The Covenant opportunity appealed to him because the business operates from a (warm) community that is a leader in health care; because it had long been successful as a provider of hospice services; and because it had plans to diversify.
Mislevy attended Michigan State University as an undergraduate, earning a bachelor's degree in dietetics. He went on to Ohio State, where he added a master's degree in allied medicine. (When the Spartans meet the Buckeyes in athletic contests, his heart is with MSU, but he cheers enthusiastically for OSU when they are matched against an SEC opponent.)
"I wanted to be in health care, and I thought of myself being on the clinical side of things," Mislevy said. "But early on in my health care career, I found that I enjoyed the operations and business side of it."
Mislevy worked for a year as a registered dietician, then married one and conceded that she was a better dietician than he was.
"So, I picked something else to do," he said. "I started down the health care leadership path and never looked back."
Community needs and the direction of the industry drove the diversification initiative at Covenant.
"Being really good at one aspect of health care works for the patient who needs just that service, but if you need multiple things or your needs change, it can be a real hardship to have to call a new provider every time," Mislevy said. "You see a primary care physician and then maybe a specialist, then you go to the lab and you've got to get imaging. You start over and tell your story every time, fill out new forms, see a new doctor. You have new nurses and clinicians to interact with. It's a very frustrating experience."
A one-stop shop, Mislevy said, "appeals to the patient and the community, and it also helps address what we are all struggling with — ever-rising health care costs."
When Mislevy arrived in Pensacola, Covenant Hospice was serving between 600 and 700 patients a day in a triangle defined by Mobile, Alabama; Dothan, Alabama; and Tallahassee.
Today, Covenant Care is a hospice, home health, palliative care, personal care and  assisted living organization serving close to 3,000 patients  a day.
The vision of the board of directors has been actualized. And Covenant's service footprint has grown dramatically.
For a period in Florida, a moratorium prevented home health agencies from starting up in Florida.
"When that went away," Mislevy said, "we responded to the demand and the phone calls that we had been getting on a regular basis. People were asking, 'Why can't you come in and serve me in my community?'" Covenant expanded to the entire state of Florida.
Still, it faces daunting, big-picture challenges.
"How do you continue to create value in health care?" Mislevy said. "How do we bend the curve on the rising costs of health care and still provide premium quality care and better outcomes and deliver that care where people want to receive it? Our challenge is finding ways to do more to keep people out of the hospital."
The "front line," Mislevy contends, "starts with our care, not with hospital care, because if we get out in front and take better care of people in their homes, we can prevent hospitalizations."
The opportunity to have such beneficial impacts appeals to clinicians, practitioners and nurses, Mislevy said, adding that Covenant has not struggled to maintain staffing levels during the pandemic in the way that many employers have.
"But we are working harder to create a workplace environment and an experience for employees that is attractive," Mislevy said. "We are making greater use of technology to support our caregivers."
Mislevy, to be sure, is an admirer of Covenant's employees.
"We look for people who really, really have a passion for what they do, especially in hospice," Mislevy said. "You have to have qualities as a person that go beyond technical skill.
"In a hospital, you are surrounded by nurses, physicians and specialists. Everything you need is right there. A home health or hospice-in-the-home situation, it's just you. It takes a strong, independent, autonomous, confident person that has a passion for what we do and how we do it."
Mislevy has a favorite saying about the work that Covenant does: We add life to days when days can no longer be added to life.
"For our people, that's not a tagline. It's how they approach their work."