Adding Lanes to U.S. 98 in Walton and Okaloosa Counties
As a part of the $75 million project that will face challenges in the summer months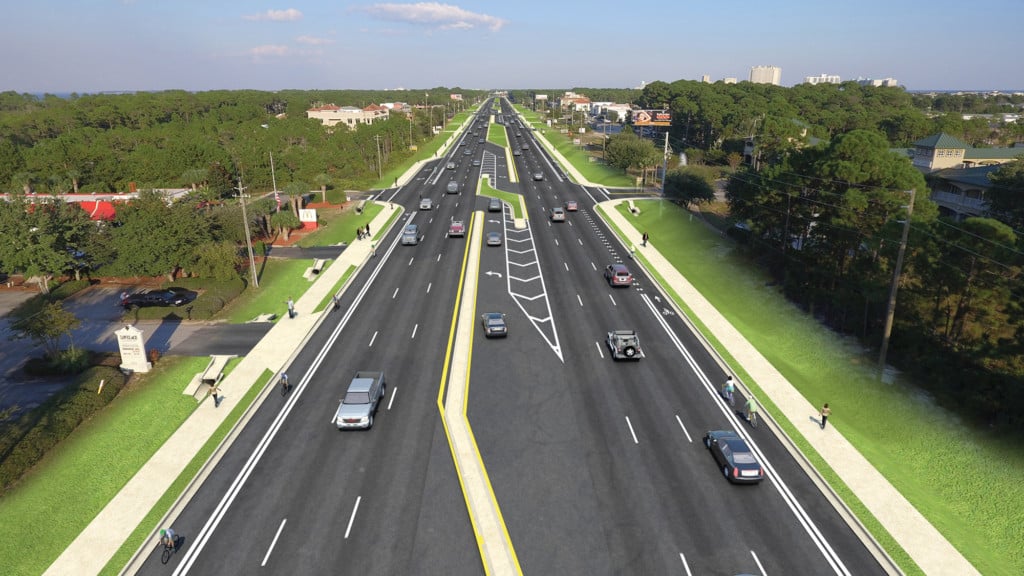 When Fudpucker's co-owner Tim Edwards makes his daily commute to work and sails by temporary entrances, countless traffic barrels and frazzled drivers battling construction on U.S. 98, he can't help but miss 1989.
"That was the year Fudpucker's Destin location opened, right when the Emerald Coast Parkway had been completed," said Edwards. "Back then, Fudpucker's, Abbott Realty and The Track were the only buildings in our area of Destin; things are a little different now."
Indeed, Fudpucker's is just one of hundreds of Destin businesses dealing with U.S. 98's latest facelift, a $75 million project that will expand the four-lane highway into six from Airport Road in Okaloosa County to Tang O-Mar Drive in Walton County, and add sidewalks, stormwater detention ponds and drainage infrastructure.
Construction in Okaloosa County, which began in the summer of 2017, has reached its "halfway point," said Tanya Branton, a public information specialist with the Florida Department of Transportation (FDOT). The Okaloosa County portion of the project is expected to wrap up early in 2021.
In an email, Branton delineated the roadmap for the work ahead:
Phase I (Airport Road to west end of Henderson Beach State Park) — Traffic has been shifted to the center section to construct the new eastbound travel lanes on the south side of U.S. 98. Construction of the new eastbound lanes will be close to completion by the end of 2019, including the realignment of CR 2378 (Scenic Highway 98 at U.S. 98). Traffic will be shifted to the south side (new eastbound lanes), and median construction will begin.
Phase II (West end of Henderson Beach State Park to Matthew Boulevard) — Traffic will remain in the center section to construct the new eastbound lanes. New eastbound lanes are anticipated to be completed in 2019, and traffic will shift to the south side to complete median construction.
Phase III (Kel-Wen Circle to Walton County Line) — In February 2019, westbound traffic was shifted to the south side of the roadway, and construction of the new westbound lanes began. Construction of the new westbound lanes is anticipated to be completed by the end of 2019.
The biggest obstacles, said Branton, will be "summer traffic and inclement weather conditions."
"Most work this summer will be behind a low-profile barrier wall and two lanes of traffic will be maintained in each direction," she said. "Construction activities should have minimal impacts to the traveling public."
But what bearing might they have on the flow of traffic to businesses at the peak of Destin's tourism season? Edwards said that was the first question on everyone's mind as soon as the project was green-lighted.
"The harsh reality is that major road construction projects aren't without casualties," Edwards said. "Places of business that are already marginal to start with might not make it. You've got to make yourself visible from the road to keep your numbers up."
According to Heather Ruiz, senior director of marketing and leasing at Destin Commons, construction is prompting even Destin's hugest shopping hub to alter the ways in which it attracts visitors.
"We're trying to be more strategic in where we place billboards to ensure that people who may experience any summer traffic bottlenecks know that we're here," Ruiz said.
People looking to get out from behind the wheel will be glad to know that Destin Commons will be partnering with 654 Limo and several major resort shuttle systems to establish the center as a drop-off point.
"We've been pretty lucky in that construction is flanking us on either side," Ruiz said. "We've got multiple entrances from 98 and 293, so that makes this process a lot easier."
For many smaller plazas and standalone structures with only one entrance, access continues to be stymied by development. Branton says portable, changeable message signs and permanent mounted signs are being installed to safely direct traffic to paths that offer ingress, while additional signs will list which businesses are accessible by each.
The FDOT is dedicated to keeping businesses apprised of progress, changes and any shifts in traffic patterns. Quarterly e-newsletters and weekly traffic advisories are sent to the project's stakeholders, and project staff will reach out to any businesses they feel will be directly impacted by future development.
For Edwards, whose restaurant on Emerald Coast Parkway is in the epicenter of Destin, that communication has been critical.
"I will say that Jeff Randall with Metrics Engineering has been busting his chops for us," said Edwards. "He's made an otherwise unpleasant experience a positive one by being extremely communicative and supportive throughout. There's never been a time where we've been left wondering what's happening, and I think that speaks well about Randall and the project's managers."
As of this writing, Edwards reports that Fudpucker's has seen an increase in revenue despite construction, perhaps due to Destin's increased popularity as a spring break destination.
It had him looking forward to the summer season and beyond.
For Nathan Sparks, the executive director of the Economic Development Council of Okaloosa County, enhancements to 98 have been "an exercise in patience, but frankly, overdue."
"Road improvements are certainly always welcome, because they improve access and the flow of goods and people, all of which relates to economic development on a basic level," said Sparks. "U.S. 98 is obviously a major thoroughfare for our entire region. It's used not just by tourists. It's used by businesses and residents.
"We're currently going through a lengthy process that I liken to surgery. Surgery is never fun, but the reason you undergo it is to make yourself better. Right now, we're in surgery and it's not enjoyable, but we're going to be a better community for it."