Adding Jobs, Growing Income
Okaloosa County's TeCMEN program bolsters local economy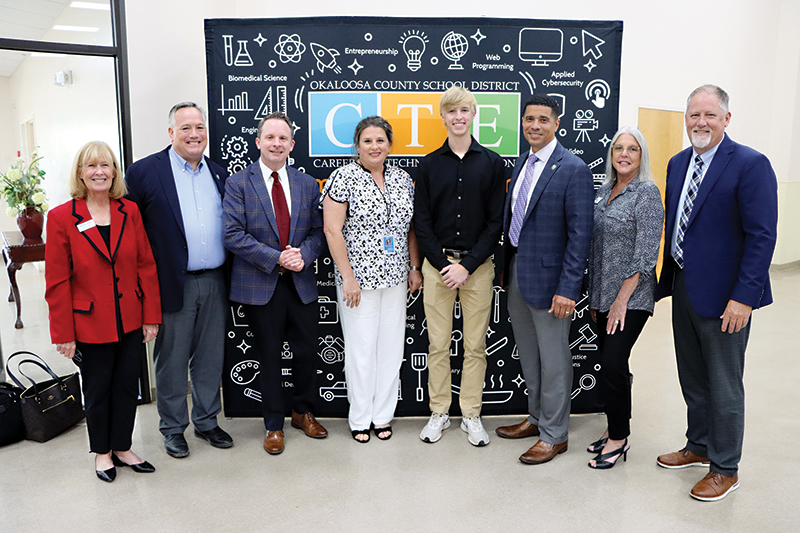 David Goetsch proudly displayed a United States map dotted with push-pins in his 1980s Northwest Florida State College office. As chairman of the industrial division, he oversaw all of the technical training programs at what was then a junior college. Each tack represented a graduate who had found work in his field. Pins poked out of 38 states, but few could be found in Florida. Even fewer of the highly skilled professionals remained in Okaloosa County.
"It became apparent to me early on that we offered good opportunities to our students, but the community was experiencing a brain drain," Goetsch said. "I realized, if you're going to be in the business of preparing people for jobs, you better get in the business of creating jobs."
At that time, Gov. Jeb Bush was pushing the Blue Chip Community Program, a statewide effort to attract industry. Due to his interest and involvement with economic development, Goetsch was tasked with getting the county certified and on track.
The Blue Chip program emphasized the importance of county economic development councils, and with no such organization present in Okaloosa County, Goetsch joined forces with college president Bob Richburg and local business leaders to form the Okaloosa Economic Development Council, now known as One Okaloosa. Okaloosa County received its certification, but Goetsch was not satisfied that the work was done.
"This was the problem," he said. " In economic development, your first priority is taking care of your existing businesses, helping your existing industries grow, expand and stay so that you don't lose them," Goetsch said. "Second is recruiting. Our EDC only had a recruiting side."
The question of how best to support existing industry led Goetsch to thoughts of 1940s Italy. Following the devastation of World War II, Italy established temporary "collaborative industrial networks" that allowed industries to share equipment, personnel and facilities during the reconstruction era. While the factories and industrial parks of Okaloosa County were not forced to collaborate due to bombardment and chaos, perhaps they could be persuaded to collaborate to win bigger contracts and keep business partnerships local.
Armed with a $250,000 federal economic development grant, Goetsch flew in the top two experts from Italy, called local business leaders and rented out the sixth floor of the Ramada Inn to pitch a brand new concept. He called it TeCMEN.
"It went over like a lead balloon," Goetsch said. "By the time they finished talking, I think about half the audience had left. Then, about a year later, President George H. Bush announced a 25%, across-the-board cut in all defense spending. Well, that got the attention of our local businesses."
TeCMEN, short for Technology Coast Manufacturing and Engineering Network, began in 1989 and remains a key driver of economic growth and prosperity in Okaloosa County today. It is a professional network of local leaders in the fields of manufacturing, technology, engineering, defense contracting and aerospace defense who meet once a month to advocate for STEM industries, review business trends, discuss opportunities for collaboration, meet with prospective employees and provide opportunities for education and advancement.
"The key is collaboration, and you can't force collaboration," Goetsch said. "You just have to get them together in the same room, let them see they aren't enemies and understand that we aren't trying to keep you from competing. Compete like crazy, but when you get a contract, if you need some help, here we are."
Goetsch took a step back from TeCMEN following his retirement in 2012 but says he is very confident in the group's current manager, Linda Sumblin. Sumblin's background as the executive director of CareerSource Okaloosa Walton places her in a unique position to address one of the TeCMEN members' current challenges.
"Obviously the topics and direction of the TeCMEN membership and meeting their needs depends on the temperature, the climate, the needs at that time," Sumblin said. "Certainly, in the last three to four years, there has been a high need for employment."
Over the last 34 years, TeCMEN has implemented several practices to bridge the gap between labor and industry. From the beginning, the organization has brought in recent graduates to meet with prospective employers during its monthly meetings. This benefits the employers and graduates, but it also serves to slow the brain drain that first inspired Goetsch to get involved with economic development.
Additionally, TeCMEN education partners regularly gear their programming toward the needs of TeCMEN industries. The Okaloosa County School District recently launched an artificial intelligence course for middle and high school students — the first of its kind in the state.
"You have educators like UWF, Northwest Florida State and Okaloosa County Technical College participating and attending TeCMEN programs, so they are aware of the employer needs and can easily put together a custom class to meet the needs of the high-tech employers in the area," said Nicole Gislason, executive director for the UWF Haas Center.
The effort to grow opportunities for employment among TeCMEN members has only increased under Sumblin through TeCMEN Industry Day and the Educate the Educators Plus One program.
Educate the Educators Plus One aims to change the way teachers and students think about life after high school. Each school in the district selects a staff representative and student ambassador to participate.
"One Okaloosa executive director Nathan Sparks provides local labor market information, what businesses are here, what kind of sectors are available and what prospects he is working with for a potential workforce," Sumblin said. "Then we get on the yellow school bus and go to three or four already coordinated businesses, and they give a tour."
Students and school employees have the opportunity to inquire about education requirements, salaries, benefits, growth plans and more. Sumblin said this program has helped many educators to rethink how they advise their students.
"I had an English teacher who came up to me and said, 'I had this all wrong. I've been telling my students that they must go to a four-year school, but what I learned today is that they can do their post-secondary classes at any time in their life,'" Sumblin said.
Students are also invited to attend TeCMEN Industry Day, an annual trade show for TeCMEN members and nonmembers in STEM industries to network with prospective suppliers, clients and partners. The trade show provides opportunities for business diversification, a particular benefit in an industry dominated by military contracting. It is also, according to Sparks, an opportunity to impress non-local businesses that Okaloosa County is the place to set up shop.
"There is great value in being able to invite companies that we are currently in talks with about potentially locating in Okaloosa County to come and be a part of the TeCMEN Industry Day and see firsthand that we are not a Johnny-come-lately when it comes to being able to support businesses like theirs," Sparks said.
In the last year, Sparks has furthered the appeal of the TeCMEN network through a partnership with Skyway Acquisition, a Clearwater-based federal contracting consultancy that provides feedback and direction on TeCMEN members' federal bids.
TeCMEN was a major factor in Sparks' decision to take the role of executive director for One Okaloosa. He believes the organization has helped fortify the Okaloosa County economy, somewhat softening the blow of events such as the 2008 housing market crash, the Deepwater Horizon oil spill and Hurricane Michael.
"The companies that are in these sectors are hosting and hiring for jobs that move the needle economically," Sparks said. "They are jobs that are well above the average county wage. Our current average salary per the data we get from Enterprise Florida is now $53,156 per year. If you look at our peer counties, that is the highest average annual wage in Northwest Florida.