A Two-Fold Purpose
Dean Randy Hanna wants FSU PC to serve students in ways that benefit the community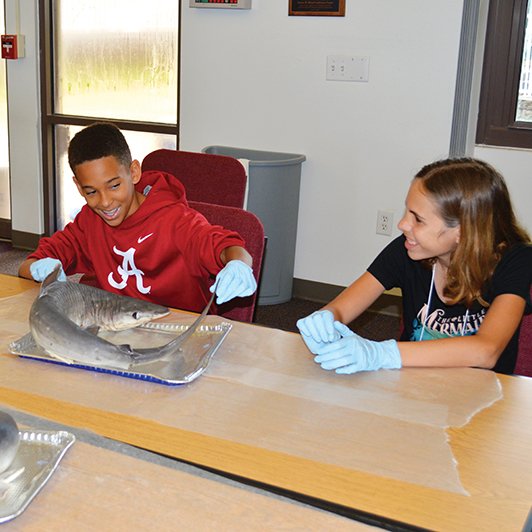 The powerful stench of formaldehyde has overtaken the Larry Bland Center on the campus of Florida State University-Panama City.
This is shark day at a summer STEM camp hosted by the campus and coordinated by Ginger Littleton, a Bay County School Board member who serves as the FSU PC Foundation's STEM Liaison.
The students are so consumed by the notion of inspecting the innards of dogfish that they are oblivious to the aroma that forces Littleton to step outside, where she speaks to a writer about the importance of making young people aware of science, technology, education and math careers.
And there is another byproduct of the STEM camp, one of real importance to Randy Hanna, the dean at FSU PC. Hanna introduces himself to the campers, fully aware that while they were likely not to remember his name and may not know what a dean does, they will never forget the day at FSU PC when they learned that male sharks have claspers and females do not.
FSU PC admitted freshmen for the first time in August 2013. Just four years before that, the Panama City campus had survived a death threat issued from Tallahassee. Then-FSU president T.K. Wetherell and an FSU budget crisis committee had issued recommendations that included one calling for the closure of the Panama City campus.
FSU PC would survive, of course. It sustained cuts, but not to the quick. It had to shed 20 jobs, and it agreed to grow enrollment so as to become financially self-sufficient. Dean Ken Shaw spearheaded stepped-up recruiting efforts and capitalized on community partnerships, and enrollment grew 29 percent in three years to reach 1,270 students.
In the fall of 2015, enrollment stood at 961, and freshmen and sophomores comprised just 5 percent of that total. Attracting more four-year students is a key to the vitality of the campus and doing so, Hanna says, requires that FSU PC establish relationships with students well before they enter high school.
At this writing, he anticipated that enrollment, including the number of freshmen, in particular, would be up for the fall 2017 semester.
"I am a firm believer that as soon as you put a baseball cap or a t-shirt on a kid," Hanna said, "he begins to expect that he is going to go to college. In this area, we want to make sure that such imprinting involves an FSU logo and the STEM camps are a big part of that."
Hanna said hundreds of elementary, middle and high school students became familiar with FSU PC during the summer via their participation in camps devoted to subjects ranging from engineering to computer coding and crime scene investigation. There was even a camp, "The Physics of Dance," taught by a former Rockette.
"The earlier we can get students interested in the sciences, the more successful they will be," Hanna said.
FSU had much to do with Hanna's success.
He attended FSU in Tallahassee as an undergraduate and went on to the FSU School of Law. The time he spent in law school, Hanna said, was "transformational" and impressed upon him the importance of lifelong learning.
Hanna practiced law for almost 30 years and became the managing partner of a multi-state firm with six offices. Much of his work had to do with financing public improvements. His clients included the City of Panama City Beach, Bay Medical Center in Panama City and the Bay County School Board. So, he was no stranger to Bay County when he was named dean of the FSU PC campus in November 2016 after serving four months as interim dean.
He started in higher education as a trustee at Tallahassee Community College. He moved on to the state Board of Community Colleges, and boards at Florida A&M University and the University of West Florida before becoming chancellor of the state college system.
He has settled in at FSU PC and plans to stay for a good while.
"I'm enjoying it," he said. "It's great. I told someone recently that I haven't had a bad day here since I started."
He arrived on Day 1 at his office in the Holley Academic Center overlooking St. Andrew Bay to find on his desk the strategic plans for 2009-2014. He sought first to take advantage of planning work that had been completed by predecessors.
That work fell into three phases.
The first involved strengthening the campus's business and accounting programs by adding faculty, and also adding bachelor's degree programs in hospitality and entrepreneurship. Both of the new programs were set to begin in fall 2017.
Phase two involves adding engineering programs related to the needs of Tyndall Air Force Base, Naval Support Activity Panama City (the Navy base on Thomas Drive in Bay County's beaches area) and new employers who are coming to town. New engineering degree programs will be added in fall 2018, including, Hanna said, a biomedical engineering program that will afford students an opportunity to move from FSU PC to medical school.
Phase three will look at adding new programs related to the sciences.
"Enrollment is dependent upon a lot of things and one of them is having the right programs," Hanna said. "That is something that we have clearly focused on. It is my goal for this campus to meet the needs of students in ways that benefit the community. If you are going to have a hospitality program anywhere, this is surely the place to have it." He added, "We have a huge need for engineers."
"I want to see to it that everything we do is an answer to the question, 'What is best for our students and for student success?' We want our students to graduate from here with a degree and a job. And we want them to have great critical thinking skills and to become active members of their community. The effort here has to be about much more than just walking out of Florida State University with a degree. It's about being a productive member of our society and our community."
Hanna has been surprised by the number of first-generation college students FSU PC attracts, especially from rural areas of the region. Higher education, he said, "can help break the bonds of generational poverty. Whether it's a one-year certificate from Haney Technical Center or a certificate or associate's degree from Gulf Coast or a bachelor's or master's degree from Florida State, everyone needs some post-secondary education in one form or another."
Hanna was a first-generation college student, himself, and the son of a miller. His father owned and operated the last water-powered grist mill in Florida, located a mile outside of Greensboro on Highway 12. Hanna grew up in a white house next to "Shepherd's Mill" and says he could still grind corn into meal if he had to.
Growing numbers of students are arriving at FSU PC after graduating Chipola State College (Marianna) and Northwest Florida State College (Niceville). But fully 52 percent of FSU PC students come from Bay County, and the bulk of them from Gulf Coast State College.
The relationship between GCSC and FSU PC is great, said Hanna, who knew GCSC president John Holdnak when both men worked for the Florida College System. FSU PC has professors who cross Collegiate Drive to teach classes at GCSC and vice versa. Articulation agreements in the works will provide for an increased complement of FSU PC advisors on the GCSC campus and will unite the two-year hospitality and entrepreneurship programs at GCSC with the four-year programs at FSU PC.
But the proximity of GCSC doesn't guarantee the enrollment that Hanna seeks and that FSU PC needs.
Hence, FSU PC has committed to what Hanna called a "new and enhanced focus on recruitment." Four full-time recruiters spend time on both high school and community college campuses. FSU PC faculty members get involved in recruitment.
And Hanna does his part.
"I spent last Thanksgiving afternoon calling prospective students to let them know they had been admitted," Hanna said. "It's a good feeling to be able to do that. It's good to connect with students, whether they wind up coming to our campus or not, at such an exciting time in their life."
---
FLORIDA STATE UNIVERSITY-PANAMA CITY
By the Numbers
Enrollment FALL 2014
Headcount 856
Undergraduate Degrees Awarded 293
Graduate Degrees Awarded 77
Students Receiving Financial Aid 76.5%
Students with Disabilities 67
Enrollment FALL 2015
Headcount 961
Undergraduate Degrees Awarded 295
Graduate Degrees Awarded 34
Students Receiving Financial Aid 69%
Students with Disabilities 48
Enrollment by Class Year
Freshman 2%
Sophomore 3%
Junior 23%
Seniors 56%
Graduate 11%
Unclassified 5%
Where FSU PC Students Are From
Bay County 52%
Florida 92%
Out of State 7%
Out of Country 1%
Where FSU PC Alumni Reside
Bay County 47%
Outside Service Area 29%
Jackson County 3%
Okaloosa County 3%
Walton County 3%
Washington County 3%
Gulf County 2%
Holmes County 2%
Escambia County 1%
Santa Rosa County 1%