A Transgendered Veteran Tells Her Story
Bay County couple seeks an accepting place to live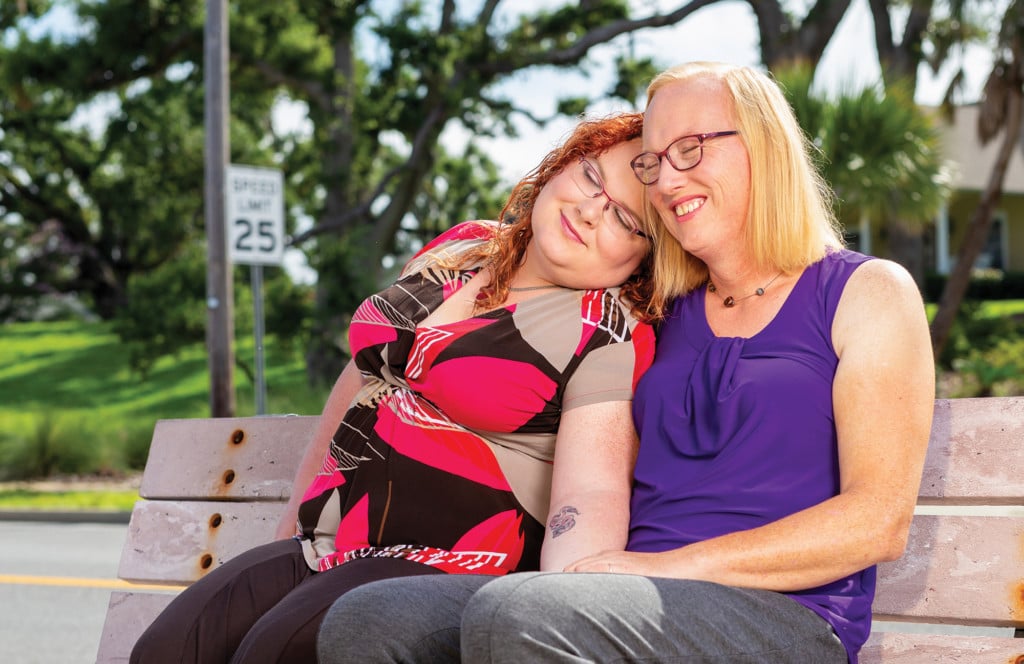 I arrived at the Lynn Haven residence of Taryn Wilson and Jessica Black and noted with interest the historical marker in the front yard that informs passers-by that the home dates to 1912. There was a pickup truck with its hood raised in the garage and a scary-looking crotch-rocket in the driveway where two employees of a drywall contractor were mixing mud with long attachments affixed to electric drills. One of the men looked toward me and asked, "You looking for the owner?" I told him that, yes, I was and that I was expected. "He or she or whatever it is is probably either in the garage or upstairs," the worker told me. It was May 23. A day later, the Trump administration would formally propose the elimination of an Obama-era policy that, in conjunction with adoption of the Affordable Care Act, had redefined discrimination on the "basis of sex" to include gender identity. On May 22, the Department of Housing and Urban Development had proposed a new rule to weaken Obama-era protections for homeless transgender people, allowing federally funded shelters to deny people admission on religious grounds or force transgender women to share bathrooms and sleeping quarters with men. The moves immediately were seen by transgender rights groups as part of a larger effort to more generally undermine protections for LGBT people. — S.B.
While a command master chief at Naval Support Activity Panama City, Tim Wilson frequently had the chiefs from his command and their families over to his house for cookouts.
Prior to their arrival, he would take care to hide from view any items of a feminine nature.
"You know, so there would be no questions," Wilson said.
Well, save for one that was invariably asked.
"Always by the end of the night, the wives would be drunk and they would ask me why I wasn't married," Wilson recalled.
He impressed them, after all, as highly eligible. He owned two cars and two houses, had little debt and, for two decades, had served with distinction and earned promotions as an engineman in the U.S. Navy.
He deflected the question as best he could, time and again.
"I had to put a lot of work into a simple barbecue," Wilson reflected. "Who knows how far I could have gone in my career if I hadn't had to devote so much energy to hiding?"
Wilson retired from the Navy of his own volition, effective Oct. 31, 2018, after 23 years, the last three-and-a-half at the Navy base located on Thomas Drive in the beaches area of Bay County. There, he was the senior enlisted person, and worked directly for base commander Cmdr. Jay Sego and executive officer Lt. Cmdr. Adam Walski.
Due to accumulated leave time, Wilson's retirement ceremony and last day on base occurred in August of last year.
While aboard ships, Wilson, a "diesel mechanic by trade," worked on everything from laundry and galley equipment to main engines, reduction gears, steering systems and windlass mechanisms.
"Basically, any piece of equipment that no other group wanted, my group would get," he said.
At NSA Panama City, Wilson joined the fairly exclusive ranks of Navy E-9 master chief petty officers afforded an opportunity to work in an executive level leadership position.
"It was a great experience," Wilson said, one that involved frequent interaction with the Military Affairs Committee of the Bay County Chamber of Commerce, dealings with contractors and with tenant commands including the Naval Surface Warfare Center, and the working out of memoranda of understanding with local first-responder departments and agencies.
And, in the midst of performing those various duties, Wilson began transitioning from male to female.
President Barack Obama had lifted the ban on transsexuals in the military, and Wilson came out in 2016. He'd had conversations with Sego and Walski about the relaxed policy. As a result, they were not surprised by Wilson's plans to become a woman — and they were supportive.
"Before I came out to everybody, I also went to every senior enlisted leader on the base, all the tenant commands, and we sat down and had a talk," Wilson said. "To my surprise, they were all very supportive. The regional commander in Jacksonville was also supportive.
"For the most part, I didn't have any problems with the sailors or the civilian employees on base. There's always gonna be a few in the crowd, but those who did have a problem with it kinda kept it to themselves."
Today, Tim Wilson is Taryn Wilson.
Her experience outside the fence has not been as supportive as the base environment was.
"There are good days and bad days," Wilson said. "And, early in my transition, there were a lot more bad than good. I figured out that a lot of that had to do with how I was dressing. I had been a man for 40 years. I had to learn to do makeup and how to dress and fit in."
Today, Wilson said, the treatment she receives varies primarily as a function of the particular setting she finds herself in.
"If I go to a hardware store like Home Depot or Lowe's, I generally get more stares and hear more comments being made when I walk by," Wilson said. "But I don't let them bother me as much anymore. Confidence helps. I know a couple of transgender women who are not confident, and they get messed with relentlessly and it has a lot to do with how they carry themselves."
It can help, too, to consider the point of view of others.
"It is important not to get hung up on people not getting the right gender right off the bat," Wilson said. "I know I don't sound very feminine, so if I am on the phone and I get misgendered, I don't let it bother me because the person on the other end of the phone doesn't know. You can choose what to allow yourself to get upset over. You've got to serve as your own counselor."
In March, a professional wedding officiant, Doug Dunks, married Taryn Wilson and Jessica Black at the Center for the Arts in downtown Panama City. Wilson's parents and sister flew in from California to attend the ceremony. Her brother, who does not support her decision to transition, stayed home.
Black was a Bay School District employee for years and holds a master's degree in educational leadership. Despite multiple attempts, however, she never has succeeded in landing a job as a classroom teacher. Wilson is convinced she knows why.
Wilson is about "three classes" away from a bachelor's degree in psychology and plans to go on to graduate school. She volunteers at the Panama City chapter of Parents and Friends of Lesbians and Gays (PFLAG), and met Black there. She does advocacy work on behalf of transgender military service members and works with Equality Florida to update its transgender resource guide every quarter.
For a time prior to the storm, Wilson and Black thought about filing a discrimination case against Bay District Schools but abandoned that consideration when they recognized that they would not want to remain in Bay County even if they prevailed.
They have made plans to move to Baltimore. Departing with them will be their experience, skills, education and passion for helping others.
Here, employment is a problem. Access to sympathetic health care is an issue. The only Bay County physician known for working with transgender patients, Dr. Michael Ingram, died in April.
And, Wilson summed things up, "This area is just way too red."
For Wilson, now 42, military service was a way out of tiny June Lake, California, a ski resort town of just a few hundred permanent residents. Her father worked as a lineman; her mother was a stay-at-home mom.
There was a time when Wilson ran a lot of foot races — 5Ks and half-marathons. She completed a marathon once. She raced cars and did her own mechanical work but now prefers woodworking. About once a month, she will build a shadow box for a military retiree, the kind that you put a flag and medals and ribbons in.
Wilson, by the way, was awarded the Meritorious Service Medal and the Military Outstanding Volunteer Service Medal upon her retirement.
A Process Leading to a Process
Once resolved to transition, Wilson obtained a diagnosis of gender dysphoria. Next, a transgender care team in Portsmouth, Virginia, working with information supplied by a Navy psychologist, primary care physician and others, wrote a transition plan that involved hormone replacement treatment and gender reassignment surgery.
Such plans are forwarded to the commanding officer who decides whether and when they are employed.
"If I was on a ship and we were deploying that would be a no-go," Wilson explained. "But, being on shore duty, I was able to go ahead and start right up."
At NSA Panama City, Wilson was aware of one other transgender service member, an E-5 who reported to her.
"When he and I left, people on base washed their hands of the trans issue, satisfied that it would not recur," Wilson said. "But there are others. The reality is that we hide very well."
Now that the ban on transsexuals in the military has been restored, hiding is as necessary as it was throughout the majority of Wilson's Navy career.
"I liked my living and, for many years before the ban was lifted, being discovered as transgender would have meant being kicked out of the Navy," Wilson said.
At this writing, Wilson has undergone hair removal procedures and hormone replacement treatment.
"I gave Dr. Ingram documentation on a treatment that I was interested in and he actually took the time to read it, which was amazing," Wilson said. "We gave it a try and it worked out great. He was very open, but doctors generally are a challenge. I have a primary care physician who is OK as long as we don't talk about the transgender stuff."
Wilson wants to be more "financially stable" before undergoing reassignment surgery, which she said will run between $20,000 and $40,000 and is not covered by her Tricare insurance.
Her focus this spring and summer was on fixing up her storm-battered home, whose remodeling she had nearly completed when Michael returned her to step one.
Wilson is convinced that she — and the entire LGBTQ community — will experience more setbacks.
"Gains will be lost," Wilson said. "That is absolutely going to happen. Marriage equality is in trouble. The federal HUD director removed transgender protection at homeless shelters that receive federal funds. The military ban on transsexuals is back. Look at what is happening on the reproductive rights front. Given the makeup of the Supreme Court, I would not be surprised to see Roe v. Wade set aside."
"It's never just about a cake," Wilson said, referring to the Masterpiece Cakeshop v. Colorado Civil Rights Commission case in which the U.S. Supreme Court ruled in favor of a baker who refused to bake a cake for a same-sex wedding ceremony because of a religious objection. "It's about eroding human rights, just a little bit at a time."
The "rollbacks," Wilson fears, "will be upheld here in the Panhandle first.
"Once we get past this house project, I think we're just going to pull chocks and go."