A Time to Learn
Many company leaders have had to make adjustments and difficult decisions that are necessary during these uncertain and challenging times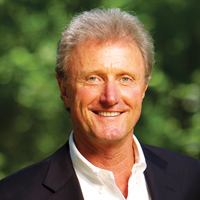 One of the best business decisions I have made was to embrace the strategic planning process and make a commitment to do it every five years. So far, we have done it twice in the past decade and continually use the results to guide us through every major decision.
I have had the good fortune of having a wonderful facilitator, a close friend of 30 years, a retired member of senior management for the Caterpillar Corporation and a mentor who offered advice throughout my professional career. He has been there to share insight and motivation at the many forks in the road one experiences in the development and operation of a business.
This friend, John Tuffey, shared a story with me many years ago that I must confess I really did not fully comprehend until recently. At one time in his career, John was the corporate liaison between Caterpillar's corporate headquarters and the company's dealerships, many of them owned by families with whom he had developed long-term relationships. One of the longtime owners had begun the process of "turning over the reins" to his son, which in this case was a well-planned, multi-year process.
Times for this company had been good for 15 years or so, and growth was in the double digits. But the patriarch's wish was that he could live long enough to mentor his son through a recessionary cycle, which he knew any long-term business would inevitably face. John inquired why, and the response was simple: "Then, and only then, does a corporate leader really learn how to run a company successfully."
So, eight years later, I keenly understand the true implications of this wise man's comment. Many company leaders, myself included, have had to make adjustments and difficult decisions that are necessary during these uncertain and challenging times. This has come in the form of budget adjustments being made on a more frequent basis than only two years ago, modification of sales strategy as the market changes, and evaluation of every expense more carefully than ever before. But the most difficult of all was making the decision to reduce staff to offset a revenue decline — while at the same time keeping the bar high for the remaining staff, ensuring that we continue to maintain the content and production quality of the multiple magazine titles we produce. A very fine line to walk.
Over the past 15 months, this company has had to reduce its staff. I sat in on each of these layoff meetings, which have been emotionally difficult and professionally disappointing, as they could not be avoided. They had to occur to ensure the security and overall well-being of the company.
(I guess I am also a bit angry at the greedy individuals and corporations who put this economic downturn into play, ultimately causing millions of good people to lose their jobs — including the four people I personally valued.)
My hope is that the worst is over, that the economic foundation America's small businesses are built on can regain its strength, and that we all can call upon what we have learned over the past 18 months to ensure that we never walk this path again.
Many business owners had never learned how to operate in an uncertain economy — and would have benefited from the lesson that John's Caterpillar dealer wanted to teach his son. But now, as we begin to see the glimmer of a recovery on the horizon, many of us have learned to run a tighter operation, to be prepared.
Experience has been the best teacher. I, for one, am now ready to return to the challenges presented by double-digit growth.
In this issue, I am extremely proud to bring you an exclusive interview with the relatively new CEO of St. Joe, whose long-term strategy will set the foundation on which this region will build up over the next 50 to 100 years. I hope you enjoy this rare glimpse into his vision and perspective.