A Tale of Two Fisheries
Commercial survivors OK; recreational fleet is reeling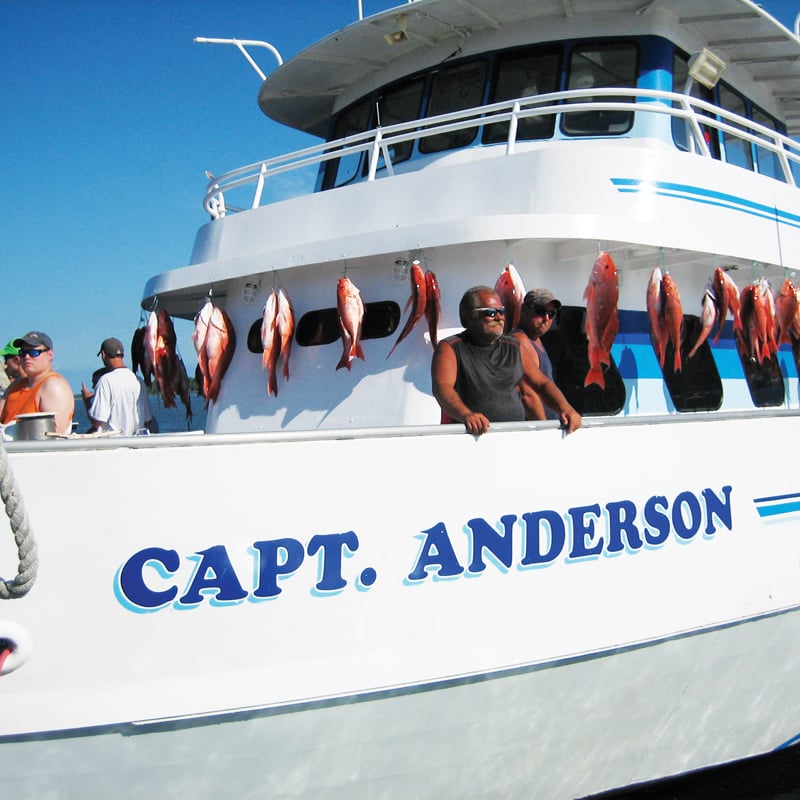 Greg Abrams walked into G. Foley's Restaurant on 23rd Street in Panama City on a recent Wednesday afternoon, encountered owner George Husum and declared, "I know what you've got and I know what I'll have."
Abrams, the owner of a Panama City seafood operation and the Tarpon Dock Seafood Market, was aware that one of his drivers had delivered an order of black grouper filets to Husum that morning.
"Grouper sandwich, write it up," Abrams directed Husum, and when the meal arrived, Abrams would say later, "It was out of this world."
It was a Wednesday, what Abrams calls his "good day," when seafood house operations are slowed to allow for "getting things cleaned up and reorganized." Such respites never last long. Boats loaded with golden tilefish, yellow-edge grouper and Warsaw grouper were on their way in.
Business was slow, too, at Capt. Anderson's Marina on Grand Lagoon in Panama City Beach, but not pursuant to any plan. Headboats were running at far less than their 60-angler capacity, and most of the charter boats that operate from the marina were tied up at the dock.
To blame, according to marina operations manager Pam Anderson, is this year's severely abbreviated red snapper season, so short, at nine days, that it came to be known as Snapper Week.
"Our captains looked forward to the snapper season, such as it was, so they could catch up on their fuel bills and slip rental," Anderson said as a headboat displaying modest catches of white snapper and beeliners arrived at the dock. "Now they are hurting again."
With reference to the Deepwater Horizon oil platform explosion, she added, "This is their second 'BP,' and it's worse than the first."
For the casual saltwater angler, the red snapper may be the perfect fish. It's pretty, it tastes good and it's easy to catch. They are voracious feeders, leading Abrams to call them "saltwater piranha."
Curiously, both the commercial and the recreational fishing sectors agree that there are too many red snapper in the Gulf, to the point where grouper populations are suffering. Abrams has made a point of sending photos of juvenile grouper removed from snapper bellies to federal authorities.
The sectors agree, too, that regulators don't have a good handle on recreational catches. Estimates based on telephone surveys and a small number of dockside intercepts are crude at best, they concur. The regulators, themselves, find that better accountability measures need to be put in place. But there is deep disagreement on how to improve the system.
Catches made from commercial boats are limited by Individual Fishing Quotas (IFQs). Boats are equipped with vessel monitoring systems and monitored by National Marine Fisheries Service personnel. Offloading operations are overseen by NMFS observers and catches deducted from quotas.
Abrams supports the extension of that system to the recreational charter boat fleet, but Anderson views it as too burdensome.
"All the data the government needs is available dockside," she says. "We go out and return to the same slip. We've got to get our customers back to their cars."
And accurate data, she is convinced, would result in a larger overall recreational quota.
Abrams, meanwhile, after fervently opposing IFQs for a year and a half, has made peace with them.
"Quotas became a reality, and I had to adapt," Abrams says. "It's not the best tool, but the government gave us a tool and we can catch our fish when we want to. The market doesn't get flooded, we get top dollar for our fish and our customers get fish of high quality."
Anticipating the arrival of a quota system like that in place today, Abrams bought up lots of boats — he has a fleet of 14 vessels from which pole fishing is conducted — and collected lots of permits and assembled lots of catch data. As a result, he did well when IFQs were handed out.
Equal parts fishmonger and logistics expert, Abrams runs an operation of a scale far larger than all but insiders realize. He owns eight Peterbilt tractor-trailer rigs that make regular runs to cities including Atlanta, Baltimore, Philadelphia and New York, delivering seafood and returning (in season) with produce from New Jersey and fish bait (Boston mackerel, prized because of its oiliness) from Delaware. Twenty-eight independent boats unload their catches at Greg Abrams Seafood.
Abrams employs 12 truck drivers and 37 office, warehouse and retail store employees. A total of 91 contract employees comprise the teams that man his boats. He spends $40,000 to $60,000 on diesel fuel every 10 days. Locally owned businesses supply him with his tackle and hardware. Boats leave his docks with $1,200 of groceries on board. Machines at the Panama City fish house turn out 40 tons of ice daily. He owns another fish house in Leeville, Louisiana. He handles fish delivered to Port Panama City by ships out of Progreso, Mexico, an opportunity that developed after Hurricane Katrina severely disrupted port operations in Gulfport, Mississippi.
All of this is big stuff for someone who started out selling shrimp from the back of a pickup truck in 1977. Shrimp remains a mainstay of Abrams' business along with snapper, tuna, swordfish, grouper and scamp. Tuna catches have been exceptional this year.
Anderson fears that if "BP II" persists for another two or three years, charter boat fishing will have been largely extinguished.
"We have options. We could sell this property to a developer and come out all right. But we are committed to perpetuating the fishing legacy of this place for as long as we can."
Abrams, too, can foresee the day when his seafood business is snapped up by a large corporation. But he hopes there always remains an opportunity for those people who "can't stand to work on land" to make a living at sea.