A Successful Mission
Emerald Coast Corridor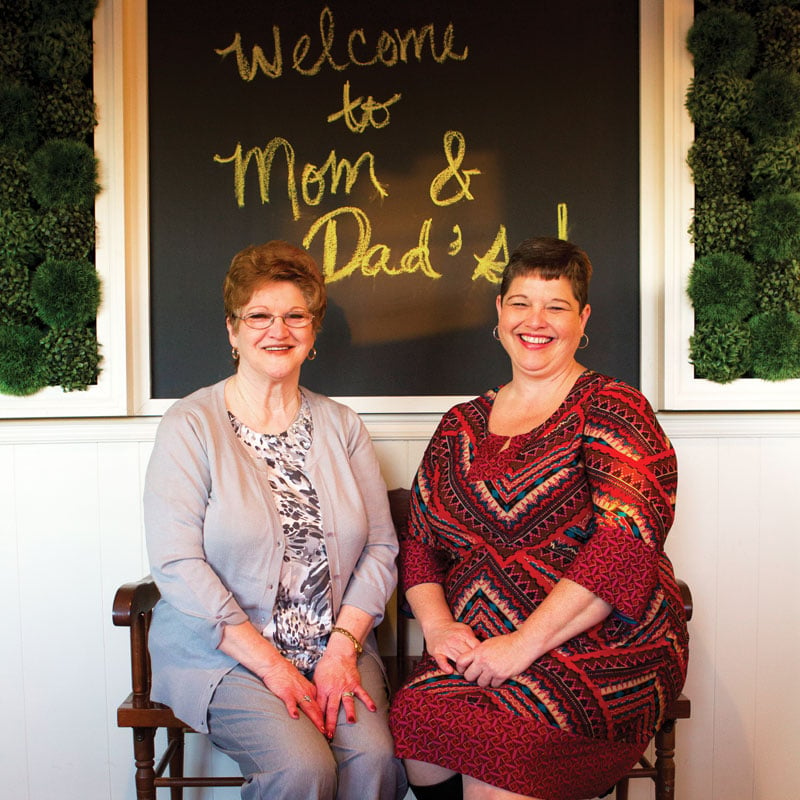 While Defuniak Springs may not be on the cutting edge of the culinary world, it's definitely become buzz-worthy over the past year. And while the only Michelin anything in this sleepy little town might be the tires coasting along its roads, celebrity chef-dom has left a lasting impression here.
It all started with a phone call.
When Carolyn Cuneo answered the telephone last February, she had no idea that her life –– and her restaurant, Mom and Dad's Italian Restaurant –– was about to change. Admittedly, Mom and Dad's was finding itself in increasingly dire straights, as debt was mounting with alarming speed and business was slowing. But the voice on the other end of the phone was offering Cuneo a lifeline. All she had to do was accept it.
Unbeknownst to Cuneo, her daughter, Lisa Pitts, had contacted the producers at "Restaurant: Impossible." They took notice, finding Cuneo's plight to be a worthy cause. "My husband [George] passed away in 2007, and it was very difficult for me to manage both financially and mentally," she recalls. In the midst of a nationwide economic crisis, Mom and Dad's financial downward spiral continued, and the ruin of the restaurant seemed inevitable.
The network's offer of assistance came as quite a shock, and Cuneo's initial response was flat-out refusal –– a first for the famed television show. It wasn't until she found out just who had made the plea to the Food Network that Cuneo relented, admitting that she was in over her head. It was her daughter's urging that made all the difference.
When the show's crew rolled into town in late February 2013, they did it with the precision of a military operation. It was, after all, a mission. A rescue mission, helmed by celebrity chef Robert Irvine. The culinary master, known for his Scottish lilt, unmistakable crew cut and formidable presence –– both in physique and in manner –– marched through the doors at Mom and Dad's determined to bring the Italian eatery back from the brink. "Robert is a very imposing figure," Cuneo observes. "He's very expressive and very energetic and very in your face. But you get the feeling that he really, really wants to help you succeed."
From the first moment, it was, by all accounts, a whirlwind operation. That momentous Tuesday in February, Restaurant: Impossible's production crew came prepared to conduct interviews with the staff at Mom and Dad's and get a layout of the land. When Irvine himself came the next day, a plan of attack was beginning to take shape, and the restaurant shuttered its doors and cleared out as old began to give way to new. By Thursday night, the crowd packed into the parking lot at Mom and Dad's was holding its collective breath, patiently waiting for Cuneo to welcome them into her revitalized restaurant. It was, as Irvine so famously intones on each episode, "Two days and $10,000."
What happened in those hours between the closing of one incarnation of Mom and Dad's and the opening of the next was nothing short of miraculous. Hard flooring replaced tired carpet; old wood wall paneling was repainted in fresh, airy colors; and a feature wall of reclaimed, repainted window shutters was installed. A barrier wall was constructed between the service area and back dining room to solve noise issues, new lighting bathed the interior, tabletops were replaced and cluttered antique-store knickknacks made room for a cohesive collection of eye-catching artwork thoughtfully displayed along the walls.
Anyone who watches "Restaurant: Impossible," however, knows that dining room renovation isn't the extent of the program's objective. Merely addressing the decor would only serve as a temporary band-aid to the real issues, and so Irvine had two other components to tackle: an overblown menu and Cuneo's reluctance to accept change.
While regular, loyal patrons might have seemed satisfied by the actual food, there were definite problems with the restaurant's profitability and the size of its menu, which was both lengthy and priced too low to cover costs. There were other drains to the income, as well. Copious amounts of salad and bread were given as complimentary accompaniments to each order, and the staff was being fed for free. It was, in Cuneo's opinion, part of what kept people coming back into her restaurant, an innate part of her nurturing desire to see people well fed. But it was also bleeding her bank account.
Irvine's arrival brought with it a well-edited list of dishes to kick-start the reinvigorated restaurant. Improvements were made on some of Cuneo's existing menu items, and Irvine urged her to try scratch baking her breads, as George had. As with most of the proposed changes, Cuneo was, at first, extremely resistant to Irvine's attempts to alter her menu. And while a majority of the foods being prepared at Mom and Dad's had always been made from scratch, they were lackluster. One notable exception was her pizza. With that in mind, Irvine encouraged additional pizzas, building on her signature pie.
Admittedly, some of the modifications have not taken permanent hold. Though the house-baked bread has been outsourced to a local bakery, "We're still offering one of the pizzas that he made and a few items that he came in with, but we went back to a good portion of my menu," Cuneo says. Happily, however, one important change remained in place: "It's not as large –– [we needed] to streamline it."
"It's gotten a mix of responses," the restaurant owner says of the menu adaptations and remodeled decor. "Some of my locals were like me –– they didn't like change. They didn't want it to be any different than it was. But for the most part, the majority [of our diners] like it." The show's airing cast a wide net, bringing in fans from around the country. "So many people are just rabid about that show," Cuneo observes. "They've got a huge following," she marvels, citing calls she's received from travelers who seem to plan their itinerary around "Restaurant: Impossible" episodes.
Cuneo's personal transformation was part of the process, as well. Emotionally, she had a lot to overcome. Mom and Dad's had, since the day she and her late husband took over for the original owners in 1988, been an integral part of their lives. George's death left her alone –– not only in keeping her business afloat in a tanking economy, but in the emotional struggle of watching their long-held dream come to an end. She suffered in silence, feeling an acute sense of shame. "I think it would have embarrassed George to admit that we needed help, just like it was hard for me. But I think if we hadn't done it, in a couple of months, we would have had to close," she confesses. "That would have devastated me, and it would have devastated him."
Fortunately, the show left her with a fresh perspective, and now Cuneo has implemented Irvine's greatest advice regarding the restaurant's actual operation. "I was over-ordering and undercharging. Robert helped me on those points, and it's worked." Her advice for other restaurateurs? "You really have to watch your bottom line and charge enough," she says. Fearing that an increase would overwhelm diners in such a small town, Cuneo's prices had always remained unrealistically low; and over time, it ate her profits. "You've got to do a cost analysis," Cuneo realizes. "That's your profit, and you've got to make a profit to stay in business."
Certainly food for thought.