A Step in Time
Fugawee peddles historic footwear up the road and around the world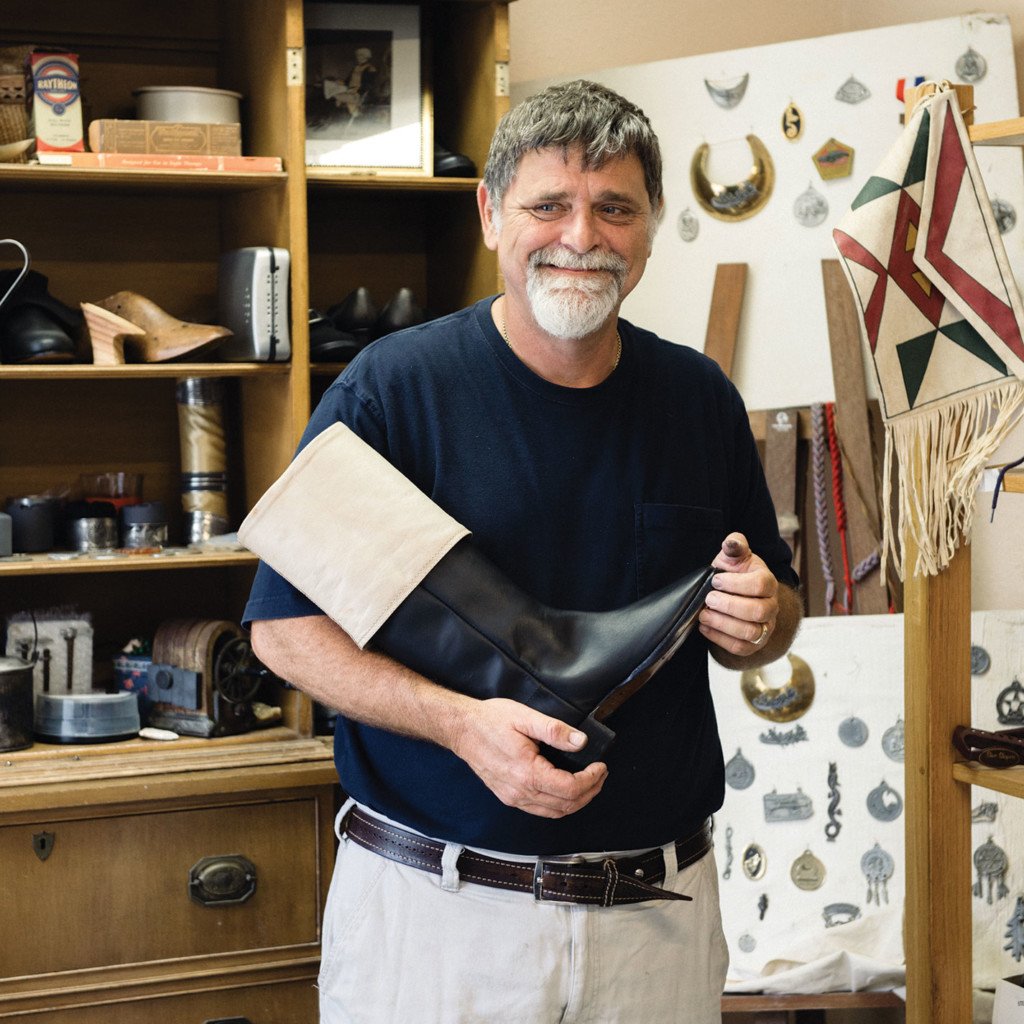 For starters, it's pronounced "fu-GOW-we," and years ago it was the off-color punch line of an obscure Johnny Carson joke about the lost "Fugawi Indian" tribe.
The story goes that the tribe had wandered for years, season after season, through highlands and lowlands, until finally they stopped and asked the Great Spirit, "Where the fugawi?"
Insert rimshot.
Alex Ayotte said Carson's story made it past the censors, but the producers of the Western comedy "F Troop" weren't so lucky. They tried to use the name for their local native tribe, but the censors — who had wised up by that point — refused. The show was forced to change the name to Hakawi, as in, "Where the heck are we?"
But it didn't stop the Ayotte family from using the name, albeit spelled a bit differently, for the business they started back in the 1980s. At one time, the company logo even featured an Indian swiveling his head in the act of figuring out where he was. But in time, that changed as the original joke faded from collective memory.
"Now we're going with a cobbler for the logo, because nobody gets the joke anymore," Ayotte said.
All joking aside, Fugawee Corporation is a serious business. For 30 years, the company has been the go-to supplier of historical footwear for living history enthusiasts, parks, museums, movies and even Broadway shows. You can own boots and shoes your ancestors wore during the mid-18th century or anytime through the post-Civil War years. These include buckle shoes for men and women, "stovepipe" boots, lace-up brogans, "congress" gaiters and more. But the company offers more than shoes. Fugawee also makes lead-free pewter medallions for various events such as reenactments and mountain man rendezvous, and a long line of buttons made from brass, pewter, bone and horn. Also available are over-the-knee stockings in your choice of wool or cotton and a line of period-style tinware, such as boilers and coffee pots.
Fugawee Corporation was founded by Alex's father, Art Ayotte, a Massachusetts man who loved American history and wanted to turn that interest into a retirement hobby. Art spent much of his adulthood at sea, first in the U.S. Navy and then in the Merchant Marine service. He traveled the globe, read extensively and learned seven languages, including Spanish, French, Farsi and Japanese. He also had a consuming interest in muzzle-loading black powder rifles. Alex Ayotte recalled helping his father "proof" shotgun barrels as a kid, and later on, he and his father built Hawken-style rifles from kits.
"We built those together, and then he fell in with the likes of the American mountain men," Ayotte said. "He was still going to sea at the time, he hadn't retired yet. He made a regular run from San Francisco to Thailand, Hong Kong and other places. He always had his clothes made in Thailand because they're excellent tailors."
That's where the first Fugawee shoes were made. Art Ayotte would bring them home to the mountain man re-enactments he attended during his off time and sell them off the trade blanket, or off his feet. There was a surge in repeat orders.
"By the time my brother had moved off to college, they were using his room for a stockroom, and by then my father was pretty much retired and started rendezvousin' full time," Alex Ayotte recalled. "He'd pretty much be gone all spring and half the summer. This was '83, '84."
But business in Thailand hit a cultural snag, which forced his father to find another source for his product.
"He had to have a Thai partner if he expected to do more business there. And it got very complicated," Ayotte said.
The family would have liked nothing better than to have their shoes made in America, Ayotte said, but the small size of their company proved problematic. However, they soon were able to strike up a deal with a boot maker in Mexico who was OK with small orders.
"We went up to Boston, where my father is from, and nobody wanted to talk to us," Ayotte said. "We were too small. And that's the reason we went to Mexico. My father spoke Spanish and did business face-to-face. He and the boot maker got to be friends, so he would take these small orders. They used to take orders of 20 or 30 pairs of shoes at a time from us."
Ayotte said he helped out his father from time to time, but when the old man passed away in 2007, he entered the business full time to help his mom run the place.
"And that's when we got the online stores working, and growth was going good," he said. "We had a warehouse we were renting in Tallahassee, but they just kept raising the rent and it got too expensive to be there. So I started looking for a place for a warehouse."
About five years ago, the company moved into its current digs, a 1,600-square-foot office and 10,000-square-foot warehouse south of Crawfordville.
"You've got to realize that with shoes, they take up a lot of space," he said. "So if I got a size 5, I've got three of them — single E, double E and triple E. Then I got a 5 1/2, and a 6, and 6 1/2. All the variations, 57 variations per style."
That number is doubled considering that each shoe has a "rough out" (rough outside texture) and "smooth out" (smooth outer texture) version. That means 114 variations, altogether, for just one particular shoe style. That's just the existing stock. New products currently in development will certainly take up more space. These include a tall "Hessian" boot, new color lines and added widths for some women's shoes, and a 1670-era "pirate" shoe.
Fugawee customers are all over the country and around the globe, as well. They can be the re-enactor down the street or the big metropolitan opera house. These products are in high demand.
"We have a dealer in Germany and I think one in France," Ayotte said. "We sell to the Swedish government for their historical parks, and we sell to Australia quite a bit. We sell to a lot of movies and a lot of TV shows. 'Hell on Wheels' bought a bunch of brown boots. We just shipped off to 'Hamilton' because they have shows in New York, Chicago and now in San Francisco. Movie rental companies buy shoes from us, and those are nice orders. They will empty a shelf because they want all the sizes. But we get a lot of business back from people seeing our names in the rentals. "Copper" (a BBC America historical drama about an Irish cop in Civil War-era New York) was renting their shoes from an outfit in London, and when they found our shoes, they found it was cheaper to buy the congress gaiters from us and keep them than it was to rent them."