A Recap of Business, Leadership and Entrepreneurship Conference EntreCon® 2022 and a Look Towards 2023
Studer Community Institute engages wide spectrum of businesses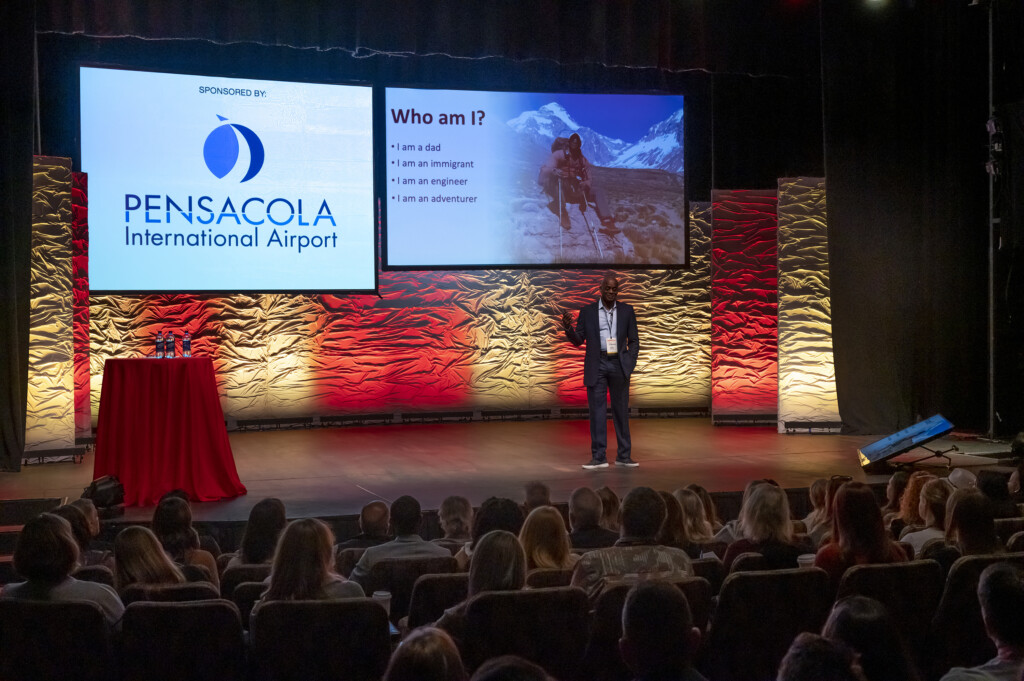 With its creation of the EntreCon® Business, Leadership and Entrepreneurship Conference, the Studer Community Institute (SCI) brought about a new kind of gathering, one inclusive of people from all industries with a desire learn and grow in new ways. 
The 2022 conference took place on Nov. 16-17 in downtown Pensacola. Business leaders, entrepreneurs and lifelong learners come together to compare notes on creating relatable, engaging, and resilient workplaces in ever-evolving industries.
Throughout the two days, attendees heard from keynote speakers, participated in panel presentations, engaged in audience Q&A sessions, and networked through social activities. 
For the breakout sessions, attendees could select among tracks:
Leadership with tips for aspiring and established leaders.
Entrepreneurship offering advice for people aiming to start or grow a business.
Community, devoted to discussion about making connections with community.
Small Group Discussions, candid conversations led by a facilitator.

 
Rachael Gillette, the president of Studer Community Institute, said many of the speakers in 2022 focused on the employee experience. Businesses have been so focused on numbers and surviving a pandemic that they have neglected the wants and needs of employees. 
"Many of the speakers served to reinvigorate and motivate leaders to consider their roles as not only goal achievers, but also as mentors, motivators and coaches to their employees," Gillette said. 
The 2022 keynote speakers included:
Rohan Freeman, president and CEO of Freeman Companies and 7 Summits
Kristen Hadeed, CEO of Kristen Hadeed LLC
Blane Harding, former director of diversity engagement at Virginia Tech University

Capt. Tim Kinsella Jr., director of the

Aylstock, Witkin, Kreis & Overholtz Center for Leadership at UWF
Jennifer McCollum, CEO of Linkage
Quint Studer founder of Healthcare Plus Solutions Group
Renee Thompson, CEO and founder of the Healthy Workforce Institute
Gillette said that in-person and remote conference attendees supplied an even larger volume of comments and positive feedback about the conference than ever before. This encouragement, along with SCI's commitment to forging community connections, has resulted in plans for EntreCon® Extra Events that will take place in 2023. 
These five, half-day events will take place in February through June and will take deep dives into subjects that surfaced at EntreCon®. They will lead up to the 2023 EntreCon®, set for Nov. 1-2.
"After a difficult few years in the workforce, attending EntreCon® is a great way to learn from experts, gain actionable tactics, make connections, and get answers from like-minded businesses while having fun," Gillette said. "A lot of synergy is always created, which sparks excitement about goals and company strategy. People leave with a renewed energy and often they go right ahead and sign up for next year's EntreCon®!" 
You can learn more about what is come with EntreCon 2023 by visiting EntreconPensacola.com.