A Ravishing Resort is Off the Market
The acclaimed Honey Lake Resort finds new owner, promises same beauty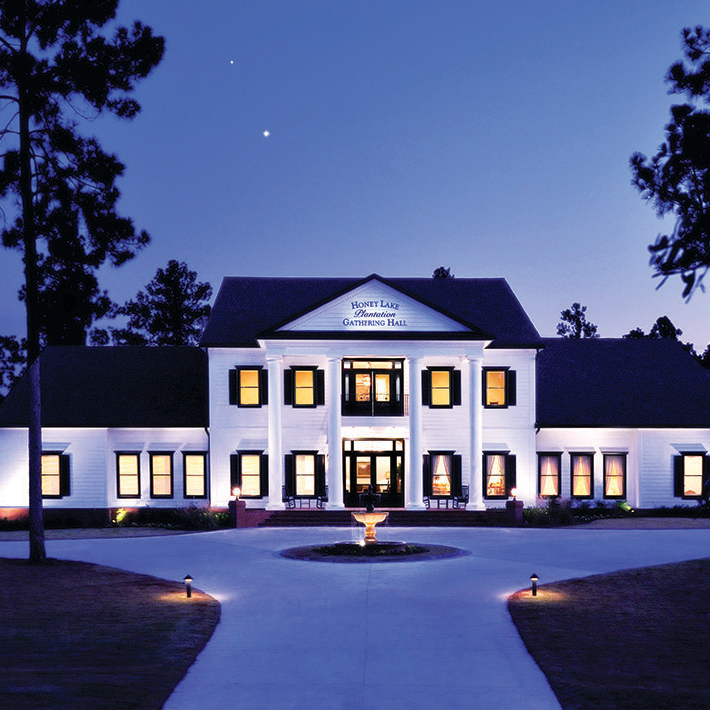 Tables are set, guests are arriving, the flowers are fragrant and the bridal party is posing for pictures in front of a gorgeous and stately plantation style resort. The new owners of Honey Lake Resort are smiling — they will watch scenes like this unfold many times in years to come.
Honey Lake Resort is widely known as one of North Florida's top wedding venues, event locations and recreational retreats. The campus consists of 99 acres of astoundingly beautiful grounds with magnificent oak trees and a picturesque lake. The options for wedding, event and vacation stays are endless at the resort, which features a 7,500-square-foot gathering hall, seven cottages, a trophy lodge, church, equestrian lodge, lakeside pavilion, saloon, fitness center, horse stables, pastures and outdoor swimming pool — all on one property.
Bob Williamson was the seller and developer of the resort. He is overjoyed that the buyers plan to maintain and use the property for established purposes including weddings, retreats, conferences and other life events.
"Soon after we sold Bob Williamson the original plantation in 2008, we watched him masterfully implement his vision and build a beautiful, world-class event campus on a portion of the property," said Broker Jon Kohler, "the likes of which no one has seen since the heyday of Pebble Hill and other grand estates. It quickly became one of North Florida's top wedding destinations and recreational retreats, not to mention the job creation and impact it has had on the local economy."
A variety of event venues are available ranging from a church to the pavilion overlooking the lake. Whether you are hosting a retreat, honoring a wedding party or simply want a getaway, there are rooms to fit your need ranging from a luxurious lodge for a family of 12, a lake house for a bridal party or a cozy cottage for two.
With a multitude of gorgeous venues, acres upon acres of land, any amenity you could imagine and a memorable setting, the sale price of $6.5 million seems like a steal.
---
Contact: Jon Kohler, (850) 508-2999, jon@jonkohler.com