A Palace of Possibility
TechFarms provides advice, capital and inspiration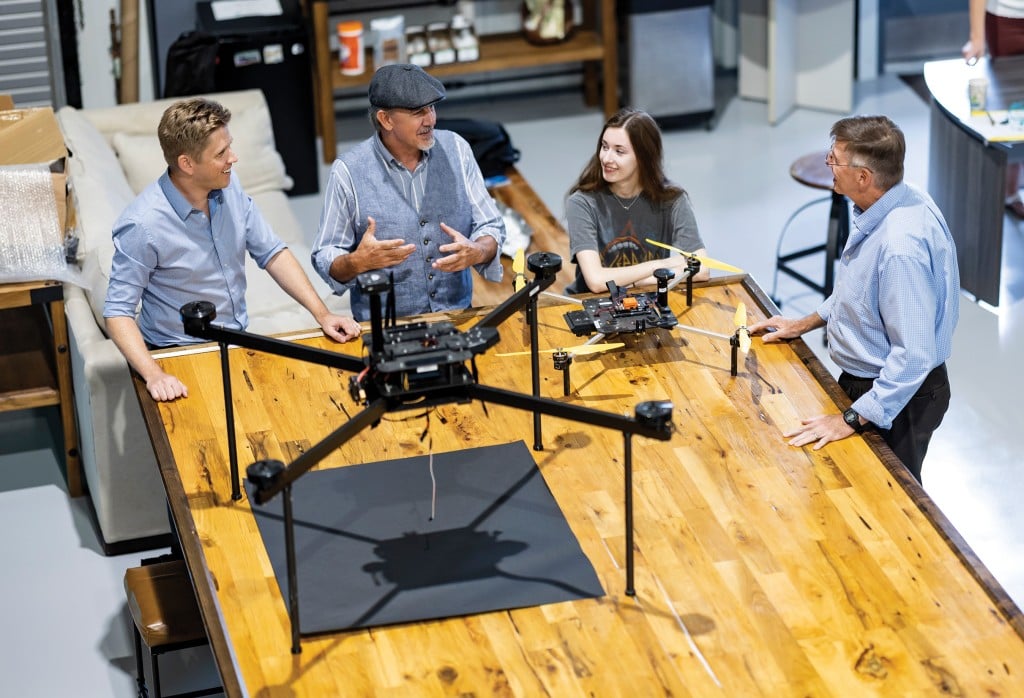 A few steps inside the entrance to TechFarms, Steve Millaway points to a project on a work table. It's a drone in progress, and if you give him a chance, Millaway will explain that it has implications for the world's food supply.
The drone, which looks as aerodynamically improbable as a bumblebee, is being developed and programmed so that it can autonomously fly a search pattern over a war zone, identifying and precisely locating unexploded ordnance, a particular problem in Ukraine, which in peacetime, supplied 9% of the world's wheat and ı2% of its corn. Africa relies heavily on that production.
Millaway explained that up to 20% of Russian ordnance fails to detonate. Wheat and corn fields in Ukraine, following months of shelling, have been laced with countless booby traps. Farmers are killed when their machinery makes contact with live weapons of war.
To date, Millaway explained, the available technology for finding unexploded ordnance or land mines requires using a handheld device or walking behind a pushcart loaded with metal-detecting gear. It is little different than the devices used by snowbirds walking beaches and hoping to find coins or a class ring. The work is horribly slow, expensive and dangerous.
Millaway has established ArroTech Corp. as his drone company, one of several companies that he heads. Of late, he hired Dr. Stephen Dunnivant, who was most recently the central campus president of Broward College and formerly was the dean of what is now the Charles Hilton Center for Advanced Technology and Hospitality Management at Gulf Coast State College, to serve as TechFarms' director of new business development. Dunnivant's first task will be to lead the drone project as it moves from development to production and sales/distribution.
The product, capable of flying over areas of concern at 5 mph, would represent a game-changing advance, one that could help restore Ukrainian agricultural production and exports and help rid the world of millions of unexploded land mines.
TechFarms, a business incubator and shared workspace located next to an outboard engine repair shop not far from the Navy base on Thomas Drive in Panama City Beach, is housed in a metal building, nondescript on the outside and without signage. That exterior belies what's inside — a space where Mr. Wizard might have found a home.
Here is a place where ideas germinate, a lot of high-tech tinkering takes place, computer languages are spoken and marketing minds meet with inventors and visionaries to spring delightfully disruptive businesses upon the world.
When additional interior work is complete, the new two-story, ı5,000-square-foot building will house offices and also apartments so that resident entrepreneurs can truly be residents. The elevated spirit of the place is ı80 degrees removed from stasis or complacency. It's a Possibility Palace at the center of the increasingly robust entrepreneurial ecosystem in Northwest Florida.
"For years, we had issues with the ecosystem trying to grow without capital," Millaway said. "That never works well. What we found was that startups would get some early funding from friends and family — five, ı0, ı5, 20 thousand — but then they reached a point where they needed hundreds of thousands. Unless they could find an angel investor, which is kinda hard, they wound up leaving and going to big cities where capital was available. We saw that over and over again."
The pattern was frustrating. Northwest Florida was an instructional minor league graduating players to the bigs.
"Finally, we had to make a pivotal decision," Millaway said. "Are we going to keep waiting for someone to find a way to provide capital, or do we solve that problem?"
Millaway founded TechFarms Capital, an early stage tech fund. He brought on board Kelly Reeser, an economic developer and public policy mind from Pensacola as a managing director, and went about collecting partners, mentors and advisors — among them, managing director Mort O'Sullivan III, a CPA who for years was the managing member of the Gulf Coast division of Warren Averett.
O'Sullivan, along with TechFarms Capital CFO Diana Tuzhanskiy, give the fund "a really close look" at a company's financials whenever it considers investing in a startup, Millaway said with a smile. The fund's senior analyst and partner Justin Kingsbury resides in Atlanta and helps evaluate prospective investments using the firm's proprietary decision analysis modeling tools.
The pivotal decision to add a capital arm is paying off.
"At TechFarms Capital, we see two to three companies every week," Millaway said. "And we could have many more if we searched for them on our own, but right now we are kept busy with the businesses that are coming to us."
The first business to enter the TechFarms incubator was Mine Survival Inc., a Panama City Beach developer of rebreathers called self-escape respirators that was founded by Rob Moran.
"When Rob was a Navy diver, he came into TechFarms, and he didn't know the first thing about business," Millaway recalled. "He scribbled on a whiteboard for two hours, and I was saying to myself, 'What the hell is he talking about, and what's the market for it?'"
Basically, Moran and his co-founder, David Cowgill, wanted to provide reliable, safe land-based rebreathers for mines and other confined environments.
"We took a leap of faith with him and brought him in. I was his first investor. Today, MSI and its sister company, ATOR Labs, are doing very well and they have products in all kinds of countries. Here was a case where a Navy diver was retiring with a huge amount of experience that would have gone to waste unless he was able to find a place where he could collaborate, get funding, get access to equipment and get started."
TechFarms is a place unusual enough to attract uniquely talented people.
In the midst of the COVID-ı9 pandemic, Sam Mallikarjunan, a one-time professor at Harvard University and the head of growth at software giant HubSpot Labs in Boston, grew weary of the stringent lockdowns in the Northeast. He and his wife headed south and landed in Panama City Beach.
"Sam found TechFarms on the internet and was in here the next day," Millaway said. "He sat in the back with his headset on for two months. He was nice and sociable but wasn't talking about what he was doing."
Finally, Millaway had to ask.
Mallikarjunan, aware that there existed no nationwide online inventory of out-of-home advertising spaces, was working to build one.
"While out-of-home advertising is a successful industry and the only traditional ad medium that is still growing, we believe the industry is currently operating at a fraction of its full potential," Millaway said. "Buying and selling a billboard or a wrapped car is far from a simple process and is one plagued by inefficiencies, gated information, multiple touchpoints and manual processes."
Millaway noted that the availability of thousands of billboards is touted only with a printed phone number or an appeal to "RENT THIS SPACE."
"What if all those boards were on one online platform where brands and marketers could freely access real-world advertising opportunities, and media owners and vendors could seamlessly manage and sell their inventory?" Millaway said. "After spending a couple of months studying the out-of-home industry and learning about OneScreen.ai's vision for the future, we concluded that Sam and his team had a billion-dollar idea."
That forecast is proving true. Sign companies and advertisers big and little are paying to participate on the OneScreen.ai platform, and a few months ago, a venture capitalist called Millaway with congratulations. In the caller's estimation, OneScreen.ai was a mini-corn, that is, a startup on its way to becoming a unicorn, a term applied to companies with a valuation of $ı billion or more.
Talent, too, comes knocking on TechFarms' door.
As something of an aside, Millaway mentioned that he has a "one in ı0 million" child genius working on his drone development team.
Oh?
Millaway described a ı6-year-old, self-taught savant.
"His parents came in here several years ago and said, 'You've got to have my son come down. He's in his room and he's doing all this stuff with computers and circuit boards, and we don't even know what he's doing.'"
That meeting occurred. Millaway asked the boy a few technical questions and "he started talking over my head at ı3. Remember the movie Rain Man? He's like that. When he first came in here, he was afraid of people and wouldn't say much. But we teamed him up with one of our top guys and they immediately bonded, and now he has completely come out of his shell."
Millaway has seen the boy — he asked that his name not be published since he's still a minor — learn programming languages in days. He is at work debugging sophisticated chips used in drones and their cameras and navigational systems. In meetings with top-flight engineers, he more than holds his own.
"Engineers pepper him with questions, and he's right back at them — boom, boom, boom," Millaway said.
"That's the No. ı advantage of this place. It's not the equipment or the facilities. It is that talented, enterprising people have a place to go where they can collaborate. Collaboration is the key. Before we had this, people were going to Starbucks."
Such collaboration leads to ecosystem development, which leads to economic development.
"Now, startups in Northwest Florida can find technical and business expertise right here, and graduates of the new engineering programs at FSU PC can find jobs with new businesses in their hometown," Millaway said. "We've got four of them working right here."