A New Take on Office Space
Suddath and Perdue are forging a new standard in workplace design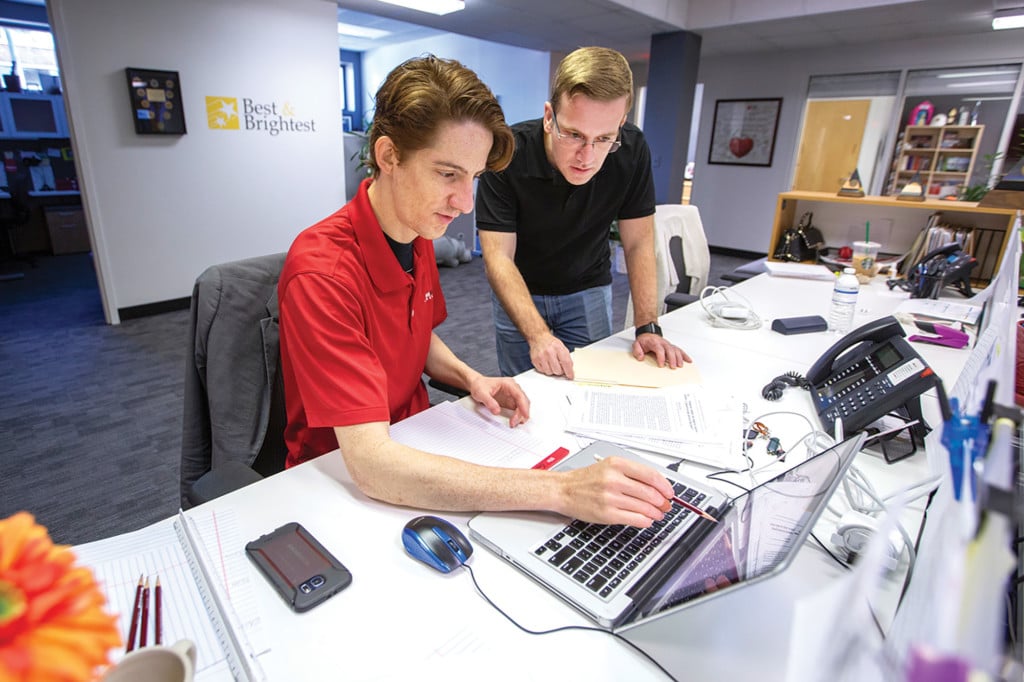 Fashion changes over time, and workplace fashion is no exception — not only in business or business-casual attire for the workers, but also in the design of the work space itself.
Over the past few decades, rows of desks have given way to rows of cubicles with low walls to rows of cubicles with high walls to modular workspaces with no walls that can be reconfigured from desktops to seating, as needed, on the spot.
The changes have also reflected the changes in the workforce, and smart companies understand that getting the best from their employees means providing the best environment for their success.
Two companies in North Florida that understand the concept keenly have joined forces. The result: seamless, comprehensive solutions to workplace environments that boost creativity and employee engagement, thereby enhancing recruitment and retention.
Suddath Companies' acquisition of Perdue Inc. earlier this year brings together the country's largest commercial moving company with the region's leading office furniture supplier.
Perdue also gives Suddath clients access to Steelcase, the world's leading office furniture manufacturer.
Both companies are headquartered in Jacksonville, both have a history of outstanding customer service, and both, like Steelcase, have been in business more than 100 years.
"The office landscape has changed dramatically over the past five to seven years," said Jack Mozley, Perdue's sales manager who runs the Tallahassee location at
313 N. Monroe St. "Cookie-cutter solutions don't work."
Suddath's small office furniture dealership is being incorporated into the Perdue brand under the Suddath Companies umbrella.
Perdue will continue to operate from its current Tallahassee and Jacksonville locations.
But big plans are being made for a few years down the road, including a new corporate headquarters in Jacksonville and a freestanding Perdue location and warehouse in Tallahassee.
Mark Scullion, Suddath's president of Workplace and Commercial Services, said pairing a commercial moving company with an office furniture company brings labor, logistics and transportation under the same umbrella.
"Every time a business purchases furniture, it's undergoing a relocation, be it external or internal," he said. "We create a single point of accountability, start to finish."
The dynamics of office configuration
Although Steelcase is Perdue's flagship brand and proprietary to the company in the eastern Panhandle to Jacksonville market, the company carries more than 100 brands.
Mozley has been in the business for 25 years, helping to design and furnish office spaces.
"We get information on how the business flows," he said. "If it's an attorney's office, more private spaces are needed. If it's a marketing firm, it needs more space for creative collaboration."
By doing extensive research and understanding the client's needs — and the needs of the client's clients — Perdue can design a customized workspace that is more efficient and creates a fun place to work.
That's important to most employees, but it's vital for recruiting and retaining millennial workers, Mozley said.
"If they have a choice of a vibrant, fun, lively space, that's the one they'll choose," he said.
Other cutting-edge aspects include open spaces for collaboration that have alcoves where one or two people can have private conversations, or an employee can have a private conversation with a doctor's office or a child's principal.
Lots of natural light and desks that can be standard sit-down or convert to stand-up desks are also an asset.
"When we're fortunate enough to work with someone, we want to be a partner in your success," Mozley said. "We want to create great spaces of timeless design that don't have to be repeated every few years. It's a 'soup to nuts' concept."
In moving a workspace, Suddath-Perdue schedules time to disconnect all electronics and equipment, bag them and reconnect.
Sometimes it's overnight or over the weekend; sometimes it takes several days and requires employees to work remotely.
At every step, it's important to keep everyone informed, Mozley said, to make employees feel valued and included so productivity is affected as little as possible. And clients can't praise Perdue's work enough.
"As a creative communications firm, we thrive on collaboration," said Michelle Ubben, president and partner of Sachs Media Group.
"By changing how our physical space is configured and outfitted with Perdue's help, we've seen remarkable changes in how we work together and even improvements in our actual work product."
Perdue also reconfigured the offices of the Florida Dental Association. FDA's Greg Gruber said the association was "incredibly happy" with the job Perdue did, spending time helping it with the design and giving ideas for the process in the hope
of getting the business — which ultimately helped it land the job.
"They did a great job start to finish," Gruber said, "and came in ahead of schedule and basically right around our budget."
Moving toward the future
Moving a business is a lot more than packing up the desks and computers and then unpacking them at the new location.
In addition to the furniture and desktops, there's the server room — the business's IT brain — as well as the cabling, the HVAC to make sure the servers stay at the proper temperature, and the fire suppression system.
Any business that doesn't use a comprehensive company that can handle the move and the new office design and setup might end up serving as its own general contractor, trying to corral all the various vendors and tasks that need to be
completed.
Suddath has built a reputation of being on top of every aspect of relocation. The company's website is filled with glowing testimonials from satisfied customers, but Scullion sees even more opportunities on the horizon.
"The moving industry is so far behind the curve in using technology, in simple things like tracking inventory during a commercial move," Scullion said.
"We move tens of millions of dollars in inventory, everything from confidential data to employee coffee mugs, and one of our biggest accelerators of growth has been our ability to keep managers in touch with the move through our Tracker app."
Tracker, an award-winning move monitoring system, provides real-time updates and digital photos at the original location and the destination.
This helps to ensure the desks and desktops are set up correctly so that employees have a seamless transition to the new space.
And, for ongoing facility support after the move, Suddath's proprietary app, Portal, allows customers to place and manage service requests online with visibility through a digital dashboard.
All these improvements are leading Suddath and its companies toward more of a self-service model with plans in the works to expand use of its technology applications to integrate video surveying.
Instead of having a company representative drive to the location and do a manual walk-through, Suddath's customers could self-perform a video survey at a time that's convenient.
Then, the video would be uploaded into Suddath's third industry-first application, Estimator, which provides instant and accurate contracting, saving time and money.
But one of the biggest benefits of having access to applications like Tracker, Portal and Estimator is the visibility and control provided; they help clients stay on top of their move, enhancing employee morale.
"How you communicate with employees during a move is critical," Scullion said.
"If you give them simple, digestible information that they can consume at their convenience, instead of cramming it down their throats, it gives you a jump right out of the gate and helps them prepare."
All these innovative practices come with a price tag, but Scullion and Mozley both believe they can quantify the benefit and show clients the added expense is an investment.
"An inspired employee is going to work a lot harder and smarter for you than one who is uninspired," Scullion said. "There's a connection between human resources and real estate."