A New Life for a Venerated Place
Brewer setting up shop in restored waterworks building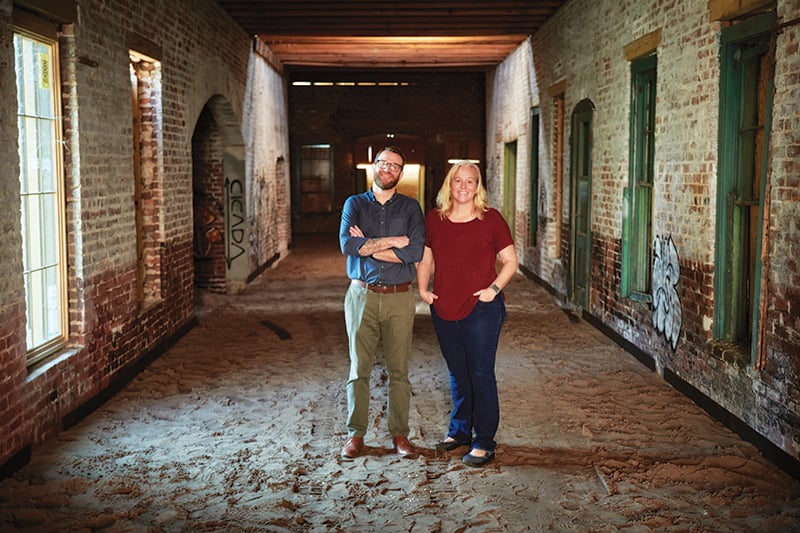 A pastor/home brewer/budding entrepreneur walks into a poker tournament and starts handing out beers.
This may sound like the run-up to a bad joke, but for the Rev. Sheldon Steen, it was a golden opportunity to spread the word about Amicus Brewing Ventures. Steen, who pastors Christ Presbyterian Church on Bannerman Road in Tallahassee, is also the brewmaster and one of eight partners in the city's next brewery, slated to open in the Old City Waterworks building.
Steen, his wife Mary, and their friends Tim and Alison Denny, Laura and Tom Barrett, and Laura and Shaun York, hatched the idea for Amicus, fittingly, over beers. Long ago, the friends had discovered that camping and craft beers were mutual interests, but it wasn't until 2021 that they began to wonder if they could make their beer passion profitable.
"We were at a really small brewery in St. Marys, Georgia," Steen said. "It was an old house where the guy had torn down the walls and had a really basic setup. Everyone knew that I have been brewing for about 10 years, so they asked if I could do something like that. We started to talk about it. None of us were really sure how serious we were until a couple of weeks later. We talked more, and from there it just snowballed."
All well established in unrelated careers, the amicae had no experience in the hospitality industry beyond waiting tables. But they discovered that they had complementary strengths adding up to the capacity to launch a business, even in the midst of an uncertain economy.
"As a contractor, I used to work for the Florida Parks Service, and I helped with historic restoration of places in the parks, so being able to restore a local building was super exciting for me," Alison Denny said. "I've driven past this building a million times living in Tallahassee. Of our four families, two of us are Tallahassee natives and the rest of us have lived here for 15-plus years, so we love the idea of being able to build back a local historic building."
Constructed more than 130 years ago by the Philadelphia-based American Pipe and Manufacturing Company, the Old City Waterworks building represented a significant leap toward modernization at the turn of the 19th century. The City of Tallahassee's purchase of the building and water system in 1908 came as one of its first investments in a utility, made at a time when Tallahassee's population was rapidly growing.
Since the 1950s, however, the Old City Waterworks building stood empty, its legacy kept alive only by its placement on registers of historic places. About 20 years ago, that began to change. The city undertook restoration work and began to market the building to businesses that might honor its history while further developing the Cascades/Downtown area.
The city granted Amicus Brewing a redevelopment grant that will cover about 20% of the project costs, including flooring, equipment purchases and additional construction.
Maintaining the integrity of the waterworks building is a priority for the Amicus team, especially for Denny, whose construction company is in charge of the redevelopment work.
"We saved the old shingles from the roof, so we are going to line the tap wall with the old shingles," Denny said. "The front of the bar is going to be made from some of the wood flooring from upstairs. Our tables are all going to be made of the beams we are taking down, so we are trying to use historic elements in the space."
Beyond construction efforts, the Amicus team has been refining their recipes, catering events and consulting with members of the Tallahassee brewery scene. Steen said the support of organizations such as the Tallahassee Beer Society and advice from brewery owners, including Marsha and Ryan LaPete of Deep Brewing Company, have been invaluable.
The city's support, Steen said, will speed progress toward the arrival of a bonafide brewery district in Tallahassee.
"Proof is basically right across that walking bridge," Steen said. "Fools Fire is over in the All Saints District, and Oyster City is right there on Gaines Street. Now with us being here, you are really starting to get a brewery district. A lot of cities have that, but Tallahassee doesn't quite have it yet. We are almost there with those three, and I think adding us makes this whole area more connected."
---