A New High-Tech Business Emerges From The MagLab
The Crystal Connection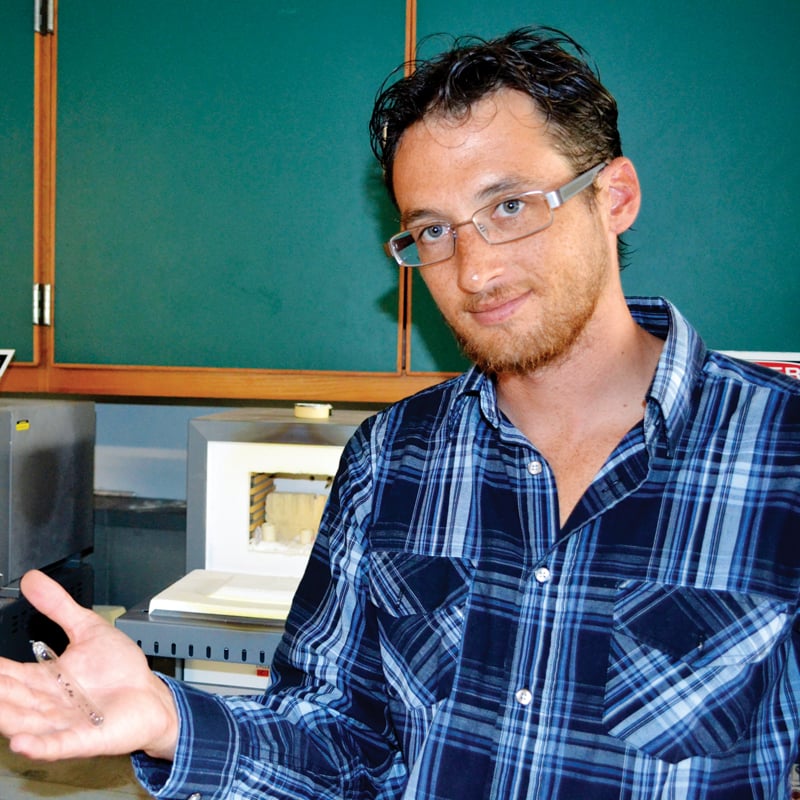 Jeffrey Whalen is a master chef, but you won't find him cooking in an upscale Florida restaurant. Whalen, a chemist at the National High Magnetic Field Laboratory, is the Julia Child of synthetic, high-tech crystals — i.e., solid materials (such as quartz, salt and other minerals) with atoms arranged in special patterns.
The 32-year-old is so good at it that, two years ago, he launched Specialized Crystal Processing with MagLab physicist Theo Siegrist. Since its inception, their company has morphed from a desk in Whalen's home to 2,500 square feet of donated warehouse space in a Tallahassee industrial park. Although in its infancy, it has one employee, engineering student Francisco Trujillo, and a clear goal to be the leading American supplier of crystal products.
"We do things here to try to make money with science," Whalen said recently, as he gave a tour of the business facility. Half of his warehouse space is still unfurnished, a reflection of how challenging it is to get a start-up off the ground. Yet without the help that he's received, it would still be just a dream.
"I could never have started my own business, and taken on this kind of risk, without the help of the MagLab and the local business community," said Whalen, whose wife is expecting their second child. "But because of all that help, it's finally coming together."
It Takes a Village
Tallahassee businessman Kim Williams — a successful, savvy and community-oriented entrepreneur — said he donated the warehouse space to Whalen because he believes in him. He first met the young scientist when Whalen competed for seed money for the crystal business before the Leon County Research and Development Authority. Whalen won two such seed grants and was awarded $15,000 each time.
"Start-ups are tough, and Jeff is grossly underfunded for what he's trying to do," said Williams, who owns Marpan, a solid waste and recycling company. "But he's a really smart young man, and I think his company will bear fruit in the future."
Greg Boebinger, the MagLab's director, agreed.
"Jeff is that rare breed of scientist who understands enough of the science to know what materials are interesting, and understands enough about the materials to grow the actual crystals, and understands enough about the technology and marketplace to know when he really has a good product," Boebinger said. "We're 100 percent committed to giving scientists like Jeff what they need to pursue their vision, and we have the institution, the expertise and the educational mission to do it."
In addition to $30,000 in seed grants from the Leon County R & D Authority, the company crystal also received a $15,000 grant from the Florida State University Foundation. Much of that money, Siegrist said, was used to pay overhead and buy production equipment, such as the special ovens needed to cook the crystals at the volcanic temperatures of 1,000 degrees Celsius (that's 1,832 degrees Fahrenheit!).
"His business proposal is exactly what we want to see: research that's developed here in Leon County being commercialized here," says Kristin Dozier, a Leon County commissioner and chair of the R & D Authority's Board of Governors. "We feel like that is so important, keeping companies where the research actually happens."
There's another aspect to the crystal company many find appealing: If successful, it would become the first American supplier of some important crystals. One of Whalen's creations — doped triglycine sulfate, or "Dee-Lat" — will compete with a crystal made only overseas. If Whalen can break into that locked-down market, his small crystal company would compete in the global market.
Growing the Crystal Company
In addition to the high-tech "Dee-Lat," Whalen also grows a crystal with a more friendly user name: europium oxide, or EuO.
Photo courtesy National High Magnetic Field Laboratory
Francisco Trujillo, a FAMU-FSU College of Engineering student and the general manager at Specialized Crystal Processing Inc., works with crystals using a glove box at the MagLab.
This second crystal is used primarily by university researchers interested in spintronics. Spintronics uses the quantum properties of an electron's spin to store memory.
"Spintronics is sort of a buzz word right now, but the ongoing research with this material is very real," Whalen said. "It's supposed to be the thing that will one day make our computers faster, smaller, better — and then maybe our computers will be able to cook us breakfast or something fancy like that."
A batch of 100 shiny EO crystals — a typical order size — would fill a tablespoon. Part of Whalen's business plan, however, is to make the crystals bigger, which should increase the demand for them.
But no matter the size, he said, there's a market and a real need for them. Researchers typically must seek out a colleague to get their EuO — which is difficult to make.
"The only option is to have a friend who knows how to make them," he said. "But when you're a physicist, if you're doing experiments on crystals that have had no quality control, that brings into question the validity of the experimental results. We want to offer them a reliable, repeatable, properly characterized, quality-controlled crystal at a competitive price."
Whalen and Siegrist are also looking into producing several other specialized crystals with clearly defined markets. For that, Whalen is building relationships with investors in order to take their company to the next phase.
It's an Exciting and Scary Time
"Managing the stress and anxiety that results from taking risk is very difficult," Whalen said. "You have to have determination, and you have to have faith that you know what you're doing — but it's harrowing!"
Fortunately, the MagLab remains a big supporter.
"Even when the company was just a vision, the MagLab has always been our idea-generation and incubation site," Whalen said. "My employment there is probably the most key critical enabling factor in me getting this company moving forward. Without it, I don't think I could have taken the risk."