A New Camelot for Killearn
Recreated golf course and country club will open in 2024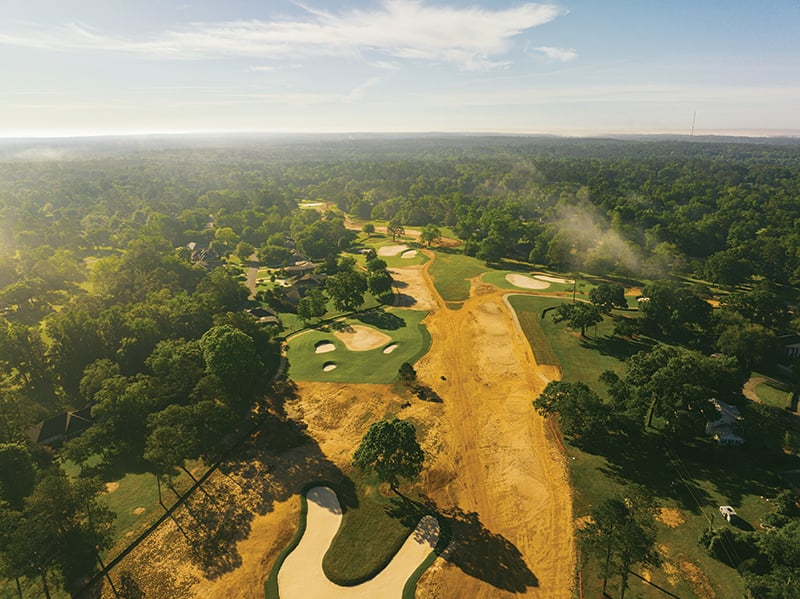 Once upon a time, there was a white knight — a benefactor, generous and brave. Hear now how this hero rode up on his shiny new golf cart and saved a (s)puttering realm!
It sounds like fantasy, but what has happened over the last year at the venerable Killearn Golf Course and Country Club in upscale Northeast Tallahassee, isn't a fairy tale — even though the arrival of David Cummings, once a "child of Killearn" and now a highly successful Atlanta-based IT entrepreneur, has left golf lovers and homeowners along the course feeling like they are living a dream.
Early planned community
In 1964, work on Killearn Estates, Tallahassee's first planned community, began. Formerly a farm, the area called Velda Dairy consisted of 3,800 acres. Plans called for subdivisions, the most exclusive of which would include a championship 18-hole golf course, which was completed in 1969 by developer J.T. Williams.
With its majestic oaks, contoured fairways and greens, an inn, clubhouse, tennis courts, pool and fine restaurant, the 1,000-member Killearn Club was the gemstone of the area. By the 1970s, the 200-acre course was hosting the Tallahassee Open, a PGA Tour event.
In 1987, the now 27-hole golf course was purchased by Barton Tuck who both ran it and leased it out for nearly 30 years. By 2014, Tuck proposed closing nine holes and selling property to raise the $4 million to $5 million needed for repairs and modernization. If members vetoed the plan, he threatened to sell the entire course to developers by 2021, when protective covenants expired, and replace it all with single-family homes. Membership had dropped to 300.
What followed were years of lawsuits filed by Killearn Country Club members and the homeowner's association against Tuck in opposition to his plans to redevelop some of the course. Investor J.T. Burnette had pledged $2.5 million toward a home-building venture.
With Tuck's $2.8 million golf course mortgage running in arrears, he was looking for an angel. Two of them seemed to show up in the persons of Jimmy Graganella and Ron Tolliver, both wealthy entrepreneurs and insurance executives.
They made a $2 million offer, assumed Tuck's mortgage, and proposed raising additional money to buy the country club and course through friends and believers in its long-term value. In the end, however, accruing enough money to propel and rehab the Killearn Country Club and Golf Course didn't prove feasible.
And then along came the white knight.
Enter David Cummings
By any measure, 43-year-old Cummings is a wunderkind. He is the founder of 10 companies employing thousands of people, including Atlanta Tech Village, the fourth largest tech hub in the U.S. He holds an economics degree from Duke University and an honorary doctorate from Mercer University.
Cummings grew up at Killearn Estates, attended Lincoln High School, played golf on the Killearn course and had a golf-course wedding reception there.
"My attachment to the Killearn Golf Course and Country Club is deeply sentimental," he said. "I lived on Monaghan Drive as a kid, and my 98-year-old grandfather lives on the course to this day. It is my desire to revitalize this historic place and bring it back to the beauty and vitality it once had."
In 2020, Cummings placed millions of dollars in escrow and personally committed to buy the club and course for $2.6 million and invest $20 million in a complete recreation of the Killearn landmark. By the way, there will be no new single-family homes appearing on the property.
Work commences
Beginning in September 2022, residents along the expansive course began to see the earth shift — literally. Premier golf course architect Chris Wilczynski of C.W. Golf Architecture has totally redesigned fairways, bunkers and greens. MacCurrach Golf Construction, the other half of a design/build collaboration, has unleashed a fleet of heavy equipment on the 56-year-old course, turning the land into rounded swells and sculpted fairways sprinkled with pretty water hazards and newly devilish sand traps.
The project includes drainage structures that will guard against the erosion of greens. Filters and liners will be placed beneath the sand in bunkers. The work also will include a new irrigation system for the entire course; 10 water hazards with an expanded pond; six sets of tees for each hole; TifEagle Bermuda grass on greens; TifTuft Bermuda grass on fairways and in the first cuts of rough; and Bahiagrass in the outer unmaintained rough.
Cummings explained that he wants the new course to reflect both traditional and emerging aspects of golf. He talked about "gamifying" the experience.
To that end, plans include an executive nine-hole course that can be played in 90 minutes and a 20,000-square-foot putting and chipping practice area. A 10-acre driving range will feature cutting-edge Trackman technology.
DAG Architects' Jehna Godwin is the principal architect for the new clubhouse, restaurant and layout of the pool, tennis and pickleball courts.
"There will be wonderful views from inside to all the activities outside, especially the finishes at the 18th hole," she said.
Cummings, who says the Killearn redevelopment project is his "gift" to the community, visits the course to check on progress every week or two.
"I am pumped!" said Bill Davis, who lives on what will be the new finishing hole. "We are just so grateful David Cummings has come along!"
There will be wonderful views from inside to all the activities outside, especially the finishes at the 18th hole." – Jehna Godwin AIA, Principal, DAG Architects