A Growing Family of Students
Ohana Institute rounds out 'good people'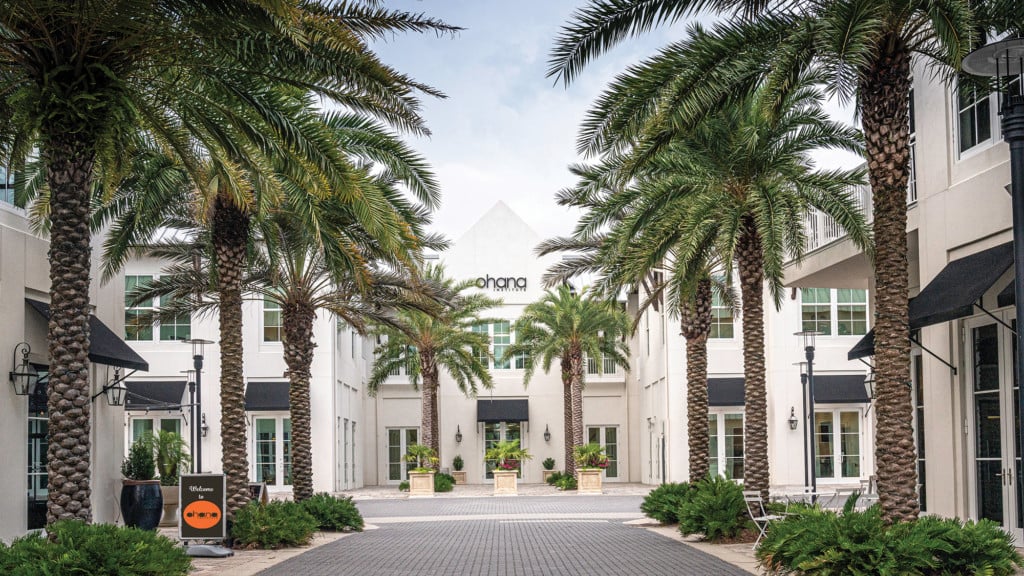 Once an accidental home-schooler whose planned medical career was derailed by a daughter, Lettye Burgtorf today presides as executive director over the Ohana Institute, a private, nonprofit academy with an enrollment of 160.
Students at the academy, located in Inlet Beach, range from grades 2 to 12, but all are integrated into a Social Emotional Learning (SEL) system.
"Social Emotional Learning considers the whole child," Burgtorf explained. "If a kid is struggling with his work one day, we want to be able to pinpoint every emotion, address the physical and mental, and find the root of the issue. Because we only have eight to 12 kids per class, our staff is able to nurture relationships and provide students with valuable problem-solving skills they'll have for life."
SEL, Burgtorf summarized, incorporates key components of effective parenting. For 10 minutes a day, students take a break from schoolwork for "Quiet Time." Burgtorf doesn't care if they "sleep, meditate, pray or read," so long as they disconnect from all electronics and reconnect with mindfulness.
Additionally, students devote 10 minutes each afternoon to "Ohana Housekeeping," in which they see to cleaning and maintaining their workspace.
Burgtorf acknowledged that the Ohana Institute, while not a faith-based school, infuses its curriculum with 10 core values: family, responsibility, respect, ethics, community, global awareness, gratitude, creativity, caring and excellence.
"Ohana" is a Hawaiian word for family.
"Family time is every Wednesday and extremely important to us," Burgtorf stressed. "We'll all gather and listen to a speaker, play games or find fun activities that bring us together."
The ultimate unifier, she said, is Ohana's musical component. Every student is required to learn to play an instrument and join a band. A rock 'n' roll performance, complete with spotlights and fog machines, concludes each semester. Students are responsible for writing their own song and performing either their work or a cover track on stage.
"It's incredible because about 80 percent of our students have never picked up an instrument or stepped forward to become a vocalist," Burgtorf said. "But what this does is encourage their brain to think differently. Music subliminally shows you how to find a creative solution to a challenge in your life and, more importantly, how to work together."
Four years ago, Ohana created "Rock on the Road," a program in which students learn the ropes of the music business. Students practice at venues such as the Avatar Rehearsal Studio in Atlanta and ultimately record a studio album.
Student "general managers" are responsible for creating logos, scouting locations and booking lodging for an annual, week-long performance tour. Burgtorf, along with Ohana music instructor Jonathan Mitchell, transport the ensemble to other schools and Boys & Girls Clubs before a series finale at the Rock by the Sea music festival in St. George Island in Franklin County.
When Burgtorf witnesses her students playing with a confidence that inspires their peers, she takes a moment to appreciate her life.
"My degree isn't in education," she said. "It's in art, biology and Spanish. I was going to be a doctor."
But life had other plans. Burgtorf's oldest daughter, Hunter, expressed an interest in being homeschooled. A friend of Hunter's soon joined the lessons and, not long thereafter, Burgtorf was teaching eight children.
Once siblings began to follow suit and Burgtorf was juggling 17 children, she rented an apartment space above Restaurant Paradis in Rosemary Beach and employed Florida Virtual School curriculum.
Two years later, parents encouraged her to pursue accreditation. That process was complete in 2011.
"I feel like this is my destiny," Burgtorf said, "because I love children and I love to see them succeed."
And success overflows at Ohana, where the academy's focus on the individual student lends itself to a tailored approach to education. Apart from numerous collaborative projects, classes aim to foster a student's sense of independence.
Flipped learning models involve tasking a student with listening to a lecture or researching topics at home before coming to class the next day ready to learn and ask questions. Cross-curricular lessons that may combine language arts and social studies, for example, encourage critical thinking and a reinforced sense of achievement.
College preparation begins in 9th grade. Students select three universities and majors in which they have an interest and customize a curriculum which will equip them for success. If a subject is not offered by the Ohana Institute, distance learning and virtual lessons are optional.
Additionally, every high school student completes a 72-hour, semester-long internship to either cement their focus or prompt them to discover a new one. It's Burgtorf's aim to "see that a student's success comes from doing what they love, not what they think they have to do."
The Ohana Institute takes students on international trips so that students can "experience the different" and discover new avenues for achievement and fulfillment.
"I want students to see beyond this bubble," Burgtorf said. "I want them to want to help and to change the world. And the only way to do that is for them to know who they are and what they have to offer.
"I want them to always carry that knowledge of themselves, so they're good husbands, wives and parents. The goal is to create good people."