A Genealogical Quest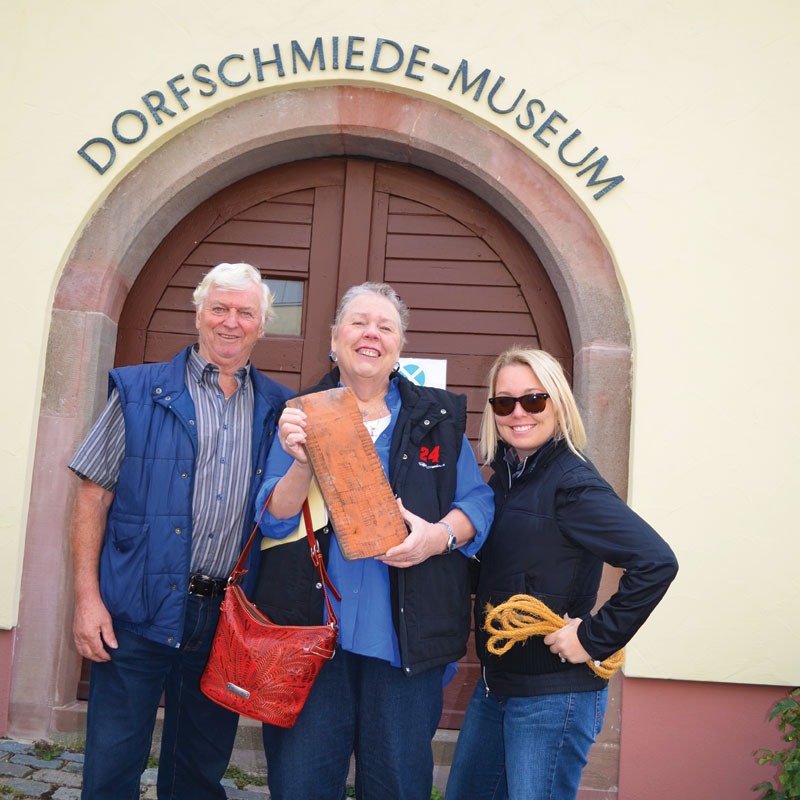 The year was 1701 and Johann Martin Kleindienst had just arrived in Empfingen, a small village in the Swabian region of southwest Germany. A ziegler (brick maker) by trade, he had come from a neighboring town to lease and eventually purchase the local brickyard. Many of the homes there today still boast the foundation bricks and roof tiles made with his hands — and every Kleindienst in the town is directly descended from him.
I learned that genealogical lesson on an October trip to Germany, where I had hoped to find some trace of my blood relatives. Kleindienst, my maiden and professional name, is rare in the U.S. So too in Germany, where many of those who share the name are congregated in a small collection of villages near the Black Forest.
Like many Americans, I had just assumed most of my German forebears were peasants. On this trip, I learned I was wrong. Not only was Johann Martin — my seventh great-grandfather — ready to move to a new town and take a chance on buying a business. Another of my ancestors — Heinrich Bischoff, my second great-grandfather, who lived in the small North German town of Brinkum, now a suburb of Bremen — was an enterprising businessman as well.
I didn't know much about the Bischoff side of the family when I arrived at Brinkum this fall and knocked on the door of the church office. Despite showing up unannounced, the pastor was happy to take some time with an American looking for her roots. It didn't take long to find the book that recorded the baptismal date of my great-grandmother (one of Henrich's five children). But that entry gave us more information than we expected — it also told us that Henrich had moved to Brinkum in the early 1800s from another town, was a farmer and a painter. A photo I had of the prosperous-looking family home gave the pastor another clue. Because it showed two nice looking carriages outside, Henrich had very likely been in the transportation business, a profitable side venture for some locals. Again, an entrepreneurial spirit that unexpectedly shined through the centuries.
I grew up knowing that my Swedish grandfather, Frederick Palmer, came to the U.S. in the early 1900s, invented and patented electrical conduit and cable manufacturing methods and helped found Triangle Conduit and Cable Co. in New Jersey. But I had no idea that this spark of entrepreneurism ran so strong throughout my family.
This knowledge resounds particularly loudly with me now, being editor of 850 and each day hearing about so many of the entrepreneurial endeavors in our own region of the world.
Many Americans go on a genealogical quest to find their roots. Where did we come from? Who were our ancestors? What did they do — and why did some of them venture across the ocean to build a new life in America?
Learning new facts about my own family has helped me better understand. Those who left behind the life they knew to take a chance on a new life in a new country were mostly risk takers, a trait that runs very strong in every entrepreneur. They had no guarantee what would happen when they came to America, but they were willing to give it a try. And they were successful in what they did after they settled here.
I have much more research to do, many gaps yet to fill, but I am thankful for the knowledge I have gained in only the last couple of months. Thankful from a selfish perspective of learning more about myself, but thankful for the lessons I have learned and the newfound respect I have for those among us today who are willing to take that entrepreneurial leap — that chance.