A Gamble That Paid Off
The Hour Glass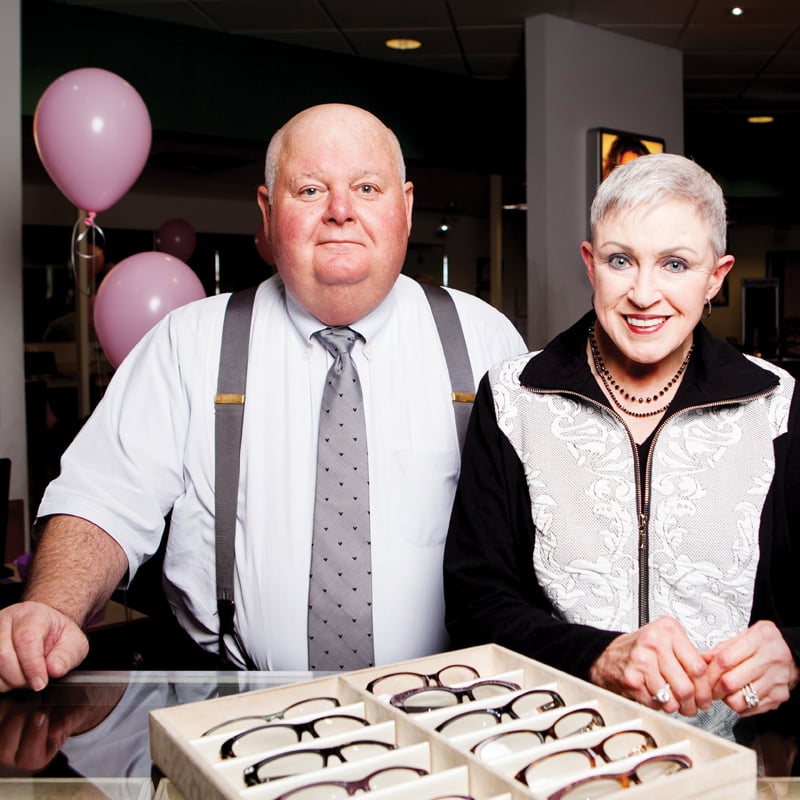 James and Alice Stephens realized early on that a smart business model and a keen eye for style could go a long way in this region.
Following a whirlwind romance while the two were studying in Chicago — her art, him optometry — they decided to settle in Quincy so that James could open his own practice.
It was 1969.
After a few years in the business, the pair couldn't get the notion of an eyeglass-inspired-superstore out of their minds. And by the mid-80s, LensCrafters had revolutionized in-house frame creation — making a process that had previously taken weeks to complete doable within a single hour.
"There's always a lot of uncertainty," admitted James. "But we did our homework, and it looked promising."
So promising, in fact, that when James went door to door asking friends and business acquaintances to help finance his idea, he had no trouble getting 20 investors on board.
Great customer service, wide selection and a quick turn around were what he was selling. To be a part of this new age medical-boutique-retail combo, the Stephens were asking for $5,000 in cash and a line of credit worth $10,000 from each investor. In retrospect, the plan was faultless. But when James was canvasing for support, skeptics abounded. And eye specialists throughout the Big Bend were opposed to the idea.
"The optometrists and ophthalmologists would tell their patients, 'If they make them in an hour, they can't be right,' " recalled James.
Despite their warnings, in December of 1985 The Hour Glass Inc. was born. And within three years, all of the investors were paid back in full.
"The worst part was trying to think of a name," joked Alice, the creative force behind the company. Her talents can be seen throughout the corporation, including in the design of their memorable logo and in many of their advertisements.
Today, The Hour Glass has three locations, two in Tallahassee and one in Albany, Georgia, and employs 125 people, 75 percent of them full time.
Matt Burke
Chief Operating Officer Mark Brown credits a focus on advertising, location, customer service and selection with the success of The Hour Glass.
Mark Brown is one such staffer, having been with the Stephens for 24 years. Though he has left and subsequently returned three times, he has held every position in the retail and lab sectors of the company.
"I always felt like this was home," said Brown, who's now the company's chief operating officer. Brown isn't the only one who has stuck with the Stephens throughout the years. At least 20 other members of The Hour Glass team have been there for a decade, and a number of those have been there for two.
According to Brown, it's the Stephens' loyalty that begets loyalty.
"I think it just speaks to their company, what they've built and who they are that they've maintained a business like this so that people wanted to stick around," shared Brown on the company's impressive retention rate.
Part of their success is due to expertly compartmentalizing their duties. Both James and Alice are acutely aware of where their strengths are — and are able to parcel off tasks, delegating accordingly. "She has a stylistic approach to things, and Doc has more of a business approach," noted Brown. "The combination of the two of them is what I think built this business."
From day one, taking a creative, cutting-edge approach to advertising, location, selection and customer service has been a part of the company's foundation.
The two Tallahassee locations, one on Lafayette Street just off Apalachee Parkway and the other in the Market Square District, are located near major residential neighborhoods and commercial outlets. As for selection, each Hour Glass stocks 2,500 frames — the largest collection, by far, in the entire region.
"They've given us the tools to be successful," explained Brown on the company's four guiding pillars. "They've spent the money on advertising. They've given us what we needed as far as products to sell."
THE RAW NUMBERS
Three locations conduct a total of 30,000 eye exams every year.
The company employs
125 people, 100 of them based in Tallahassee.
75% of the employees are full time.
Each location stocks 2,500 frames.
The Hour Glass has been ranked among the Top 40 optical retailers by 20/20 magazine and has won Best of Tallahassee awards for
11 consecutive years.
But to James, or "Doc" as his staff affectionately refers to him, nothing comes before customer service. You'll never see an employee of The Hour Glass looking disheveled. And if you aren't greeted with a warm "hello" as soon as you walk through the door, be sure to let James know.
It's his No. 1 pet peeve.
"It kills me to have folks come in and not get acknowledged and not get waited on," said James.
Something about their upscale, full-service venture must be catching on, because both The Hour Glass and The Hour Glass of Albany have been featured in 20/20, a national optical magazine, as one of the nation's Top 40 optical retailers. They've also been a Best of Tallahassee winner for 11 consecutive years, often winning multiple titles and awards.
For the Stephens' part, the local and national recognition is overwhelming.
"We're tickled to death about it," beamed Alice.