A Cornucopia of Adventures
Tourists can go from one extreme to another, from a beachfront condo to 'glamping' in a timeless state forest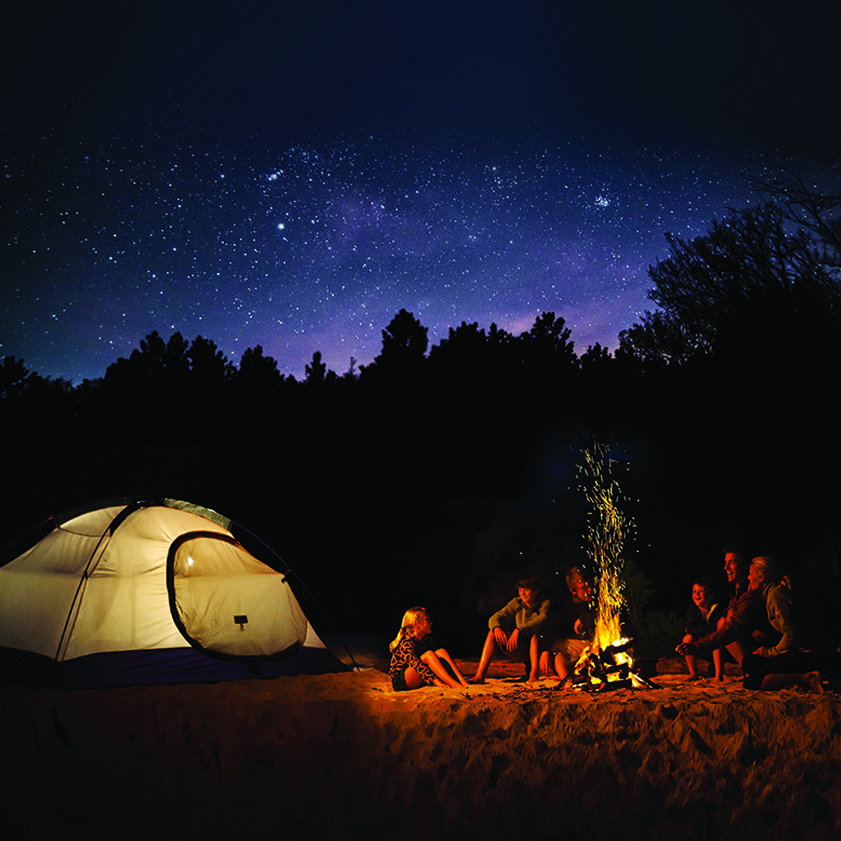 Courtesy of Santa Rosa County Tourist Development Office
Tourism is one of the top three economic drivers in Santa Rosa County. And it's booming. The numbers don't lie.
Tourist bed-tax collections are growing in the double digits. In the last fiscal year, which ended in September 2015, tax collections had grown by 23 percent over the previous year — for a total of $2,175,353. And the current fiscal year is on track to do as well or better.
"It's growing extremely fast," says Julie Morgan, who is Santa Rosa's tourist-development director. She speculates that one of the reasons for the recent growth is the decision after her arrival on the job a year ago to reach out to the Atlanta travel market. "We tapped into that, and it's proven to have paid off."
And tourism means jobs. While the numbers have likely grown since, a 2012 study by the University of West Florida's Haas Center revealed that tourism at that time was responsible for more than 1,400 jobs and had a more than $113 million economic impact on the county.
While the majority of visitors come from Georgia, Texas, Alabama and Louisiana, the county has also expanded its summer tourism marketing to Arkansas and the Carolinas.
Unlike its neighboring Gulf-front counties, Santa Rosa doesn't currently sport any beachfront hotels. The last one blew over when Hurricane Ivan mercilessly lashed Northwest Florida's coast as a Category 3 storm in 2004. It was the strongest hurricane to hit the region in more than 100 years. But there's a new hotel — a Marriott Springhill Suites — going up in the same location, and construction should be done by the end of this year or in early 2017.
For those in the business of attracting tourists, the county has established a grant program that supports events which focus on increasing out-of-market awareness of Santa Rosa County, particularly during the shoulder (spring and fall) seasons, with the goal of increasing lodging room occupancy in the county. Allowable expenses can include promotion, marketing, program expenses, paid advertising, production and technical expenses, site fees, rentals, insurance, rights and sanction fees.
The majority of tourists who come to Santa Rosa rent beachfront condos that give them access to one of the most pristine — and quiet — sections of beach in the state.
"Our beach is protected forevermore … we're bookended on east and west by a nature preserve. To the west is Gulf Islands National Seashore, an undisturbed beach," says County Commissioner Rob Williamson, who represents Navarre Beach.
Courtesy of Santa Rosa County Tourist Development Office
Camping under the stars, away from the city lights, is one of many offerings for vacationers.
While the beach is an undisputed lure — in fact, the beach wedding business is on a definite upswing — there is also a growing interest in ecotourism-related activities and agritourism. The county's artificial reefs draw scuba divers and visitors interested in marine sciences. Coldwater Gardens in Milton brings in tourists who want to know more about organic gardening, even providing private tours and the opportunity to go "glamping," a little more glamorous way to sleep outdoors but not on the ground. There's also an opportunity to go ziplining over the timeless Blackwater River State Forest with Adventures Unlimited. Or visitors can canoe, kayak or tube down — and camp along — Coldwater River Creek.
"You can go from one extreme to the other in this county, such as from living in a beachfront condo to glamping," Morgan said. "You can make your vacation what you want, especially if you are an outdoor person. And our shoulder seasons have really grown in the last couple of years."