A Conversation with Florida Senate President Don Gaetz
The Niceville Republican talks about his career, his hopes for Northwest Florida and what he hopes to accomplish over his two-year term at the Senate's helm.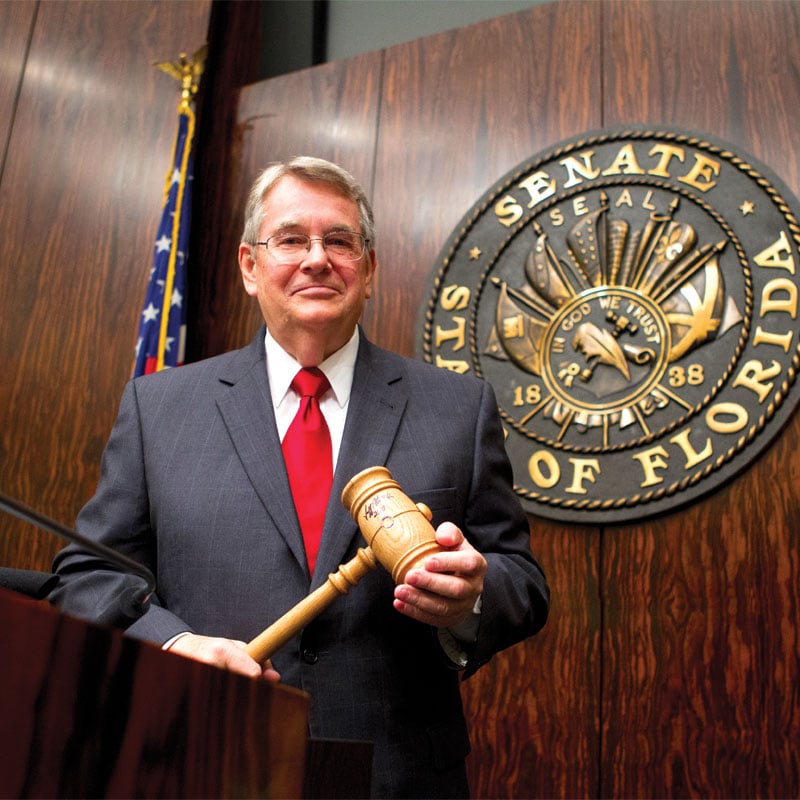 As furniture was still being shuffled into the Senate President's office, Don Gaetz was wasting no time taking on his new role. Despite six years of representing the Northwest Florida area he fell in love with 35 years ago, he does not appear to have waivered in his enthusiasm for the job.
Sen. Don Gaetz is part of a line of those called to public service. His father, Jerry Gaetz, was mayor of Rugby, N. D., the small town where Gaetz grew up, and later served as a state legislator. The tradition continues. His son, Rep. Matt Gaetz, has followed in the family footsteps. An old political poster from one of his father's campaigns hangs on the wall in his new office — a continual reminder of his roots. The slogan: "Unbought! Unbossed! Unbowed!"
Gaetz's wife of 32 years, Vicky, first introduced him to her hometown of Fort Walton Beach while they were dating. When they married, they made a decision they would return to Northwest Florida as soon as they could. So, while he co-owned and operated a healthcare company that was headquartered in Miami, he commuted for 10 years. It was here in Niceville they raised their two children — son Matt and daughter Erin.
As a self-proclaimed "student of history," Senator Gaetz uses what little free time he has to read. He's usually reading several books at once. His current selections: The final book in the trilogy on Winston Churchill and "Red Pepper and Gorgeous George," which is about the 1950 Florida Senate race. His roommate when he is in Tallahassee is son Matt (who is known to steal his ties) and "their" dog Scarlet, a rescue dog from Hurricane Katrina. When back home, he and Vicky love to sit on their deck and watch the sun go down over Choctawhatchee Bay.
"We are a team," Gaetz says. "We love to drink a glass of wine and just be glad we have each other."
Gaetz oozes a genuine eagerness to not just tackle but actually solve problems. He has the distinguished honor of being only the second senator from Okaloosa County to serve as Senate president, the first having done so back in 1949.
"I get up in the morning anxious to go to work," he said. "I don't grit my teeth when I face the day as a senator. I can't wait to begin to meet with constituents. I'm not saying this is fun in a frivolous sense. The day I'm not getting personal satisfaction out of being senator, the day that solving a problem or seizing an opportunity in public policy doesn't warm my heart and bring a smile to my face is the day that I'm out of here — whether my term is up or not."
The new Senate president recently sat down with 850 to share his thoughts on Northwest Florida's future.
Q: What do you see as the integral factors to growing Florida's economy?
Sen. Gaetz: The road to the future of Florida's economy runs right through Northwest Florida. I believe Northwest Florida is perfectly positioned to be the next tremendous growth area in our state. Obviously, we have the best beaches in the world, we have an extraordinary workforce and we have five military bases in my district. We are hip deep in physicists, mathematicians, engineers and scientists. These bases have tremendous testing and development functions. There is a real opportunity to use the labor force that is created by and around our military bases as a significant ingredient to grow mid-tech and high-tech industries in Northwest Florida.
We have plenty of space. We have the perfect environment, and it's a wonderful place to live. We have communities that understand how important it is to have the right kind of industry, the right kind of jobs and the right kind of opportunities. Our counties are very aggressive in recruiting businesses. We don't have a bi-polarity in our view about growth. There are parts of Florida that really haven't decided whether they want to grow. Northwest Florida wants to grow but wants to grow in a thoughtful way so our children and grandchildren have a wonderful place to live.
Q: Are there ways state government can help attract companies to the area and expedite business growth?
Sen. Gaetz: For generations, Florida's economic policy was to wait at the welcome station with a glass of free orange juice and a real estate map. That doesn't work anymore because other states that don't have some of the natural advantages we have got up earlier in the morning than Florida did and worked harder. That is why we have seen Alabama, Georgia, the Carolinas and Mississippi beating us in some economic development areas. The first thing we have to do, and we are doing, is to go to school on the successes of our competitors. What are they doing either in terms of their regulatory environment, available workforce or tax environment? What are the ingredients that are going into other states getting deals we should get? We've begun to do that work.
The Senate's chief policy advisor is Dr. Rick Harper, loaned to us by the University of West Florida. He has been hired to help figure out what makes economic development work. Part of his job here is to look at what we are doing with tax incentives and economic development issues to figure out how we can learn from our competitors. What are we doing that may have worked in the '80s and '90s but that has been overtaken by time and events? We need to trade out for a different strategy.
The Legislature is at fault for developing tax incentives and then leaving them enshrined in law and not going back and determining whether or not those incentives need to be replaced by different incentives. Are the economic policies of the '80s and '90s really the policies we ought to pursue today? If not, then some of the incentives we have in our tax code need to be changed, and that is the job of the Legislature. If the Legislature takes a static approach and we put a tax incentive in law and then leave it there forever, then we'd be incenting buggy whips.
In the next two years, we need to look at the investments we are making in economic development, challenge ourselves based on what our competitors are doing and then determine if we need to do something differently based on the types of jobs we need to retain and those we hope to attract. There are plenty examples of that in Northwest Florida.
Q: What impact do you think Airbus will have on the region's economy, and is the state doing anything to encourage ancillary businesses to come to Florida?
Sen. Gaetz: Two years ago, in the wake of the Deepwater Horizon oil spill, I sponsored and the Legislature passed the Oil Spill Recovery Act, which provided, among other things, that the eight coastal counties of Northwest Florida would have a presumptive preference in the use of tax incentives and economic development initiatives to diversify our economy. Our problem in Northwest Florida is that we are a one- or two-trick pony. We depend heavily on the military, so when things like sequestration are threatened or someone in the Pentagon gets the sniffles, we get mortally dangerous pneumonia.
It's important we advance our economic interests in terms of our military bases and defense contractors, but some of our more innovative companies, like L3 in Crestview, are now trying to sell into commercial space. I believe they are perfectly positioned to become a supplier to the Airbus assembly line plant that will be a few miles down the road in Mobile, Ala. For every one job created on the Airbus assembly line, there are five jobs created in the Airbus supply chain. That requires us to diversify. We must continue to support our defense-related industries and do so aggressively. We have to use the technology and infrastructure that we have built around the defense support industries to get into the commercial space industry as well.
Q: How would you like to see the BP oil spill settlement claim money spent in the region?
Sen. Gaetz: There are at least two funds. The act passed by the Florida Legislature established a $30 million economic diversification fund. That act, which I sponsored, also stipulated that 75 percent of any settlement money arising out of the BP oil spill would have to be devoted to the eight coastal counties which suffered the most economic damage. That could be a few million dollars or a few hundred million dollars. We have to see how that plays out.
My fear is that some of our local governments may become Saturday night rich. They may get a bunch of money, and they've never seen this much money and they will never see this much money again. They will use it on all kinds of pet projects and for brothers-in-law who need jobs, and the money goes away and we wake up in two or three or four years with a bad hangover and nothing to show for it.
My hope would be that if a sizeable amount of money comes to coastal Northwest Florida that we could learn from Alaska. With the Exxon Valdez oil spill the economic damages and criminal penalties were less than what we will see from the Deepwater Horizon oil spill. But here is what Alaska did. They established an endowment so that every year, long into the future, Alaskans will benefit from job-creating initiatives that are well thought out in advance. It's not like it is Saturday night and we got paid and we gotta blow our paycheck because there are all sorts of wonderful attractions so let's spend it all. Let's have a bunch of people get together and think up stuff we can spend money on. I think that is a bad approach. I would hope there would be some consideration given to an endowment. My hope is that our local leaders will see the benefit of a long-term economic development and job creation strategy as opposed to spending a whole bunch of money in a short period of time and hoping it works.
We may also consider going for a big, big deal. Why did Boeing choose South Carolina? My son, Rep. Matt Gaetz, went — on his own nickel — to meet with Boeing and ask them. Of course Florida had a lot of advantages, but South Carolina was willing to totally reconfigure their community college system so that when a student walked off the graduation stage of a South Carolina community college they could walk on to Boeing and immediately go right to work. So, I would hope local leaders would consider going for a big, big deal. Why not go for a Boeing-type project or an Airbus-type project that will create hundreds and hundreds of jobs that will be here for dozens and dozens of years? Why not do that instead of just thinking up projects that we can spend money on locally and feel good between now and the next election?
Q: To attract businesses to the state you need to have a well-educated workforce. Is the state doing enough with community
colleges and universities to provide the training that is needed?
Sen. Gaetz: There is an extraordinarily dangerous higher education bubble that is about to burst. Fifty percent of last year's graduating class from American colleges and universities are unemployed or underemployed, meaning their college or university degree did not qualify them for a job or they had to take a step-down job. That's a greater economic crisis in the making than anything that we've undergone in the last three or four years. If our children and grandchildren can't get real jobs in the real economy, yet we burden them with scores of thousands of dollars in educational debt, we are playing a very cruel joke on those who will follow us. I believe our higher education system, and our K-12 system, needs to be lashed to the realities and the opportunities of the economy.
The hard fact is that we have thousands of unfilled jobs in the state of Florida, and yet we still have high employment. How can these two facts coexist? They coexist because our higher education system has not been connected tightly to the realities of the economy.
This may shake the ivy a little bit, but I believe that some folks in higher education are insulted by the notion that a college degree should lead to a job. Now, let me pick on myself. My undergraduate degrees are in theology and political science. That may explain my bi-polarity. But never in my life has anyone ever offered to pay me to opine about political science or sermonize about the gospels. Fortunately, in high school, I had to help support my family. I went to work at a local weekly newspaper. Someone paid me to write so I had to learn how to write. Having a skill is a good thing. Having a marketable skill is an even better thing.
We passed a bill last year that provides an economic security report to the parents of every sixth through 12th grader in the state of Florida. It tells people if you have this professional or vocational interest in mind and you go to that Florida college or university here's your chance of getting a job with that degree from that university and here is the amount of money that you're going to make.
We have all that data. We just haven't shared it with parents. I think you start education revolutions around the kitchen table and at the PTO meeting. You don't start them at the top. You start them at the grassroots.
This past year we set up a $15 million fund for our state universities to compete for. The fund is to incent those universities to do the best job at preparing students for the most in-demand jobs in our state. The most high-wage, high-skilled job that is most in demand — and where we have the fewest Floridians who are qualified to take the job — is in computer technology, which is ironic since we are one of the top five states in the country in computer technology and IT. Yet we have to import people to fill the jobs. The number of students graduating with degrees in computer technology from Florida universities has dropped by 50 percent in the last seven years. We need to make it more attractive for students to get these degrees.
I think we ought to pay for results in higher education, not pay for head count and not pay for seat time. We ought to pay for results.
The results that Florida moms and dads want from colleges and universities are preparation for their children to be able to take their place as productive citizens in the economy. We want our kids to have a house with a white picket fence and two-and-a-half grandchildren. A college degree no longer guarantees that. Now you actually have to have skills.
Q: Are there any rules and regulations pertaining to business that you would like to trim or axe altogether?
Sen. Gaetz: At a neighborhood meeting where I meet with people one-on-one, a gentleman told me he had started a dive shop in Defuniak Springs. It took him six months to get through the permitting process — some of those six months were eaten up by local regulations, some by county regulations, some by federal regulations and some by the state. He was an Army veteran who had put in 20 years. He told me if he had not had his Army pension to sustain him he would have given up. That he would not have been able to hang for six months through the hoops and scoops of the regulatory process. He asked me what I could do to make sure that the next person who wants to start a small business, and add two jobs to the Florida economy, doesn't give up because they can't wait through the regulatory process.
So the answer is if there is a regulation or a rule that is making it difficult for a small business to keep someone employed or to add a job, I want it gone. If there is something that state government can do better to encourage an employer to keep someone on the job or to add more hours to a job or to hire somebody else then I want to make sure that we seize that opportunity. That means looking at everything from the tax code to economic development and local permitting.
Q: Gov. Scott wants to tinker with the corporate tax rate again, eliminating more businesses from having to pay it. How do you feel about that, and can the state afford the financial hit?
Sen. Gaetz: Florida needs to be the best place to start a business and to grow a business. We have lots of natural advantages. We need to give ourselves more competitive advantages. I spent 30 years in the healthcare field. Most of those years, I was signing the front side of paychecks. The company that I co-founded and that became a national company (VITAS Healthcare Corporation) does
business in 19 states. I don't remember ever asking about the tax structure of a state as my first question when we were considering locating there. The first question I asked was about the regulatory environment. The second question was about the labor market and the third question was about the competition and the opportunity to expand within the market.
Maybe I am a bad businessperson, but I figured if we made money we would pay taxes. The governor is a much more successful businessperson than me, so maybe he is right. But we have eliminated the corporate income tax for small and medium businesses. I don't think Disney is leaving Florida or Publix. I think we need to focus on all of the ingredients that go into site decisions. I am not sure if eliminating the last vestige of corporations paying taxes is the most important aspect.
Q: As co-founder/vice-chair (retired) of VITAS Healthcare Corporation, you bring a unique perspective to a national debate on health care and the new federal law. What do you see as the state government's role in health care?
Sen. Gaetz: I opposed ObamaCare, but it's the law and I swore an oath to uphold the law. Doesn't mean I have to like it. Doesn't mean I can't try to get it changed. But as long as it's the law I have an obligation to implement it faithfully. Most states waited until after the election to make final decisions about how to proceed with ObamaCare.
I think that was smart. Why create the architecture for something that may have disappeared? But now, the state will have to make a decision about a health insurance exchange by either letting the federal government dictate terms of a healthcare exchange, creating a state-run exchange or, a third option, creating what we call a partnership exchange which might involve using Florida Health Options and Florida Healthy Kids, two healthcare exchange-like entities which are already created.
One option is to ask the federal government whether those exchanges would meet federal requirements. There are a hundred unanswered questions about the implementation of ObamaCare. Sometimes it is good to be the second or third person in the water, and this may be one of those cases.
We will also have to make a decision on whether to expand Medicaid. If we expand Medicaid as much as the president wants us to expand it, one out of every four Floridians will be on Medicaid. That is a huge increase in dependency on the state government let alone the federal government. It is also a significant financial burden on the state. We are going to have to have an adult debate with Democrats and Republicans about that decision. The federal government says it will pay 90 percent of Medicaid expansion and then a declining percentage over time. I'm a former superintendent of schools. I remember when a well-meaning U.S. Congress passed the IEDA law that provided a wide array of educational and healthcare services to children with disabilities. They promised to pay 100 percent of the cost. Just bite into the apple, you'll like it. In the best year, the feds have paid 40 percent of the costs of IEDA and have transferred 60 percent or more of the costs to local school districts and states. I'm not saying the folks in Congress misled us, but things change. What if the Chinese won't lend us any more money? What if in four years, when President Obama is term limited, the next president comes in and says health care was great but now we have to deal with the environment, and that is the big cost. We said we'd pay 80 percent, but we have to cut it down to 50 percent. What do you do then? Do we go back to the people who have become dependent on their friends and neighbors to help pay their healthcare costs and take back their Medicaid cards? Have you ever tried to take back an entitlement? Or, do we then have a terrible squeeze play on other parts of the budget — education, the environment, law enforcement. It's not a bumper sticker issue and doesn't yield bumper sticker solutions. I want lots of political DNA on the decisions we make about ObamaCare, because if there comes a time when the costs of ObamaCare begin to squeeze out other budget priorities like education I don't want political amnesia to set in. I want everybody to be an investor in those decisions.
Q: As a member of the Policy and Steering Committee on Energy, Environment and Land Use, what is your position on nuclear energy and the possibility of a nuclear power plant in the region?
Sen. Gaetz: I'm a supporter of nuclear energy. I'm a supporter of clean coal and gasification. I'm a supporter of natural gas. I think it takes a long time to establish a nuclear plant. It takes a long time to find energy opportunities. My home state of North Dakota in the 1950s was a big oil producing state and then all the wells were capped. But now, North Dakota is a huge oil producing state because the technology changed and because the costs are no longer prohibitive, and the technology is much more advanced.
There are a lot of capped wells in Northwest Florida, not in the ocean but in the ground, and I think there are opportunities there. I think there are opportunities for the development of other forms of energy like nuclear. Alternative forms of energy ought to be encouraged — wind and solar. But, I believe we ought not to ask small business people and families who have pinched domestic budgets to subsidize someone else who decides they want to use alternative energy. If alternative energy costs more to begin with, then the people who use it should pay more for it. Computers used to cost a lot more than they do now. But I didn't ask my neighbors to subsidize my first computer. The cost of alternative energy will come down. The initial cost of alternative energy needs to be paid for by the people who produce it and use it.
Q: You have been a senator for six years, what do you hope to achieve as Senate President?
Sen. Gaetz: The Florida tradition is to be suspicious of concentrations of power held in the same hands for a long period of time.
Florida Senate presidents don't hang around for 10 or 15 years. I don't plan to run for reelection. I have a two-year term as Senate President. It's almost a drive-by presidency. People who come into this job with a long list of things to do I think get frustrated and are not as successful as they could be.
My job is to make 39 senators successful, because if they are successful, Florida is successful. My personal interests are job creation and growth, tying our higher education system more closely to the realities of the economy so graduates can get jobs and, thirdly, a passion I share with Speaker Will Weatherford, to raise the standard of ethical conduct in public life. I grew up in my father's house believing that public service was an obligation not an opportunity for personal enrichment. I think there is more we can do. I expect this will be a heavy lift, but it is something I would like to do.