A Closer Look Into Innovation Park
Sparking Innovation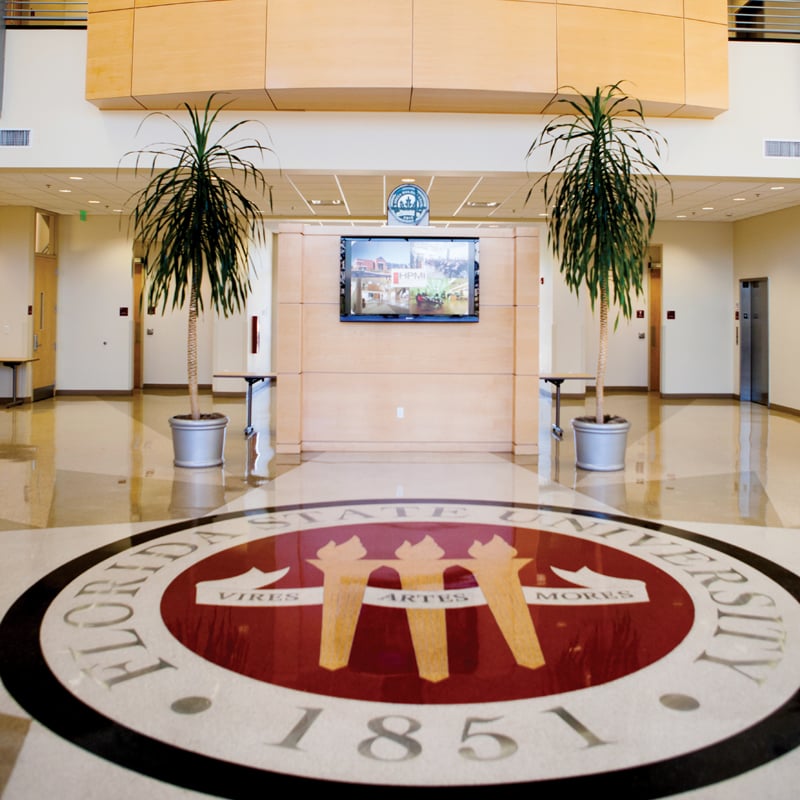 Just one turn off the virtual esplanade to Florida State University's Doak Campbell Stadium is a similarly impressive ode to all things science and innovation. In fact, as much stained-glass homage as Doak pays to football, Tallahassee's Innovation Park quietly provides to the pursuit of research and sustainable invention.
The 208 acres adorned with oaks and Spanish moss are a testament to the city's quest for enduring and science-based development activities. Set aside by special charter in 1978, Innovation Park seeks to be an incubator for cutting-edge university research and the private-sector translation of those advances to real-world application. The Leon County Research and Development Authority (LCRDA) is the legal entity and state special district that oversees the development.
Ronald J. Miller Jr., executive director of the Leon County R&D Authority/Innovation Park, says the strength of the concept is the fact that the universities involved — Florida State University, Florida A&M University and Tallahassee Community College — combined with the City of Tallahassee, Leon County and the community at large are all represented on the LCRDA's board of directors.
Currently there are 17 buildings in the park, of which LCRDA owns five. The majority of the tenants are university-affiliated. There are also federal and state agencies, such as the U.S. National Park Service and the Florida Department of Transportation. In all, there are about 40 acres of undeveloped land within the center's bounds, which allows for substantial growth over the next century.
Building a New Navy and Beyond
One of the most renowned tenants at Innovation Park is the FSU Center for Advanced Power Systems (CAPS). This center was organized to research all types of power systems technologies. With an emphasis on electric utility, defense and transportation technologies, CAPS is uniquely suited for its projects for the U.S. Navy and the U.S. Department of Energy. The center's research team includes scientists, faculty, engineers and students that are focused on developing sustainable power systems and energy storage capacity. From superconductivity to high-power magnets, the center's potential influence ranges from an all-electric navy to magnet-assisted high-speed rail technology. At the core of the CAPS model, though, is a "dual-use" focus. Staff tries to take the broadest approach to developing new technology so that it may catch in its net the common solutions to closely-related problems across military, industry and utility sectors.
Paper-Thin, But Carbon-Strong
You probably know the FSU High Performance Materials Institute (HPMI) as a main developer of "Bucky Paper" carbon nanotube network technology. You'd be right, but the vast applications of this typewriter-era "carbon paper" cousin are truly astounding. Bucky Paper is a thin black film that harbors amazing properties such as high-strength (used by the U.S. Air Force as aircraft coating and components); energy storage (exploited by Innovation Park neighbor Bing Energy); and electromagnetic shielding (for use in cell phones and satellites, for instance). There are over 25 different types of the product, but they all rely on the unique "tube-like" quality of carbon bonds created in 1985 by Nobel Prize-winning scientists Harold Kroto, Robert Curl and Richard Smalley.
Matt Burke
Bucky Paper, produced at the FSU High Performance Materials Institute, is already being used by the U.S. Air Force.
HPMI has taken Bucky Paper to the next level in terms of practical use. Recently, the production capabilities at HPMI have improved the potential output of the product to sheets six-inches wide by five feet per minute. The institute owns a patent on its unique production process, which is really only constricted by the amount of square footage available for the lab.
This high-volume production allows the institute to provide research and application design for the National Science Foundation, the U.S. military and others. In fact, associated with this technology alone, HPMI has $1.4 million in National Science Foundation (NSF) grants and a State of Florida Center of Excellence and Commercialization Grant valued at $250,000.
In addition to the carbon nanotube technology, HPMI provides its expertise to grants and projects for the U.S. Department of Veterans Affairs ($4.4 million), working on prosthetic sockets to make them more lightweight and easy to move. Prototypes of these joints will deliver soon to the VA, which is an exciting development for both HPMI and the prosthesis community.
Structural health monitoring is another area in which HPMI is heavily invested. Grants from the U.S. Air Force and the NSF direct the institute to develop sensors that are imbedded in a material (such as concrete or composite) to alert when microscopic stress fractures are developing. Technology such as this could one day save bridges from collapse or airplanes from catastrophic loss.
In all, HPMI houses over $10 million in research and development equipment alone. The center holds 18 active research grants — six of which are NSF, which is very high for one institution. The 17 professors and 90 students that make up HPMI are continually on the cusp of something extraordinary.
In the Spirit of the Organic Act
A little-known but still incredibly relevant partner of Innovation Park is the Southeast Archeological Center, National Park Service, U.S. Department of the Interior. The Southeast Center is the one specialized archeological research facility in the Southeast territory of the National Park Service. This low-key powerhouse of research and learning provides technical and curator assistance to the 66 national parks and the public in the nine-state area, from the Caribbean to Louisiana to Kentucky and North Carolina.
Thanks to the Organic Act of 1906, all cultural resources in the U.S. must be preserved unimpaired and such preservation must include considerations of long-term issues, including auditory and visual impacts of development on a historic site. This means that when a business or park wants to add a new building, the Southeast Archeological Center must evaluate the impacts of the improvement on existing parks and even those yet unexplored.
Only 4 percent of set-aside federal lands have been surveyed. Climate change will greatly impact the National Park Service and our cultural heritage. The archeologists in Innovation Park work tirelessly to identify the risks, challenges and unique properties of each site and make the difficult recommendations about what to preserve and what can be left to the elements.
Director David Morgan, Ph.D., RPA, says his staff of 50 that includes archeologists, museum specialists and a curator makes these decisions on a daily basis. The center moved to Tallahassee in 1966 for the valuable partnership afforded by FSU's Anthropology Program. The university has since abandoned (and then partially reopened) its program, but the Center remains and has expanded its partnership to other universities in the southeast. It moved to Innovation Park in 1995 and pumps $2 million to $4 million into the local economy each year.
The Archeological Center serves as repository for more than 9.5 million archeological resources and artifacts and 250,000 archival documents ranging from the assassination site of Martin Luther King Jr. to the Battle of Gettysburg.
Morgan and his professionals regularly broker partnerships with private and public entities for the preservation of historical evidence and cultural resources. Many private businesses employ their own archeologist to ensure compliance with the Organic Act and the 1966 National Historic Preservation Act, as well as to preserve any archeological evidence that may impede future development at a site. The National Park Service is at the forefront of the preservationist movement and has a strong external stewardship program, providing technical assistance to these professionals at state agencies, non-profits and the business sector.
An Eye Toward the Future
Like most economic development programs, the LCRDA would love to attract new businesses to the Park, but it is a discerning landlord. The LCRDA would like to attract more private-sector organizations interested in collaborating with the university researchers and focused on research and development activities.
Projected Employment Growth By Industry in Leon County (2013 to 2021)
Total All Industries: 9.2%
Construction: 25.2%
Education and Health Services: 17.0%
Professional and Business Services: 15.4%
Leisure and Hospitality: 11.4%
Other Services (except government): 10.9%
Financial Activities: 10.7%
Retail Trade: 9.4%
Transportation and Warehousing: 8.1%
Wholesale Trade: 6.6%
Self-Employed and Unpaid Family Workers: 5.6%
Local Government: 5.2%
Agriculture, Forestry, Fishing and Hunting: 3.6%
State Government: 3.4%
Manufacturing: 3.3%
Federal Government: -1.4%
Information: -2.6%
Source: Florida Department of Economic Opportunity.
Miller explains that there are several new potential projects for the Park.
"The LCRDA is working on a new initiative," he said. "If successful, it will create opportunities to attract many high-tech startup companies to the Park."
Indeed, Innovation Park has an innovative plan of its own underway. The Tallahassee business community is excited and motivated to build an entrepreneurial base that will support new businesses and job creation.
Currently, the LCRDA is working on a feasibility study for building a wet lab business incubator in the Park.
"The incubator will help startup businesses that require specialized equipment, facilities, mentoring, access to capital and support services," Miller explains. "These businesses would commercialize new technologies that are coming out of our universities."
In addition, options for expansion at the site include an extended-stay facility for visiting researchers, meeting space, a restaurant or café, trails and improved signage onsite.
Long-term, this is a great goal for the LCRDA and its stakeholders — beyond just Innovation Park.
"Companies that are incubated in a location tend to stay and create jobs there," Miller says. "It's truly an exciting time at LCRDA and Innovation Park."
---
Innovation Park is home to:
BUC Technologies, LLC (Better Universe and Citizens Technologies)
Center for Advanced Power Systems (CAPS)
Center for Advancement of Learning and Assessment (CALA)
Center for Biomedical and Toxicological Research and Hazardous Waste Management (CBTR)
Center for Ocean, Atmospheric Prediction Studies (COAPS)
Danfoss Turbocor Compressors Inc.
Department of Agriculture and Consumer Affairs Bureau of Seafood and Aquaculture
FAMU Center for Plasma Science and Technology
Florida Center for Interactive Media (FCIM)
Florida Center for Reading Research (FCRR)
Floriday Cybersecurity Institute (FCI)
Florida Department of Transportation (FDOT) Structural Research Laboratory
Florida Distance Learning Consortium
Florida State University Applied Superconductivity Center
Florida State University Center on Better Health and Life for Underserved Populations (BHL Center)
Florida State University Enterprise Resource Planning (ERP)
Florida State University Foundation Inc.
Florida State University High-Performance Materials Institute
Florida State University Human Subjects Committee
Florida State University Information Technology Services (ITS)
Florida State University Institute for Energy Systems, Economics, and Sustainability (IESES)
Florida State University Institute for International Cooperative Environmental Research (IICER)
Florida State University Office of Intellectual Property Development & Commercialization (OIPDC)
Florida State University Research Foundation Inc.
Infrastructure Marketing Group, LLC
Learning Systems Institute (LSI)
Leon County Research & Development Authority
National High Magnetic Field Laboratory
National Park Service Southeast Archeological Center
Northwest Regional Data Center
Office of Intellectual Property Development and Commercialization (OIPDC)
The Small Business Development Center (SBDC) at FAMU