850 Holds a Conversation About Jobs with Florida Gov. Rick Scott
Business Booster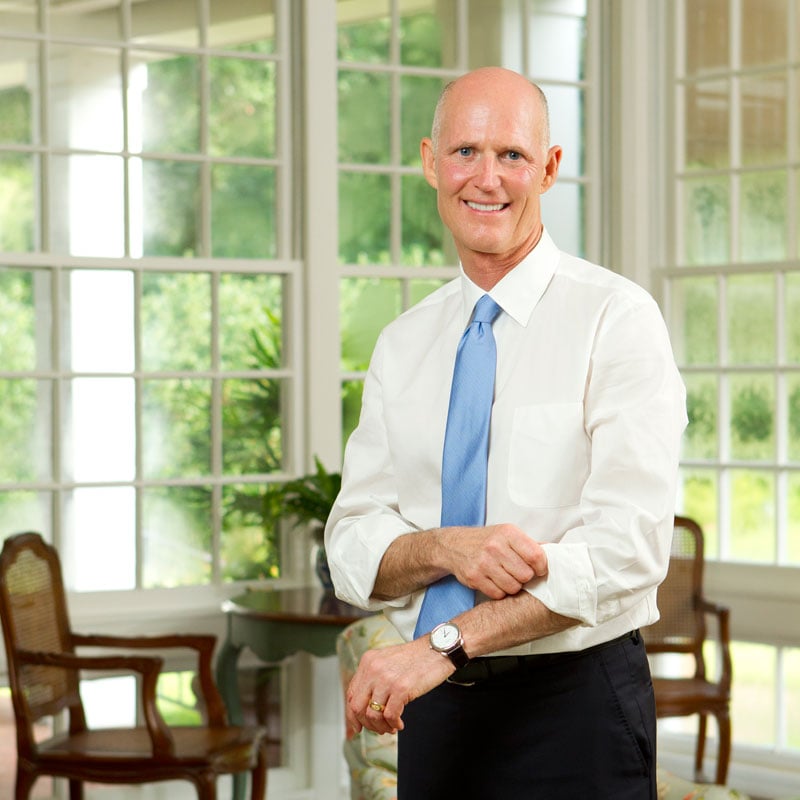 Photo by Scott Holstein
Gov. Rick Scott campaigned for office on the promise to bring more jobs to Florida, and his work over the past three years has earned him the nickname of "The Jobs Governor." Now ready to launch a re-election bid, he says employment remains the "biggest issue facing our state." In his way of thinking many, if not most, of Florida's problems can be solved by more jobs and a hearty economy.
While the Florida economy has improved along with the nation, the numbers tell the story of the state's successful economic rebound. Florida's unemployment rate is a half point below the national average, hitting 7.1 percent in June, down from a high of 11.4 percent at the height of the recession. (Other big states in June remained above, or hovered around, the national rate of 7.6 percent — Illinois was at 9.2 percent, California was 8.5 percent and New York, 7.5 percent.)
Since taking office in January 2011, Scott's jobs focus has helped yield 330,000 private sector jobs in Florida, halfway to his goal of 700,000 jobs for the state, a goal that Scott maintains is still obtainable. While he's had to fend off criticism that many of those new jobs are low wage, he's gained notoriety for making cold-calls to national companies, urging them to move to Florida. And he's been sending open letters to states across the nation, part of his One Way campaign, urging companies in those states to "buy a one-way plane ticket to Florida" because of Florida's business-friendly environment.
"We have to be sure we're a state where people can get a job," Scott said during a recent interview with 850 to talk about business in Florida, particularly Northwest Florida. "Our budget has gone from a $4 billion deficit when I took office to a $1 billion projected surplus now. The reason is we've cut the number of people that are unemployed. Unemployment has dropped faster than any other state but one … When you do that, you have more money to put into things you care about, whether it's the environment, education or health care."
More good news for Florida's comeback is the high rating bestowed by Moody's Investors Service. The report concluded that while Florida entered the recession earlier than many states and was one of the hardest hit, it is "back on track." According to Moody's Analytics, "Florida's 2013 employment growth is expected to increase 1.9%, surpassing the national rate of 1.3%," and remain higher than the nation through 2017. Moody's also concluded that: "Over the long term, Florida's pace of growth is expected to outpace the nation due to the state's favorable climate and low cost of living, as well as strong demographics and economic fundamentals, driven by tourism, health care and education sectors."
Scott, who has had a long business presence in the state and has an energy level that matches his nonstop schedule, attributes the growth to lots of networking. He constantly travels the state, often setting up an office for the day for any citizen to come speak with him. One of the biggest parts of his job, he says, is listening — and then trying to fix the problem.
The governor won't name his favorite part of the state, although he and his wife of 41 years, Ann, enjoy living in Tallahassee. When asked about his favorite fishing spot, however, Northwest Florida gets the nod. He wants generations to make Florida home — and the Scotts added to that legacy earlier this year as they welcomed their third grandson.
PHOTO BY MEREDITH HOPE HALL
850: You've been called "The Jobs Governor." What is your single biggest accomplishment in the jobs arena for the Northwest Florida region?
Gov. Scott: The thing that I am most proud of is that unemployment has gone down all around the state. In this area (Northwest Florida), the unemployment rate has gone down over 2 percent. It was over 8 percent when I came into office, and now it is under 6 percent. That is below the national average. It's one of the lowest in the state. It's nice we have had good job growth here. We're also diversifying the economy. There are companies coming into the area. From an economic standpoint, that's what's great. We have companies coming in now, and we've been able to promote the area. Unemployment is really the biggest indicator.
850: I understand you actively recruit companies to relocate to Florida by "cold-calling" them so to speak. Have any companies been recruited in that way to Florida and, specifically, Northwest Florida?
Gov. Scott: I have been in business all my life. Basically, what you're doing every day is constantly telling your story. A lot of times there is not a direct connection. You just keep doing it, and people show up. I've sent notes to the top 500 CEOs in the country. We pick states, and I'll send letters to the top 100 companies. Sometimes it's a board member some place. Sometimes it's a CEO. Sometimes it's just having a conversation. A lot of times, it has to be the right time for people. Take Hertz. They were ready to have the conversation because they had just done this big merger with Dollar/Thrifty. So they were ready. A lot of times, you do all these things and then you get an article written about what you're doing and someone else sees it. The glamorous ones are the big ones like Hertz or Northrop Grumman with 1,400 jobs. But the truth of it is most of the growth is 25 jobs here, 50 jobs there. It is smaller companies too that are moving here.
Navy Federal Credit Union in Pensacola is expanding, adding 1,500 jobs to the region with plans for new building construction. That is in addition to the 640 jobs they brought to the region in 2011. They have plans to add 10,000 jobs to the region by 2020.
850: Florida was recently ranked by Chief Executive Magazine as the No. 2 state in the nation to do business. What changes have you made that earned Florida that ranking? What will it take to make Florida No. 1 and bump Texas from that spot?
Gov. Scott: I think [Texans] brag better than we do. I think we need to brag about our state a lot more and talk about what we have going for us — no personal income tax, a lower business tax than Texas. We have reduced regulations, eliminating 2,300 regulations in the last two years. We have streamlined the permitting process. We have a government that is very pro business. We have 15 seaports. We are clearly the gateway to Latin America. We have an educated workforce.
On top of that, look at our K-12 education system. Our fourth graders are No. 2 in the world in reading. According to Education Week, we are the sixth best state in the country for overall education. The National Council for Teacher Quality says we have the most effective teachers. Of all the large states, we had the biggest student achievement gains for 4th and 8th graders. With our higher education system, you can get a degree out of our state colleges for $10,000. They're very focused on working with companies.
Most of what we have to do is go brag about it and talk to people all the time. The second day someone is living in Texas they're bragging about it. If I could change the mindset of Floridians so that they would learn to brag about our state. We have so many things going for us.
850: Amazon is looking to create more than 3,000 full time jobs with benefits and a more than $300 million investment in Florida. As they make location decisions is there anything Northwest Florida business leaders can do to encourage the company to set up shop in the area?
Gov. Scott: Every region of the state has to play to its strengths. The reason Amazon wants to locate in Florida is to have more distribution centers to meet the needs of their customers. They have to pick locations where they can get things to market quicker. So, absolutely, Northwest Florida can compete as a location. This region can offer a great distribution area for not only Florida but also parts of Georgia, Alabama and even Mississippi.
My experience on economic development is it is better when you have people more aggressively recruiting companies to solve that company's needs so it can better solve its customers' needs. When economic development realizes the whole goal is to make that company more successful, then it's a win-win and we're going to continue to get more business.
We've had dramatic success with economic development over the past two years. Gray Swoope, Florida Secretary of Commerce and president & CEO of Enterprise Florida, has brought unbelievable life to it. He has built great relationships with site selectors. There are 6,000 site selector firms in the country. Two weeks after I got elected, I met with a bunch of them. They said they didn't even talk to Florida, that we were not easy to deal with, that Florida didn't care about economic development at all. Now we've done over 320 transactions. We have great relationships with site selectors, great working relationships between counties, cities and the state. And now, a lot come to us and say, "We want to be in Florida, tell us where you think we should go." I tell them to speak to Gray Swoope.
850: What should the Northwest Florida business community do to seek out help from the state in ways to grow jobs in this region?
Gov. Scott: From a tourism standpoint, we dramatically increased the funding for Visit Florida to help market the state. Anyone in the tourist business ought to be working with Visit Florida.
Enterprise Florida does a great job. They're a great group to work with. It's sales. Find out how you can solve their needs. We have a lot to be proud of in Northwest Florida. People want to live here. Plus, we are close to shipping avenues and seaports. We have a big opportunity with the Airbus plant coming to Alabama. There are big opportunities to be suppliers to them.
850: There has been some criticism that a lot of the jobs coming to Florida are mostly minimum wage jobs. What is your response to that?
Gov. Scott: Look at Hertz. The average job, of the 700 jobs they are bringing to the state, has an average annual salary of $100,000. Look at Northrop Grumman, look at Verizon, look at Time Warner and look at AT&T — those are not minimum wage jobs. But, the truth is, every job we fill is important. Because everybody wants a job and getting a job creates your next opportunity. We are recruiting all sorts of jobs. I'm proud of anybody that's adding jobs in our state. Right now, Universal Studios is spending more than $2 billion to expand the Harry Potter exhibit. That's going to create a lot of jobs. Look at all the tourism that we have. We have over a million jobs in tourism now. So, all these things add up.
850: Coming from a business background, what do you see as the selling point of the Northwest Florida region?
Gov. Scott: By the way, my wife and I like living here. We spend most of our time here when we are not on the road. We like the restaurants, and we like the parks. We hike. It's a wonderful place to live.
From a business standpoint, on top of it being a wonderful place to live, we have FSU and FAMU and UWF. We've got a well-educated workforce. We have people with a lot of experience working for state government. A lot of people come to work for state government for a short period of time and then go back to industry. That broadens their experience level.
Then, you've got the proximity to the rest of the United States. I've always thought there should be a lot more manufacturing companies in the Panhandle. That's why I pushed to get rid of the sales tax on machinery and equipment. The nice thing about manufacturing jobs is in the economic cycle they generally don't go down as fast as some other industries. If you think about it, there's no reason a manufacturer should be in Mississippi, Alabama, Tennessee or Georgia instead of the Panhandle of Florida. We've got to put a lot of effort into manufacturing, science, technology and engineering. We need to continue to educate people in the areas where there are jobs. I think we are making progress on that all the time.
The other thing is marketing. Tell our story. If you look at all great companies, everybody knows it is part of their job to sell. We've got to talk about all the great things about our state.
850: Have you been able to succeed with your "Job Creation and Economic Growth Agenda?" Have you made any adjustments to that agenda?
Gov. Scott: It's not so much adjustments as trying to do additional things to get the word out. We are way ahead of the goal right now. But I keep thinking of ways we can continue to make our state more attractive. I travel the state a lot, almost every day. I ask people what agencies they work with. Is it a hassle? My goal with that is to get ideas from people about what problems they are having. My theory is if there is a problem in one county, it is probably a problem somewhere else. I try to keep solving problems.
It's no different than what I did in business. In business, I focused on how can I have the best customer satisfaction, how can I have the best quality outcomes and how can I offer the lowest price. It is the same thing with this. How can we control the cost of government? How can we be most effective? For every dollar you, the taxpayer, spends you get a return. We try to measure all the programs. Are we getting the best return? Are we meeting their needs?
850: Can you explain why you think trade missions are so important for job growth?
Gov. Scott: The whole goal of trade missions is to build relationships. Let people in other countries know we want to do business with them. The more trade you have, the more jobs you have for that country and our state. You build relationships. When the governor goes, I can open doors other people can't open. People know it's important when the most senior level person in the state shows up.
Photo by Meredith Hope Hall
850: Your recent trip to the Paris Air Show yielded several good business ventures for Florida. Do any prospects look promising for the Northwest Florida region?
Gov. Scott: This is the second Air Show I have been to. What people don't realize is we are already the second biggest state for aerospace and aviation jobs in the country, second only to California. Two very big announcements came from the Air Show with two big companies moving to Florida. Commercial aviation is still doing well. The defense industry has been hit harder with sequestration. There is a big opportunity with Airbus. That will help the Panhandle a lot. I think we will get a lot of business out of Airbus as they start building up.
850: As you know, the Northwest Florida region oyster industry has been hit hard over the past several years. I know you asked the Legislature to set aside $3 million to enhance the water quality of the bay, as well $500,000 to fund an analysis for the river flows to maintain the estuarine. Did that pass? Is there anything you are working on that may further help revive that industry?
Gov. Scott: Recently, the Cabinet passed an additional lease program. It's not just a lease for the oysters on the bottom but for those people starting to grow oysters a little higher, which is very promising. This can be a big opportunity. It allows for growers to use the whole water column. It's not just growing oysters on the bottom. The floating oyster cages can prevent predators. And they're also growing scallops in these cages, which wasn't even the goal.
Additional funding to help oyster recovery includes $957,000 for the Apalachicola Water Project for water quality improvement, $360,000 in funds for oyster shelling and a $400,000 supplemental appropriation for shelling and research.
"The thing that I am most proud of is that unemployment has gone down all around the state. In this area (Northwest Florida), the unemployment rate has gone down over 2 percent." Governor Rick Scott
850: Related to that, how would the BP funds best be used in the Northwest Florida region? How would you like to see it structured?
Gov. Scott: We've got to be methodical. We've got to look at where we're going to get the biggest returns. One of the things I've tried to bring to the table is my business background, where you focus on making an investment where you get a return on that investment. In that case, I was responsible to shareholders. As governor, I'm responsible to taxpayers. I need to make sure we spend the dollars coming to the state, whether it's through a BP settlement or other funds. If we get a good return on those dollars then there will be more opportunities for everybody. We want our kids to live here and our grandkids to live here. We want everyone to be gainfully employed and hopefully do well financially. And we want great education, good environment, low crime rate; all those things. You can't do it without jobs. I like processes and measuring. Let's go back and see how we are doing. If we aren't doing it right, keep fixing, keep improving. That's what successful businesses do.
850: You have said Florida's natural resources are the state's economic engine. How does this relate to Northwest Florida?
Gov. Scott: Our state's natural resources are unparalleled. It's why people choose to live here, vacation here and bring their businesses here. In Florida, we don't have to choose between a healthy environment and a healthy economy. The two are inextricably linked. I'm working to ensure our resources are dedicated to the improvement of both.
A stable regulatory environment does not mean lower environmental standards. It means that environmental policy will be governed by sound science, not politics or one-size-fits-all solutions. It means that our permit processes will be the same for Tampa residents and businesses as they are for those in Pensacola, Jacksonville or Key West, but also take into account our state's regional differences.
850: Where is your favorite place to fish?
Gov. Scott: I caught 26 redfish in two hours one day in St. Andrews Bay off of Panama City. Some of them were too big to keep! None of them were too small to keep. That was a pretty good day.
850: What is the most important aspect of your job as governor? Your favorite part?
Gov. Scott: The most important thing is to listen to people around the state, to their ideas; try to make sure as problems arise they are addressed; and get ideas from people. People from all walks of life all around the state have ideas. I like to go to a smaller county and open an office for four hours. Anybody can come in and see me. Most of my job is to listen to citizens' concerns and address them as quickly as I can.
My favorite part of the job is the people. The events that are the most fun are when I visit either an elementary school or a home for persons with disabilities. They are so excited. It's so nice when people come up to you and say that when you turned the economy around my parents were able to get a job. Those are the best moments. I am fortunate that I have that.
Photo by Scott Holstein
New Jobs For Florida
From the beginning of the Scott Administration, a chronological list of companies, their location and the jobs they have promised to create.
Digital Risk, Maitland — 1,000 new jobs
WaWa Grand Opening, Orlando — 3,500 new jobs
Air Products, Manatee County — 250 new jobs
Navy Strategic Systems Program, Patrick Air Force Base — 100 new jobs
TBC Corporation, Palm Beach County — 175 new jobs
StreetLinks Lender Solutions, Tampa — 300 new jobs
Accuform Signs, Hernando County — 271 new jobs
Prime Therapeutics, Orlando — 213 new jobs
Univision Networks, Miami — 346 new jobs
L-3 Crestview Aerospace Expansion, Crestview — 340 new jobs
Winter Haven Rail Terminal Groundbreaking, Winter Haven — 8,500 jobs
Mindtree Limited, Gainesville — 400 new jobs
Pratt & Whitney, Palm Beach County — 230 new jobs
Pratt Whitney/United Technologies Corporation, Jupiter — 230 new jobs
Navy Federal Credit Union, Pensacola — 700 new jobs
Bi-Lo Winn-Dixie, Jacksonville — 100 new jobs
Harris Corporation, Palm Bay — 100 new jobs
ADT Corporation, Boca Raton — 120 new jobs
Embraer Aircraft Holding Inc., Melbourne — 200 new jobs
U.S. Gas and Electric, Miami — 32 new jobs
Airdyne Aerospace, Brooksville — 17 new jobs
MarJam, Defuniak Springs — 12 new jobs
CLI Solutions, Tampa — 40 new jobs
Bolton Medical Solutions, Sunrise — 100 new jobs
Parametric Solutions, Jupiter — 130 new jobs
DaVita Rx, Orange County — 100 new jobs
TraPac Container Terminal, Jacksonville — 3,500 new jobs
Morgan Stanley, Hillsborough County — 110 new jobs
Radiant Power Corp., Manatee County — 16 new jobs
Planet Hollywood, Orlando — 90 new jobs
Prioria Robotics, Gainesville — 40 new jobs
Klausner Lumber One, Suwannee County — 350 new jobs
Emerson Latin America, Sunrise — 20 new jobs
Siemens, Orlando — 50 new jobs
Total Quality Logistics, Tallahassee — 75 new jobs
Verizon, Lake Mary — 750 new jobs
Advanced Pharma CR, Miami — 60 new jobs
Coastal Cloud, Palm Coast — 100 new jobs
Northrop Grumman, Melbourne & St. Augustine — 1,000 new jobs
TurboCombuster Technology, Stuart — 200 new jobs
Turbine Controls Inc., Miramar — 60 new jobs
7-Eleven, Jacksonville — 800 new jobs
Actavis, Inc., Davie — 120 new jobs
Embraer Aircraft Holding, Inc., Jacksonville — 50 new jobs
Amcor Rigid Plastics, Orlando — 29 new jobs
Navy Federal Credit Union, Pensacola — 1,500 new jobs
AT&T Jobs Announcement, Miami — 350 new jobs
Draken International Inc., Lakeland — 55 new jobs
Nanotherapeutics Inc., Alachua — 150 new jobs
Depository Trust & Clearing Corporation, Tampa — 255 new jobs
WWE Jobs Announcement, Sanford — 16 new jobs
iStorage, Winter Garden — 36 new jobs
Mobiquity, Gainesville — 260 new jobs
Anthem Education, Ft. Lauderdale — 70 new jobs
Priton, Santa Rosa County — 200 new jobs
Hertz, Estero — 700 new jobs
United Paradyne Corp., Kennedy Space Center — 50 new jobs
Global Business Solutions Inc., Pensacola — 120 new jobs
GardaWorld, Boca Raton — 500 new jobs
Amazon, Florida — 3,000 new jobs
Vision Systems, Melbourne — 40 new jobs
ATR North America, Miami — 40 new jobs
dtw Marketing Research Group Inc., Amelia Island — 40 new jobs
Duvasawko, Volusia County — 68 new jobs
Deutsche Bank, Jacksonville — 300 new jobs
Kingspan Insulated Panels Inc., DeLand — 30 new jobs
Advanced Disposal, Ponte Vedra — 85 new jobs
Charles Composites, Okeechobee — 28 new jobs
iGate/West Fraser, Pensacola — 400 new jobs
Aveo Engineering, Palm Coast — 300 new jobs
Golf Channel, Orlando — 75 new jobs
Galaxy Aviation, Palm Beach — 200 new jobs