Synapse Florida partners with FPL for 2023 Innovation Awards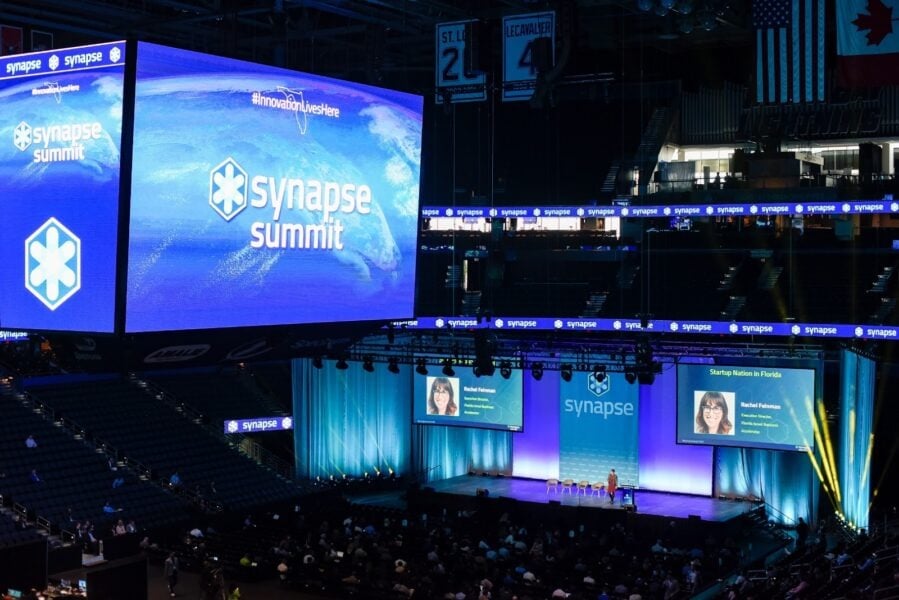 Synapse Florida ("Synapse") and Florida Power & Light Company ("FPL") announce their partnership for the 2023 Synapse Innovation Awards recognizing Florida's entrepreneurs, innovators, startup and growth companies, that are solving problems and creating solutions. FPL is contributing $75,000 to be awarded among the top three overall winners as part of their goal to empower the next generation of Florida's leaders, thinkers and innovators.
"FPL is proud to support the next generation of innovative startups in Florida. Supporting these awards is a continuation of how the company and its 35 Mules innovation hub help bring startups' game-changing ideas to life, growing jobs and innovation here in Florida. FPL greatly values the power of partnerships to boost Florida's startup ecosystem together," said Pamela Rauch, FPL vice president of external affairs and economic development.
Nominations for this award are open to businesses in different stages, industries and technologies that can submit to categories including Community Impact, Emerging Technology, Tech Start-Up, Innovative Product, and Growth Company. Entries will be evaluated by a hand-selected group of judges ranging from top CEOs, innovation leaders and investors from across the state, as well as input from the Synapse community to select the finalists who will present at the Innovation Showcase to be held at the 6th annual Synapse Summit in Tampa, Florida, on Tuesday, February 14, 2023.
"Partnering with FPL helps Synapse Florida amplify awareness of our state's growing innovation community, highlighting the technology, products and services that are improving our world and changing lives," says Brian Kornfeld, CEO of Synapse Florida. "Synapse is a catalyst for successful relationships, providing unique opportunities for people to make impactful connections and contribute to the thriving global innovation ecosystem."
The three top-scoring winners from among all categories will receive non-dilutive cash prizes, presented by FPL. The first-place winner will receive $50,000, second place will receive $20,000 and third place will receive $5,000.
Nominations are now being accepted through January 13, 2023 on Synapse's website www.synapseawards.com. Judging will commence in January, and finalists will be notified mid-January. Top-scoring companies in each category will be invited to present live on center stage in the Innovation Awards showcase at Synapse Summit Feb. 14, 2023.
---

About Synapse Florida
Synapse Florida, a nonprofit 501(c)(3), is a statewide connector of Florida's innovation community comprised of entrepreneurs, investors, talent, corporations, educational institutions, students, policymakers and other stakeholders. Synapse amplifies awareness of and participation in Florida's growing innovation community. Synapse is a catalyst for Florida's innovators who are creating forward-thinking solutions to solve problems, improve our world and change lives. Founded in 2017, Synapse provides year-round opportunities for people to make impactful connections and contribute to the thriving global innovation ecosystem. To learn more, visit www.synapsefl.com.
About Florida Power & Light Company
As America's largest electric utility, Florida Power & Light Company serves more customers and sells more power than any other utility, providing clean, affordable, reliable electricity to nearly 5.8 million accounts, or more than 12 million people. FPL operates one of the cleanest power generation fleets in the U.S. and in 2022 won the ReliabilityOne® National Reliability Award for the seventh time in the last eight years. The company received the top ranking in the southern U.S. among large electric providers, according to J.D. Power's 2021 Electric Utility Residential Customer Satisfaction StudySM and 2021 Electric Utility Business Customer Satisfaction StudySM. The company was also recognized in 2020 as one of the most trusted U.S. electric utilities by Escalent for the seventh consecutive year. FPL is a subsidiary of Juno Beach, Florida-based NextEra Energy, Inc. (NYSE: NEE), a clean energy company widely recognized for its efforts in sustainability, corporate responsibility, ethics and compliance, and diversity.  NextEra Energy is ranked No. 1 in the electric and gas utilities industry in Fortune's 2022 list of "World's Most Admired Companies" and recognized on Fortune's 2021 list of companies that "Change the World." NextEra Energy is also the parent company of NextEra Energy Resources, LLC, which, together with its affiliated entities, is the world's largest generator of renewable energy from the wind and sun and a world leader in battery storage. For more information about NextEra Energy companies, visit these websites: www.NextEraEnergy.com, www.FPL.com, www.NextEraEnergyResources.com. 
---