2020 Pinnacle Awards: Marjorie Turnbull
She seizes opportunities and doesn't look back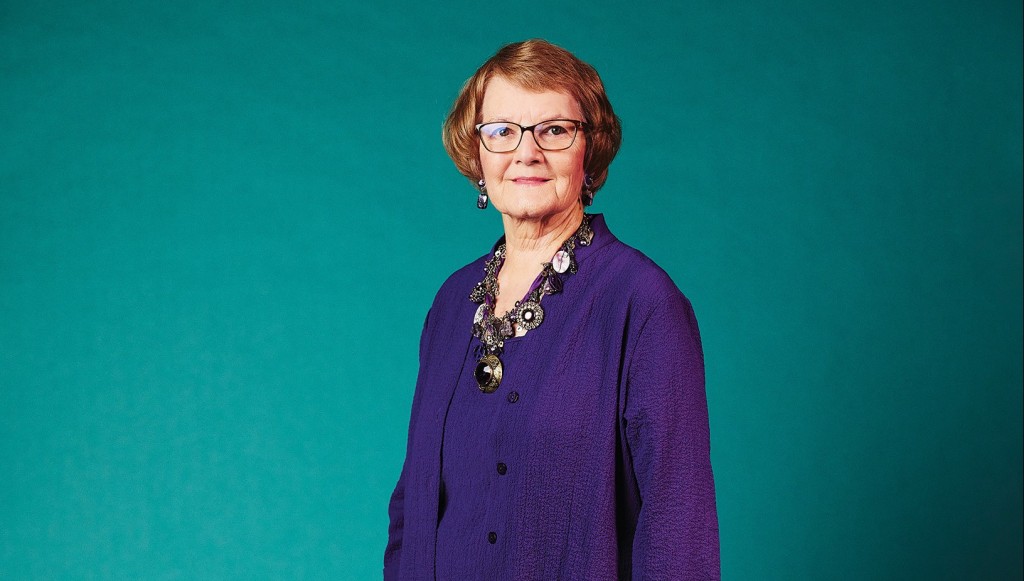 Have confidence in what you can do.
Refrain from thinking about gender barriers.
Believe that you will accomplish your goals.
Remain open to opportunities, and once you seize an opportunity, don't look back.
There is one reason we are on this earth and that is to help other people, so whatever your role in life is, get involved in your community.
Always maintain a sense of humor.
In such a way, Marjorie Turnbull would advise young women today. And, while it has always been her nature to live up to that advice, there were times when she required a little shove.
Consider: When Turnbull was born, the ı9th Amendment to the U.S. Constitution, which gave women the right to vote, was just two decades old.
"When I was growing up," she recalls, "there were very few professional women, but I knew early on that I was going to have a different kind of trajectory. I envisioned marriage, family and home, but I also thought that I would have a career. My mentors were men — my father and other men that I admired greatly, men who had had successful lives and had benefited their communities."
Indeed, Turnbull's dad, J. Wayne Reitz, in the course of a storied career in higher education, served as president of the University of Florida from March ı955 to January ı967.
Turnbull was inspired, too, by women in history and headlines, most especially Eleanor Roosevelt, about whom she says, "She was a strong woman, she was a leader and she was always willing to take risks in reaching out to people in our society who were marginalized. She had great courage."
Turnbull likes to say that she has been "involved in universities since the womb."
Her dad was on leave from the University of Florida and was completing requirements for his doctorate at the University of Wisconsin when Turnbull was born. At age 6 months, she moved to Gainesville where she would grow up.
She met her husband, Gus, on a blind date in New York City. He was working on a doctorate at the University of Virginia. They married and moved to Georgia where Gus worked briefly for the Governor's Office before joining the faculty at the University of Georgia. Subsequently, he was recruited by Florida State University and would serve as provost there.
Turnbull, who holds a bachelor's degree in political science from the University of Florida and a master's degree in international relations from the University of Georgia, would devote her talents and energies to Tallahassee Community College. She headed up the TCC Foundation before becoming the school's executive director, a job she held for ıı years.
Concurrently, she became an admired community servant and office holder.
Turnbull took an interest in the Council for Neighborhood Associations in Tallahassee. At her first association meeting, she was encouraged to serve on the board. At her first board meeting, she was made vice president. Two months later, the president resigned and moved to Cincinnati. The cream rises.
Turnbull was also active with the Apalachee Land Conservancy when it was petitioning the Leon County Commission for an easement for the Miccosukee Greenway. Three commissioners favored granting the easement, and the Conservancy needed a fourth. Fellow Conservancy activists encouraged her to run for a commission seat.
"Word got around and people starting calling me," Turnbull said. "The neighborhood people. The tree-hugger people. I made a list, pros and cons, and I turned to Gus and I said, 'No, this is not going to work.' My con list was five times longer than my pro list. Gail Nelson was a district representative on the commission, but I would be running as a woman with no experience as a campaigner for an at-large seat. I didn't think I could win."
Gus was blunt.
"Quit making lists, and just do it," he said. She would serve six years on the commission.
After losing her husband to cancer in ı99ı, Turnbull announced that she would not be seeking a fourth commission term. She didn't think she had another campaign in her. But she was convinced to run for the 9th District seat in the Florida Legislature. Hurley Rudd was calling it quits after four terms.
"I had worked as a legislative staffer," Turnbull said. "The legislative process didn't intimidate me. Here was an opportunity for me to employ what I learned as a local office holder and to have statewide impact."
She represented the 9th District from ı994 to 2000.
When she retired, Turnbull vowed to stay active.
"I had three criteria for saying yes," she said. "Will I learn something? Will it be fun? Will it help other people?"
These days, Turnbull is a director at Prime Meridian Bank. She is a member of the Institutional Review Board at Tallahassee Memorial HealthCare. She is president and chairman of the Economic Club of Florida. Her work for Choose Tallahassee, which was formed to attract retirees to the city, has entered a second phase. Choose Tallahassee is now additionally focused on young professionals. She is on the boards of the Tallahassee Symphony Orchestra and the Big Bend Hospice Foundation.
"I retired, and I told myself that I wasn't going to do stress anymore," Turnbull said.
"I was just going to enjoy myself."