2020 Pinnacle Awards: Adrienne Maygarden
Service line director, Ascension Sacred Heart Hospital; Turnbull Award honoree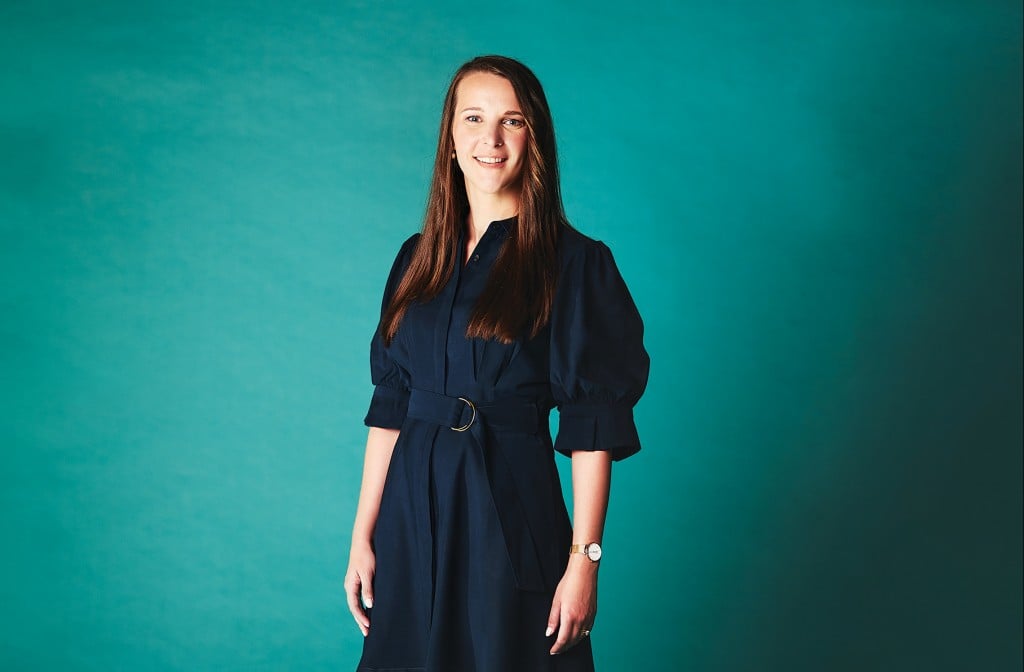 When Adrienne Maygarden thinks about her career to date, she pictures not a ladder so much as she does monkey bars. She has moved logically and horizontally from rung to rung, gathering a breadth of experience and knowledge along the way.
She does not know what's next, but she is certain that she will always want to be learning, growing and serving. Already — and her career is in an early inning — Maygarden has played key roles in two projects that have significantly changed the Pensacola landscape.
She was working as a public accountant with governmental entities and nonprofit organizations when one of her clients, the YMCA of Northwest Florida, recruited her. Her time there coincided with the $ı6 million Pensacola Downtown YMCA project, which, along with development of the Southtowne apartment community, would prove transformational.
Maygarden's success at the YMCA attracted the attention of Carol Carlan, the president of the Ascension Sacred Heart Foundation, which was undertaking fundraising efforts in support of another highly consequential development, the Studer Family Children's Hospital.
"We finalized fundraising for that hospital, and it's beautiful and it's big and it's changing care for generations of children to come," said Maygarden. She described walking through the new facility with a woman whose daughter had been hospitalized five years earlier with pediatric cancer.
"I showed her one of the patient rooms, and she immediately started crying because she knew how vastly different her experience would have been with the kind of space and amenities we have today," Maygarden said. "I think the most rewarding aspect of the whole project was seeing that mom's face."
In June, Maygarden reached out and grabbed another rung, joining Ascension Sacred Heart Hospital as its women's and children's service line director. In that role, she will be creating partnerships throughout the hospital's service area with health care providers, pediatricians' offices, OB/GYN offices and small hospitals to provide for a seamless flow of care to the practitioners best suited to handle a case.
It's been an eventful year for Maygarden personally, too. Her first child, Charlotte, was born on March 2.    
"I find fulfillment knowing that I can continue to challenge myself and improve the lives of others," Maygarden said. In that, she resembles her mother, Deborah McDanal, who earned three degrees and worked for 40 years in elementary education while raising three children of her own.
"She primarily worked in the Hoover City and Vestavia Hills school districts in Alabama," Maygarden said. "You could see the love that she had for students and their families — and her own children."
She has drawn inspiration, too, from Carlan and from Belle Bear of the Bear Family Foundation in Pensacola and Bear's daughter, Cindi Bonner, the director of Rally Pensacola, which supports families with children fighting cancer.
She advises young women always to stay true to themselves and to say yes to challenges that may lead to opportunities.
"In conversations with women, I recognize that they pull back if something seems scary or hairy or too big to tackle," Maygarden said. "Lean into it, and you will be surprised at the growth that happens during your period of greatest discomfort.
"The thing that scares you the most might be that little voice in your head that says you should do it. But people around me have been generous guides and counselors, and when it gets too scary, I am able to lean on them. A key to a successful life is creating that support system."
Can Maygarden see herself as a hospital president or CEO one day?
"It's not beyond the realm of possibility,"
she said.