The Sidelines Can Wait
Focus on youth sports energizes Dr. James Andrews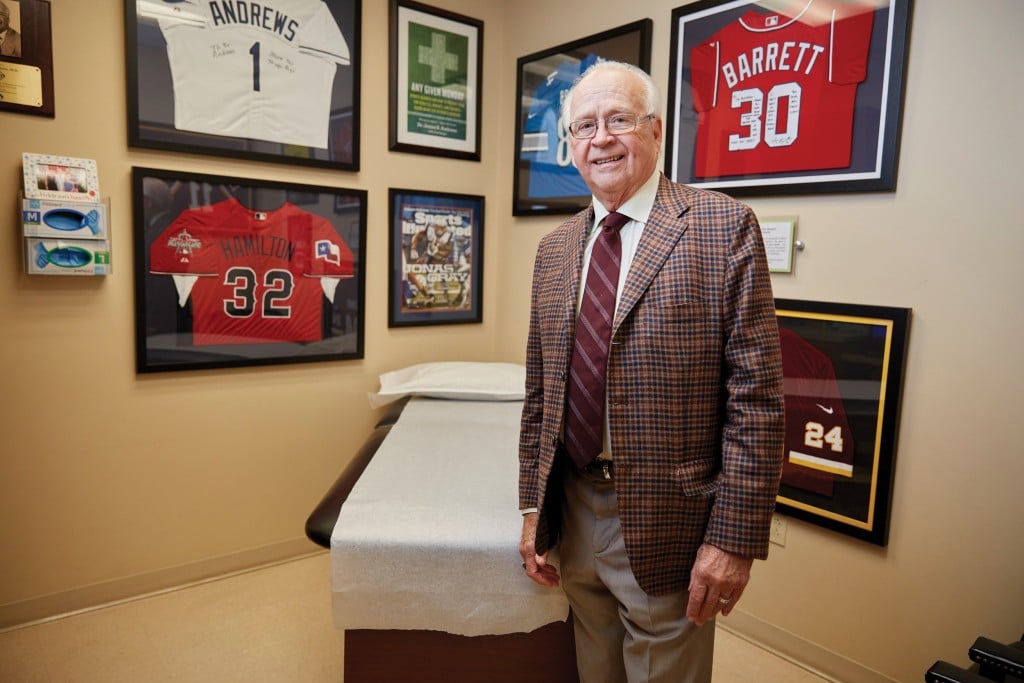 The Andrews Institute of Orthopaedics & Sports Medicine, located in Gulf Breeze, boasts a worldwide reputation for excellence in sports medicine and orthopaedic patient care, research, education and prevention.
The 127,000-square-foot facility provides a spectrum of medical services for the musculoskeletal system, using the latest innovative clinical and surgical technologies. In addition, it hosts a 12,000-square-foot rehabilitation wing with highly specialized physical and occupational therapies to help patients achieve the best possible outcome following treatment for sports injuries.
Dr. James Andrews, who founded the institute in 2007, turns 80 this May. But the world-renowned orthopaedic surgeon and mentor to generations of doctors, surgeons, athletic trainers and physical specialists doesn't plan on slowing down anytime soon.
"As long as my health stays where it is and I've got the energy and desire and the love for it, I'm going to try to continue to work," he said. "If you just quit and do nothing, you don't last very long. So I'm not going to do that."
Andrews, who has treated some of the sports world's highest-profile athletes, still sees a wide array of patients, performing surgical miracles on broken bones, torn muscles and damaged ligaments. But he expects to shift some of his priorities as new projects and interests vie for his time and attention.
"Protecting injuries in youth sports has been my passion for about ı5 or 20 years," he explained. "It's about figuring out how to keep these young kids from getting all these injuries before becoming big-time athletes."
That relatively recent passion has manifested itself in the third major institution founded by Andrews over his long and distinguished career. (Before establishing the Andrews Institute in Gulf Breeze, he started the Andrews Sports Medicine & Orthopaedic Center and the American Sports Medicine Institute in Birmingham, Alabama.)
"The new place I founded about five years ago is called the Children's Health Andrews Institute for Orthopaedics & Sports Medicine in Plano, Texas," he said. "It's a 200,000-square-foot clinic and research building, and it's devoted to youth sports up to age 22. The Dallas area has 2 million kids playing youth sports, and this facility is devoted just to those athletes in that age group.
"And now, we're trying to get two more places like that up and running. So, what I'm trying to do is to gradually get out of the clinical setting and manage the facilities I've got and these new facilities we're trying to build around the country."
Creating a sports medicine empire wouldn't have seemed a likely life's labor for someone with Andrews' humble beginnings.
"I grew up in a small, Southern town which had 4,000 people — Homer, Louisiana," he recounts. "My father had been a football player in college; my mother was a music teacher. So, I was always involved in sports growing up, but it was also embedded in me that education was more important than athletics. I wanted to put the two together so that I could continue both."
Andrews' next-door neighbor was a primary care doctor who took care of the local high school athletic teams.
"So, I wanted to be a team physician," he said. "As it turned out, the way to be a team physician was to go into orthopaedic surgery. I went from high school, being a pole-vaulter, playing football, baseball and basketball, to getting a scholarship at LSU in pole-vaulting and track. I was in pre-med, and when I finished LSU and got accepted to medical school there, they gave me a legislative grant that paid for my schooling.
"I went all through school, and it never cost my parents any money — I got it all through athletics."
Andrews completed his residency at Tulane Medical School and followed up with fellowships at the University of Virginia School of Medicine and the University of Lyon.
Since that time, the doctor has spent decades giving back to the world of athletics, while remembering to always recognize those who came before him, especially his chief mentor, Dr. Jack Houston, with whom he practiced for ı3 years in Columbus, Georgia.
"He was the team physician for a number of high schools but primarily for Auburn University," Andrews said. "He was my idol, and under him I escalated my abilities to move right along in my profession as an orthopaedic surgeon."
Following in Houston's footsteps, Andrews is the team doctor for the University of Alabama, Auburn University and the NFL's Tampa Bay Rays and Washington Football Team.
Andrews explains his ethos regarding his progenitors: "When you get up in the morning and look in the mirror, if all you see is yourself, you're doomed for failure. What you should see are your mentors because you're really a combination of all of them. You have to give tribute to your mentors because it's not an 'I' world; it's a 'we' world. You can't take credit for yourself. So, I always try to point back to my mentors for my success."
Of course, along with success — and it's clear that Andrews has achieved much of it over his professional life — there sometimes comes the danger of egocentrism and self-aggrandizement. Andrews, with help, has kept things in perspective.
"If I get some kind of award or come home with a big head, my wife says, 'Remember, if you're talking about what you did yesterday, you're not doing much today.' So, I try to live my life with humility. I'm constantly challenging myself to do better and to continue to grow. When you're green, you're growing. When you're ripe, you're next to rotten."
This May, there will be a multitude of events at various Andrews locations, including Gulf Breeze, celebrating the ground-breaking surgeon's 80th birthday. The celebrants will likely note that the good doctor is still green, still growing and still going strong.