TMH's Telemedicine Program Connects Patients and Doctors in New Ways
Technology offers the return of house calls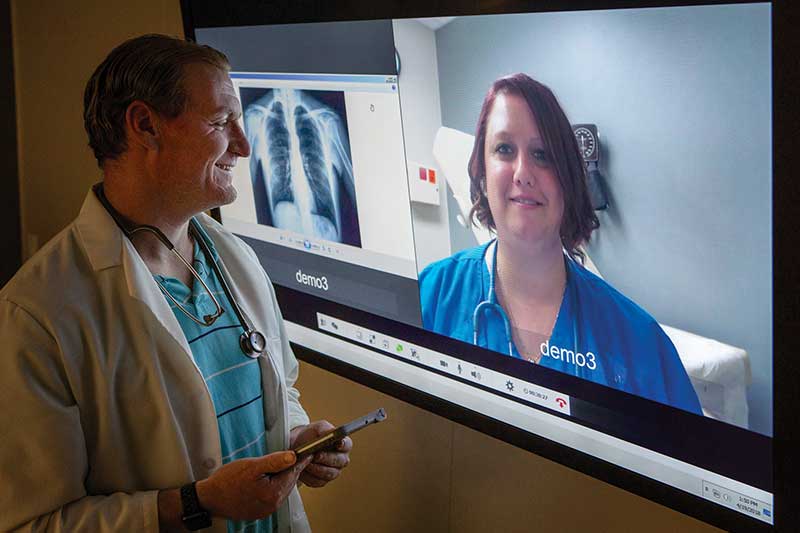 The doctor's black bag is not on its way back, but house calls, virtually, are.
Tallahassee Memorial HealthCare has begun to employ telemedicine, finding that it facilitates the efficient delivery of services to patients spread throughout its 19-county service area.
"Simple technologies that we use every day in our personal lives absolutely ought to be embedded in health care," said Lauren Faison, a TMH service line administrator whose responsibilities include regional development and telemedicine.
"Our goal at TMH in using telemedicine is all about being more patient centered and using our physician resources in a more efficient way."
Through recent decades, health care has revolved around providers. Patients have been expected to go to see their doctor and the next doctor and the next one, in the event that referrals to specialists are made.
"The use of technology," Faison enthused, "spins the situation back to where we can deliver services to the patient when and where he needs it."
In Tallahassee and other cities that serve as regional medical centers, a "tremendous amount" of money, time and effort is devoted to moving people from provider to provider within a five-mile radius.
The expense is compounded by the risks associated with transporting patients who may be recovering from surgeries or other acute health episodes.
Stops along routes traveled by ubiquitous vans and buses include nursing homes, rehab hospitals, specialists' offices and the offices of primary care physicians.
"Everyone has had the experience of waiting in a doctor's office for a follow-up appointment that may require only a couple of minutes once the doctor enters the examining room," Faison said. "The doctor sees you, everything is looking good and you're sent on your way.
"Now, we can carry out those visits virtually. If I'm at work, I can close my office door, and I can see my doctor without having to leave the office. If that weren't an option, I might skip the appointment due to the inconvenience involved."
TMH embraced telemedicine in the first place with high-risk patients in mind, people who may lack health insurance or transportation.
"We have patients who are in and out of the hospital quite often," Faison said. "It may be that they don't know how to manage their health, or they have other challenges. Now, when we have patients who need extra support, we can send them home with a Blue Tooth blood pressure cuff or a Blue Tooth scale and every morning when they get up, the nurse can see that information and react accordingly."
If the nurse finds that Mr. Smith's blood pressure is climbing, she will alert a doctor who may decide to intervene by scheduling an outpatient visit versus waiting to the point where the patient winds up in the hospital.
Telemedicine provides for a hub-and-spoke model whereby providers are connected to any number of patients.
Faison explained …
"It used to be that you had to have very expensive equipment and you had to have T-1 lines to allow for video connections, but now with any kind of Wi-Fi signal and a secure software system and a camera, you can provide health care virtually. If I'm at home and I think my daughter has pink eye, I can log in, see a physician, and satisfy my co-pay with my credit card, and I don't have to leave the house."
Telemedicine can be especially valuable in cases involving specialty care.
"I'm in Apalachicola and I fear that I may be having a stroke. Instead of waiting for Life Flight to bring me to a neurologist so an assessment can be performed, telemedicine means that assessment can be performed virtually and drugs can be prescribed immediately. Critical minutes are saved. "
While the advantages of telemedicine may be clear, the question of who will pay for it remains unresolved in Florida.
"Unfortunately, we're way behind," Faison said. "Twenty miles north of us in Georgia, they have what is called parity legislation for telemedicine. If a commercial health insurance provider will pay for you to see your doctor face to face, and you choose instead to see one virtually, they must also pay for that. We do not have that in Florida."
By Faison's count, bills related to telemedicine had been introduced in six legislative sessions in Tallahassee through 2017, but none had passed. Sen. Aaron Bean (R-Fernandina Beach) filed a bill discussed during the 2018 session that provided a framework and definitions for "telehealth," but did not provide for the kind of reimbursement established in Georgia and other states.
The bill survived the Senate but died in the House.
Insurance providers are concerned that telemedicine may open the floodgates to more patient-doctor encounters, but TMH is collecting case studies that it believes will demonstrate that telemedicine, because it stands to make preventive care more available, will mean fewer and less costly insurance claims.
The Florida State University School of Medicine also is conducting a study in that vein.
In any event, telemedicine is happening in Tallahassee and throughout Florida.
Patients may elect to pay cash for services delivered via telemedicine. Or telemedicine may be used pursuant to cooperative arrangements between a hospital and clinics.
For example, a surgeon with the Tallahassee Orthopedic Clinic may perform a knee replacement surgery. Following the operation, the patient may be admitted to TMH's rehab facility located across the street from the hospital.
"Historically when it was time for your follow-up visit, we would load you up in a wheelchair, put you in a van, drive you across the street and escort you to the seventh floor so that you could see your surgeon," Faison said, describing what could be an ordeal for a recovering patient.
"With an i-Pad and a $50 web cam, the doctor can inspect sutures, check leg extension, and everyone who is involved in that patient's rehab can participate: the nurse, a physical therapist, a family member and others."
Indeed, over time, telemedicine may obviate the need for some kinds of appointments.
"We are hearing that in other states, some of the busiest clinical practices have empty waiting rooms," Faison said.