The Arc of Equality in Human Rights Ordinances
State's business community embraces new anti-discriminatory protections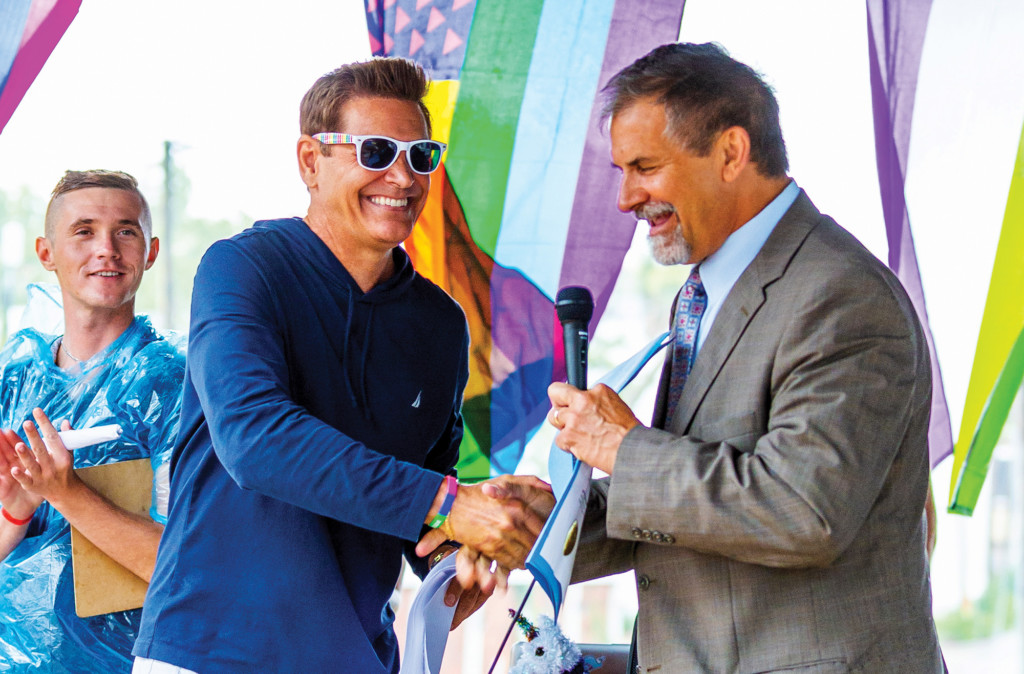 Nadine Smith is satisfied that public sentiment throughout Florida and especially that of the state's business community has increasingly come to favor the passage of ordinances that extend protections against discrimination on the basis of sexual orientation and gender identity.
Sixty percent of the state's population lives in communities where such "human rights ordinances" are in place, she said. Jacksonville passed one in 2015. Leon County's HRO was adopted in 2010.
HROs have been passed steadily for the past 20 years, said Smith, the director of Equality Florida since its inception in 1997.
"They have been passed in very different parts of the state, some predominantly Democratic, others Republican, and not all of them metropolitan," Smith said.
Now, she said, the time is right and the time is ripe for communities including Pensacola and her hometown of Panama City to do likewise.
Equality Florida, a St. Petersburg-based civil rights organization dedicated to securing full equality for Florida's lesbian, gay, bisexual, transgender and queer (LGBTQ) community, was set to conduct a roundtable discussion with local business leaders in Panama City on July 24. Smith was heartened by the formation in Bay County of an LGBTQ Center that supplies programs and support to young people who may be experiencing discrimination, bullying or worse.
"When 'don't ask, don't tell' was repealed and members of the military were permitted to serve openly, there was a ripple effect in communities that host bases," Smith found. "Some of the most powerful comments heard in support of the HRO in Jacksonville came from Navy personnel who said that, as soon as they left their base, they had fewer protections against discrimination. That's still true in the Panhandle."
Smith is a big promoter of uniformity in protections. The federal Equality Act, which was passed in the House of Representatives in May with bipartisan support, would mitigate today's patchwork quilt whereby protections present in one state may be absent in a neighboring state.
Within Florida, Smith said, "a business should not have to worry that an employee transferred from South Florida to the Panhandle may be unable to rent an apartment. You shouldn't have to check your GPS to know what protections are in place."
The Florida Inclusive Workforce Act, sponsored by 57 House members and 17 senators, has the votes to pass, Smith said, provided that legislative leadership permits the measure to go forward.
In any event, local HROs will remain important, Smith stressed, and no matter what happens at the state and federal levels, she does not anticipate that anyone will agitate for their repeal.
"We have federal, state and local civil rights legislation," she noted. "Municipal and county ordinances mean that there is a local place to begin a process if you have experienced discrimination. They can provide remedies that do not involve going to court."
Many businesses adopt anti-discrimination policies without regard for whether they are operating in a city with a non-discrimination ordinance on the books. They do so, Smith said, as a way of making a values statement and reinforcing a community standard.
"Is it possible to be discriminated against in a city with a non-discrimination law? Certainly," Smith said. "We have a history of marking a black applicant's resumé by turning down a corner of the page. Ordinances won't end discrimination, but they are a way for a community to say, 'We are not OK with it.' That's a long ways from winking and making it known that you don't really care."
In May, Equality Florida, along with the U.S. Chamber of Commerce, the Florida Chamber of Commerce and the Orlando Chamber brought about a meeting of 200 business people. The consensus: Absence of statewide anti-discrimination protections has consequences for the economy, economic development efforts and the ability of businesses to attract and retain talent.
Smith spent a week in Panama City in May in which she had conversations with business interests concerned about how to attract residents and visitors in the post-Michael era. She was not without advice.
"Communities need to send the message that, if you come to our beaches or our town, you are going to be respected and not harassed," Smith said. "Pass an HRO. Join the Open to All movement. Let people know that they can expect to be treated fairly and with respect without regard for their race, religion, ethnicity, sexual orientation or gender identity."
The Open to All campaign, according to its website, is supported by more than 200 civil rights and racial justice organizations; lesbian, gay, bisexual and transgender (LGBTQ) organizations and community centers; health advocates, disability advocates and faith organizations; and other groups. Together, they are working to advance the principle that when a business opens its doors to the public, it should be open to everyone.
Equality Florida has launched a parallel initiative, called Open Doors. For a nominal fee, businesses are added to a searchable database of non-discriminatory businesses and receive signage they can display to announce their Opens Doors membership. The fee is waived for businesses that are members of chambers of commerce that are aligned with Equality Florida.
"Florida is a massive state, and we have a lot of work left to accomplish," Smith said. "When you are in Pensacola, you are about the same distance from Chicago as you are from Key West.
"But wherever local leadership emerges that we can support, we will do whatever we can."
From the Leon County Human Rights Ordinance Adopted May 11, 2010
The general purpose of this chapter is to secure for all individuals within Leon County freedom from discrimination because of age, race, color, religion, national origin, ancestry, disability, marital status, familial status, sex, gender, gender identity or expression, or sexual orientation, and thereby to protect their interest in personal dignity, to make Leon County secure against domestic strife and unrest, to preserve the public safety, health, and general welfare, and to promote the interests, rights, and privileges of individuals within Leon County, and, in an effort to accomplish this purpose, to create a private cause of action available to all individuals in Leon County against such discriminatory practices.