Landscapes and Foundations
SDC contributes to beautifying Northwest Florida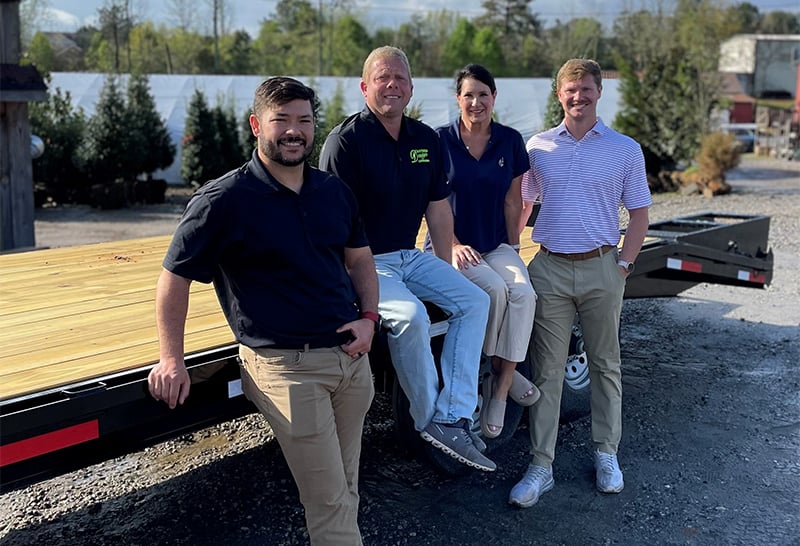 In 2009 amid what is now known as the Great Recession, Blanchard Benson's thoughts were instead focused on founding a company that would grow. From this idea, Southern Design Landscaping (SDL) planted roots in North Georgia and steadily matured to become Southern Design Companies (SDC), an industry leader in turnkey landscaping, concrete foundations and helical piers.
In its early years, the company primarily worked with regional and national homebuilders. The business quickly earned a reputation for Integrity, Quality and Service (IQS). As the housing market gradually recovered, positive talk about SDL's exceptional service spread throughout the industry generating steady local growth.
In 2014, to fulfill an increasing demand for plant material, the company became vertically integrated when Southern Design Nursery was founded.
In 2016, Southern Design Concrete, headed up by Karla Burel, was started and added turnkey concrete foundations and flatwork to the brand.

Deven Bradford joined the SDC team in early 2018 and in 2019, with innovation being top of mind, established Southern Design Piers to facilitate operational efficiencies for customers experiencing soil compaction issues. Today, service offerings under the Southern Design Companies umbrella provide a unique client experience.
With a fast-growing company and a big vision for the future, SDC made the decision in 2021 to partner with private equity. In 2022, the portfolio was further strengthened through the acquisition of Metro Contracting, extending services to commercial and multifamily general contractors.
Soon the company expanded from Georgia into the Florida Panhandle where Area Manager Andrew Grogan shares, "I feel very fortunate having the opportunity to work with such a respected business and look forward to being part of growing the Florida market."
Benson, Burel, Bradford and Grogan are united in their dedication to the guiding principles which define the SDC brand. The acronym "IQS" represents the organization's value system of Integrity, Quality and Service, a culture which is carefully preserved and has largely contributed to SDC's exponential growth.

Production is booming along Florida's Gulf Coast as the company is partnering with big name players including Kolter Homes, D.R. Horton, Samuel Taylor Homes, and Minto Communities in the Latitude Margaritaville Watersound development.
"Our plan is to establish a business presence in the Gulf Coast by building on the reputation and value system of the company," Burel said. "As area residents, we wish to contribute to the growth and beauty of our community while also filling a service void in the local construction industry."
SDC sets itself apart through strong relationships with major industry suppliers and by providing shortened lead times compared to the competition. "As the business has grown, buying power has played a big role in scalability, allowing us to better meet the needs of our customers. Additionally, the in-house plant nursery, self-performance of helical piers and sizeable workforce all help to shorten cycle times. Together these factors deliver enhanced value to customers," Bradford states.
The SDC team is dependable, efficient, safety-focused and customer centric, remaining dedicated to the guiding principles which have always defined the SDC brand.
"Our hands-on leadership team is the perfect balance of training and experience combined with progressive ideas. Processes are continually improved, enabling rapid growth of the organization," Benson said. "We have built an exceptional team of professionals who care about the company and our customers. We're excited about bringing SDC's expertise to the Gulf Coast area."
---
Southern Design Companies
SoDesignCo.com | (678) 707-2805
---