Resources for Small Business Defense Contractors
With the pandemic hitting small businesses especially hard, the Department of Defense (DoD) has made it even more of a priority to assist and support small businesses.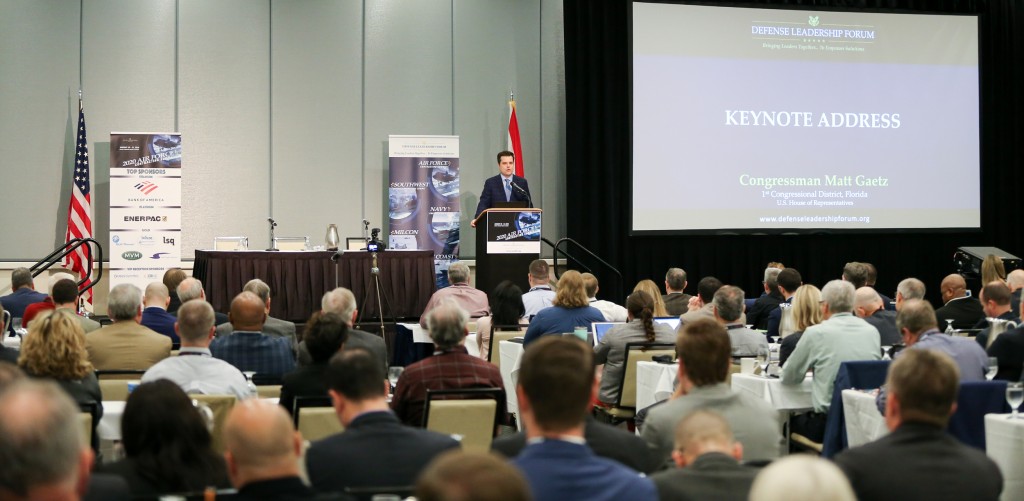 With the pandemic hitting small businesses especially hard, the Department of Defense (DoD) has made it even more of a priority to assist and support small businesses.
"Small- and medium-sized businesses nationwide now have a wide range of opportunities in defense contracting," states Charles Sills, the program director for the Defense Leadership Forum (DLF). "The Defense Department and the services have initiated special programs to identify and rapidly fund innovative technologies that the warfighter needs now — from drones to AI to satellite comms. They are holding 'industry pitch' days and writing sole-source checks on the spot. These outreach initiatives complement the traditional but still robust SBIR/STTR R&D programs. In addition, the DoD has rejuvenated its Mentor-Protégé Program, encouraging Fortune 1000 prime contractors to partner with smaller firms in their sector."
In Northwest Florida, there are small business offices on military bases ready to assist small businesses interested in military contracts. "With the Korean Armistice Agreement, followed by the military drawdown, came the creation of the Small Business Administration by Congress," states Howard Snow, the former Deputy Assistant Secretary of the Navy and the national moderator for the defense conferences hosted by the Defense Leadership Forum. "Knowing that the military would have to rely on the private sector for goods and services in the future, military installations started opening small business offices to provide companies access. After attending a defense contracting summit by the Defense Leadership Forum, these offices should be everyone's first stop for information when doing business with the military." See the sidebar on the next page for a list of small business offices at Northwest Florida's military bases.
There are additional resources for all small businesses in Northwest Florida, including small business defense contractors.
"We have a focus on the set-a-side community of small businesses, like veteran-owned, woman-owned, minority-owned, and 8(a) companies," said Edward Spenceley, Bank of America's Senior Vice President for Government Contracting and a veteran-owned business specialist. "Bank of America is the No. 1 lender to the government contracting industry with over $5 billion in loan commitments, including $3 billion to small- and middle-market government contractors nationally."
"Small businesses play a vital role in the success of our communities, and because of this we are always looking for ways to support them," said Gulf Power President Marlene Santos. "Earlier this year, we were honored to provide financial assistance to local businesses by giving a total of $500,000 to the Small Business Development Center at the University of West Florida to distribute to local businesses that were impacted by the COVID-19 pandemic. We believe these one-time grants were one of the best ways we could quickly provide much-needed support to businesses that were experiencing heavy losses in revenue. We were very pleased that all of these grant dollars were successfully distributed to Northwest Florida businesses by the SBDC, and our Gulf Power team will continue to look for innovative ways to help small businesses in our communities."
And Enterprise Florida's statewide network of professional trade counselors provides free export counseling to small- and medium-sized companies interested in expanding globally. See the list in the sidebar for its Pensacola office.
Although it is not exclusively a small business event, hundreds of small businesses are already planning to attend the 8th Annual Air Force Contracting Summit, scheduled for Feb. 8–9, 2021 at the Hilton Sandestin Beach Golf Resort & Spa. The small businesses will have opportunities to meet prime defense contractors for subcontracting arrangements and will be able to receive the latest information on DoD and Air Force mission and contracting priorities. For more information, visit DefenseLeadershipForum.org/airforcecontractingsummit.
The Defense Leadership Forum is also hosting a series of virtual defense events. When COVID-19 became a national pandemic emergency, DLF launched immediate free webinars on SBA assistance to small businesses, followed by defense contracting webinars and virtual defense summits involving the U.S. Air Force, U.S. Navy, U.S. Marine Corps and U.S. Army. Now, DLF has launched a series of National Defense Subcontracting Summits, which will team small businesses seeking subcontracting opportunities with prime defense contractors. If you are interested, please contact: subcontracting@usdlf.org.
» Defense Leadership Forum
(202) 552-0179 , info@defenseleadershipforum.org
Gaetz's Virtual Defense Day
By William Loiry
Congressman Matt Gaetz (FL-01) hosted his first Virtual Defense Day on June 18, 2020. The unique online 4½-hour event included presentations by Congressman Gaetz, U.S. Sen. Marco Rubio, Congressman Francis Rooney and Congressman Don Bacon, as well as leaders from Eglin Air Force Base, Tyndall Air Force Base, Air Force Special Operations Command, the Doolittle Institute, the University of West Florida and more. With the support of the Defense Leadership Forum, the Gaetz Virtual Defense Day was seen by more than 2,300 viewers by the end of June.
During his presentation, Congressman Gaetz emphasized that the federal ban on oil drilling off the Florida coast needs to be reauthorized before it expires in June of 2022, stressing that, "Offshore oil drilling would impair our military mission and would have a devastating impact on our economy." Congressman Gaetz also said that small business defense contracting in Northwest Florida is one of his major priorities and that his No. 1 economic strategy in Northwest Florida is to grow the military-related workforce. He also lauded the growing Coast Guard mission in Pensacola and said he will continue to support Northwest Florida as the "Cyber Coast."
Captain Nate Nelson, the Military Affairs Director for Congressman Gaetz, discussed his vision and Congressman Gaetz's vision for a Futures Park near Eglin AFB. "Through the Futures Park, we're trying to enhance the defense industry's capabilities in Northwest Florida," Nelson said. The Futures Park will bring government, industry and academia together to especially collaborate on enhancing weapons technology and will support the further development of the military workforce in Northwest Florida.
Brig. Gen. Scott Cain, Commander of the 96th Test Wing at Eglin Air Force Base, echoed Congressman Gaetz's concern about the expiration of the ban on oil drilling off the coast of Florida. Brig. Gen. Cain stated, "If the ban is not extended, that is going to be a threat to us executing our mission on the Gulf Testing Range." Brig. Gen. Cain also said cyber testing is a priority at Eglin. He also praised the new Eglin Intrepid Spirit Center, a treatment center for post-traumatic stress, traumatic brain injury, associated pain conditions and psychological injuries in regional active duty service members.
Col. Brian Laidlaw, Commander of the 325th Fighter Wing at Tyndall Air Force Base, discussed rebuilding after the tremendous damage Hurricane Michael caused. "We're rebuilding Tyndall as the Air Force Base of the future," Laidlaw said. "We're on a three-to-five year timetable to replace 300 destroyed buildings," he added. Congress has passed $3.4 billion for Tyndall reconstruction.
William Loiry is an American business leader, defense and security facilitator, and philanthropist. More than 100,000 government, military and business leaders have attended his conferences on defense, homeland and global security, and disaster reconstruction. For more information, visit WilliamLoiry.com
Northwest Florida Small Business Resources List
Bank of America
Edward Spenceley
SVP, Government Contracting
edward.spenceley@bofa.com
Gulf Power
One Energy Place
Pensacola, FL 32520
(800) 225-5797
Enterprise Florida
Andrea Moore
Manager, International Trade & Development
418 W. Garden St., Suite 107, Pensacola, FL 32502
(850) 469-8989
Tyndall Air Force Base Contracting Office
325 Contracting Squadron (325 CONS)
501 Illinois Ave., Suite B, Tyndall AFB, FL 32403
Base info: (850) 283-1110 x 0
Eglin Air Force Base Small Business Program Office
205 West D Ave., Suite 449, Eglin AFB, FL 32542-6863
(850) 882-2843
Hurlburt Field Small Business Office
Air Force Special Operations Command
427 Cody Ave., Suite 212, Hurlburt Field, FL 32544
(850) 884-1250
Naval Surface Warfare Center Panama City
Small Business Office
110 Vernon Ave., Panama City, FL 32407-7001
(850) 235-5328
Naval Air Station Pensacola
190 Radford St., Pensacola, FL 32508-5517
Contracts Office
(850) 452-3609