Real Estate Rising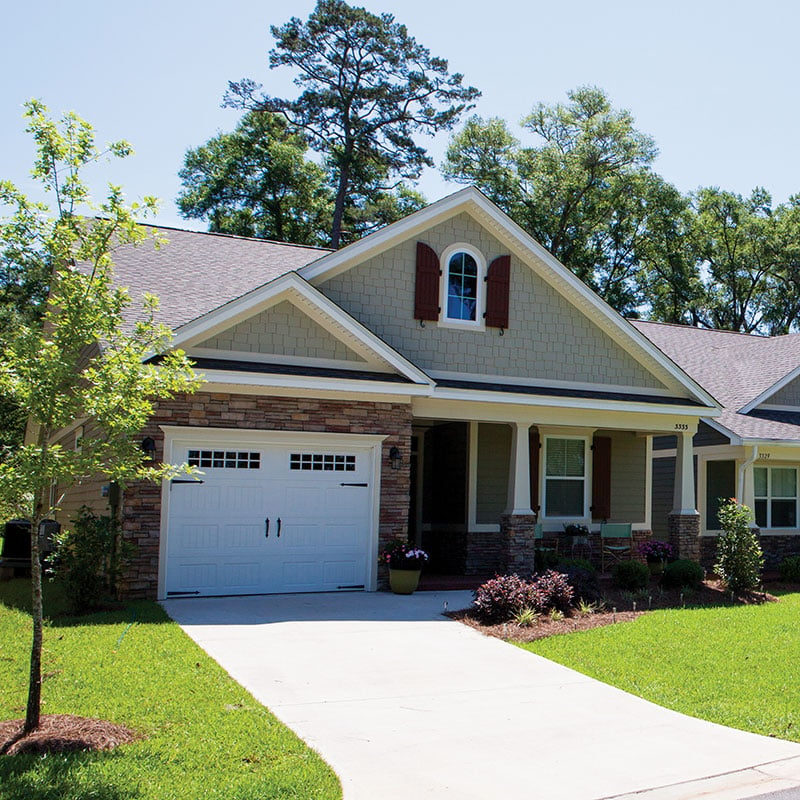 Residential, retail and commercial continue on a rebound while new construction sees a slower — but sure — comeback
It's amazing what a strong economy will do. Florida's housing market, which suffered disaster upon disaster during the Great Recession, is being rebuilt.
In Northwest Florida, people are buying and, in many cases, plunking down cash to buy homes, second homes and rental properties. Surpluses of commercial properties are beginning to dwindle. And local real estate agents are once again smiling.
Here we take a look at what is happening in the various corridors of the 850 — from Tallahassee's explosion of townhouses near the state universities to the robust commercial growth in Panama City Beach to the surge in new home construction along the Emerald Coast.
---
Tallahassee Real Estate Market Continues Overall Recovery, But Not Without Growing Pains
By Audrey Post
Tallahassee real estate continues to rebound from the recession and accompanying collapse of the housing market, with real estate brokers and professionals in the construction trades hopeful the recovery will continue.
"I feel a lot better about it," said Joan Raley, a Realtor who is involved in both real estate transactions and property management. "I look at the recession as starting in 2007. Things started to turn five years later, in 2012, and then a little more in 2013. Last year was when we saw things starting to take off."
This year, family homes in the $150,000 to $250,000 price range are "moving nicely," Raley said, with many sellers juggling multiple offers. The market for Tallahassee homes under $150,000 is also strong for both owner-occupied homes and investor purchases. "There's a real need for mid-range family-home rental property," she said.
House sales have steadily increased over the past four years. Citing statistics from the Multiple Listing Service, CATRS Inc. and Timberlane Appraisal, Raley said there were 2,234 closed sales in 2011, 2,392 in 2012, 3,005 in 2013 and 3,175 in 2014.
Other statistics showed "a 10 percent increase in sales from Jan. 15, 2014, to Jan. 14, 2015," Raley said. "We have 6.8 months of supply of homes, or the average time to sell a house is 6.8 months. This time on the market was much higher during the recession."
Joe Manausa, a Tallahassee real estate investor and blogger who tracks real estate trends, concurred that the real estate market is rebounding. He said house sales were up 7 percent last year over 2013, with single-family home sales making their best showing since 2006. Prices also rose, he said, with single-family detached homes averaging $211,111.
Despite the sight of new homes going up, new construction still hasn't caught up to pre-recession levels.
"One of 10 home sales is new construction, and the norm is 21 percent," Manausa said.
The biggest challenge facing the new construction industry is the availability of lots on which to build, said electrical contractor David Perkins of Perkins Electric.
"Construction is good right now. It's steady. But lots in the northeast (part of town) are getting scarce. Welaunee subdivision is supposed to be ready (for building) this calendar year, and that's about 1,500 lots. If Welaunee doesn't come through, things could slow down."
Even as new construction rebounds, Perkins said builders are still leery of "spec homes," houses built on speculation that someone will buy them. Builders are sticking to building homes on contract.
Low interest rates have helped fuel the recovery. Thirty-year mortgages with 1 point buy-down or less have hovered around 4 percent for the past five years, Raley said.
"That's less than half of the 50-year average, which is 8 percent," Manausa said. "Right now, we're at the high 3s or low 4s, and we'll probably stay there for a while. When interest rates return to normal, when they start to shoot up, we will see a slowdown in the market."
The explosion of apartment buildings and townhomes near the campuses of Florida State and Florida A&M universities as well as Tallahassee Community College has changed the appearance of the west side of town. Students who want the convenience of walking to class, as well as to university events, are drawn to the new units with all the modern amenities. The growth of retail stores and restaurants, often located on the ground floor of residential buildings, increases the attraction.
So where are the tenants in these new units coming from? From townhomes and single-family houses primarily on the west side of town.
"The west side is awash with single-family homes and townhomes," Manausa said. "There are 1,700 single-family homes on the west side that are no longer occupied by students."
Manausa estimates that 4,500 units targeting students have been built in the area around Florida State in the past few years, with average occupancy for each unit at two or three tenants.
"These are more than apartments," he said. "They're communities."
Although things are getting better, they are not perfect. Progress on one front can mean problems on another.
The concentration of student housing near campus is in line with local government's long-term plans to make the city in general, and downtown and the campus areas in particular, more pedestrian-friendly and less vehicle-dependent. The glut of homes on the west side of town will mean some great bargains for savvy home buyers, and the cycle of real estate peaks and valleys indicates the area will rebound. But that's not much comfort to landlords with vacant houses or homeowners looking to sell and relocate.
"People want a house in the northeast part of town because of the location and the schools, but you can pick up a comparable house in the northwest for 50 cents on the dollar," Manausa said. "Over time, this likely will create pressure to improve the schools and rejuvenate the west side."
Commercial
Like the residential real estate market, Tallahassee's commercial real estate business continues to rebound since the economy bottomed-out in 2008, but not all aspects are back to pre-recession levels.
"The velocity is better than I've seen in 25 or 30 years," said E. Edward "Ed" Murray Jr., director and president of NAI TalCor commercial real estate agency.
"We're not back to the prices we had at the peak, before the recession, but the velocity is back."
Velocity, which is the number of transactions and active properties, and price are two of the major indicators of market strength, along with length of time on the market. Chip Hartung, broker/owner of Coldwell Banker Hartung and Noblin real estate agency, said a lot of the transactions over the past 12 to 18 months have been sales and leases of distressed properties. "I think a lot of what we're seeing is the result of pent-up demand. There have been a lot of good buying opportunities, but that is hard to sustain."
There were almost 70 office sales in Tallahassee totaling $70 million to $72 million in 2013, Hartung said; in 2014, there were only 52 transactions totaling about $24 million. "The volume of sales transactions decreased; however, the average sales price of those transactions increased," he explained. "As the market starts to stabilize, as prices increase, you'll see a decrease in volume."
Jeff Billingsley of Craig Commercial Realty said office space that sat vacant in the northeast and eastern sections of town during the recession is beginning to fill up, citing the Centre Point and Thomasville Road areas, in particular.
Retail is rebounding, and construction of new retail space continues in pockets all over town, but especially on the west side of Magnolia Drive between Park Avenue and Governor's Square Boulevard, and in the CollegeTown area near Florida State University.
As retail outlets move into new locations in Tallahassee, the city appears to have escaped the "big box blight" that has plagued other cities. "Unlike other markets where, say, a WalMart will move to a new location and the old one will sit empty for several years, something new will move into the old location," said John McNeill, a commercial real estate advisor with TalCor.
In particular, he cited Big Lots' move into the old Publix space in the Lafayette Place shopping center, vacated when Publix moved across the street to a new building in a brand new shopping center with entrances on both Mahan Drive and Capital Circle Northeast. Hobby Lobby moved into the old Publix space near the flyover, at the intersection of Capital Circle Northeast and Thomasville Road, and HH Gregg now occupies the old Publix space in the shopping center at the corner of Apalachee Parkway and Blair Stone Road. When Kmart closed in the same center, Party City and Pet Smart repurposed the space.
A similar transformation is taking place at another "big box," the old Florida Department of Corrections building at 2601 Blair Stone Road. The 272,000-square-foot structure sat empty for several years after the state vacated it before being sold at auction in late 2013. McNeill said the lobbies at all three entrances have been remodeled, the parking lot has been refurbished and "spec" office suites have been completed. While waiting on a "big" tenant to occupy a large portion of the space, TerraCap Management Co. is leasing smaller office spaces to tenants. The location makes it convenient to state government vendors and contractors who need easy access both to downtown offices and those at SouthWood.
"By the end of this year, we hope to have it 25 to 30 percent occupied," McNeill said.
Farther south on Blair Stone Road, the new Veterans Administration clinic under construction likely will attract additional commercial construction in the vicinity, particularly in retail properties.
While retail and multi-use transactions have continued to improve, albeit more slowly than residential, "Tallahassee is not blessed with a large industrial market," Murray of Talcor said. "The industrial vacancies are beginning to fill up. Leon County is not positioned to have a large industrial base, but if you look regionally, there is potential for an industrial and manufacturing sector, particularly in the outlying counties."
City Commissioner Gil Ziffer agreed: "We have a lot to offer regionally, with low-cost land in the outlying counties and students for a workforce."
Real Estate Redux
:
Bay County's Real Estate Market is Bouncing Back
By Wendy O. Dixon
After years of uneven recovery since the recession, the real estate market may be finally leveling off in Bay County. Realtors predict 2015 to be a year of realistic recovery, with more inventory and home prices flattening out.
In Bay County, buyers closed on 114 single-family homes in January 2015, an 18.8 percent gain over the same time last year. Teresa Dyer, president of the Bay County Association of Realtors, sees a lot of vacant land and new construction, indicating the market is hitting its strides.
"The west end of Panama City Beach is hot," she said, "thanks to Pier Park shopping center and the airport. And Lynn Haven is always steady."
Robust commercial growth in Panama City Beach is attracting residential construction nearby, as more families move into homes, condominiums and apartments. The number of residents in 2010 was 11,554. In 2013 that number grew to 12,064, a 4.4 percent increase, according to Census data. Ocean Mist, a gated community just east of Bid-A-Wee Beach, opened in February of this year with 24 new home lots. Homes start at $245,000. Nautilus Cove is a new, centrally located, affordable gated neighborhood with condominiums, apartments and townhouses.
Developed with families in mind, Palmetto Trace, Summerwood and Breakfast Pointe are near Pier Park and Frank Brown Park, a multi-sport park with a public swimming pool, kids' pool and dog park, as well as biking and walking trails. Tapestry Park, a new, eclectic neighborhood off Hutchison Boulevard and Clara Avenue, is also selling well for families, notes Kirsten McAndrew, a resorts and second-homes specialist with R.C. Real Estate Group, citing its close proximity to Hutchison Beach Elementary School.
"It is a planned community with an urban feel," she said. "They are all custom homes, so you may have a Tudor next to a Craftsman style next to a coastal home."
In the rest of Bay County, slow and steady growth is the trend, says Dice Wyllie, a Realtor with ERA Neubauer Real Estate in Panama City. That's slow and steady growth in the number of units sold as well as the average price of homes.
"If you look back over the last 15 to 20 years, we are still in a course of a 3 to 4 percent increase in prices and units," he said. "We took a big hit in '07, '08 and especially '09. But right now, things have begun to move back up with a more realistic increase. Quite honestly, it concerns me that we're not seeing more home buying than we are with rates this low."
A new community is taking shape in Panama City. SweetBay, with home prices anticipated from the mid-$200,000s to the $400,000s, is a waterfront community set on 700 acres at the former airport site, allowing for plenty of room for growth as the neighborhood expands during a 15- to 20-year projected build-out. Construction for phase one began in early 2014, and the first homes are available for purchase this spring. The first phase includes community parks and a community pool.
Darrell Malloy, a Realtor with Action Realty in Lynn Haven, reports that this year is much better than last, particularly in Lynn Haven.
"One of the most important things to remember when buying a home is selling a home," he said. "Lynn Haven is a no-brainer for developing because of its location. You can't go south because of the Gulf, and prices on the west end of the beach are prohibitive for some. I find that eight out of 10 of my clients are looking for a home in Lynn Haven. It is the number one choice, dollar for dollar."
Dyer, of the Bay County Association of Realtors, sees a trend in older buyers with cash in hand, with 67 paying in cash in January 2015, compared to 37 in January 2014.
"People have been saving since the economy went down," she said. "Banks are getting hard to borrow money from, so people are either saving cash or taking equity out of their home for a second home investment."
Commercial
Commercial real estate is booming on the west end of Panama City Beach, with new construction multiplying over the past few years. The Pier Park outdoor lifestyle center has expanded to the north, doubling its already massive size. New restaurants and retail stores are opening every month.
And while some stores in the Panama City Mall are closing, moving to the west end of Panama City Beach, 34 acres of prime real estate across from the mall, largely vacant for years, sold in January, making way for a major commercial and retail development.
"The development will probably include several major retailers, restaurants and other companies not presently located in the Panama City market area," said Jim Everitt, senior commercial associate with Counts Real Estate Group, "as well as expansion by some existing companies and possible relocations by others."
Everitt adds that two medical offices are undergoing construction in Panama City now.
"On the commercial side of real estate, it's so slow moving that what you see happening today really happened last year," he said. "Most of the time, a developer or user doesn't purchase a piece of property until way into the process of permitting. So they started six months, eight months or even a year ago."
In downtown Panama City, a redesigned marina is in the works, adding hotels, shops, restaurants and other attractions, with the hopes of luring private enterprise and boosting the downtown economy. Since gaining sole ownership rights to the Panama City Marina and the St. Andrews Marina, the city now has the freedom to explore both public and commercial uses for its revitalization project.
Panama City Mayor Greg Brudnicki says 20 percent of people who attend downtown events and shows are from out of town.
"If there's a nice hotel nearby, they can stay the night and eat there," he added.
Some improvements have begun, with utility work and seawall repairs in progress.
Phase one includes redeveloping the civic plaza, the most visible aspect, says Jeff Brown, city manager for Panama City, who expects an expansion of the Marina Civic Center. Business plans for the multi-year project are due from the developers in June.
"In the next few months, the city will be working on a lease with the two contractors remaining in the process — Great South out of Atlanta and HomeFed Corp. out of California — to allow for development that will kick-start development in downtown Panama City," he said.
The St. Joe Co., one of Florida's largest landowners, is a partner with Pier Park North, which opened in spring 2014. Over the past two decades, St. Joe began to move away from rural land, announcing a shift in strategy with a focus on growing its resorts, leisure and leasing operations. The company rid itself of the majority of its woodlands in Northwest Florida in 2014. At approximately 380,000 acres, the land counts for more than two-thirds of its non-strategic timberland and rural land. The buyer, AgReserves Inc., a tax-paying affiliate of The Church of Jesus Christ of Latter-day Saints, purchased the land for $562 million. The sale affects timberlands in Bay, Calhoun, Franklin, Gadsden, Gulf, Jefferson, Leon, Liberty and Wakulla counties.
The Church of Jesus Christ of Latter-day Saints, also one of the largest private landowners in Florida, owns nearly 2 percent of Florida land as a result of the purchase and will maintain it for timber and agriculture use. St. Joe still owns approximately 185,000 acres, mostly in Northwest Florida.
Emerald Coast Real Estate on the Road to a Healthy Recovery
By Zandra Wolfgram
The forecast for the Emerald Coast real estate market is looking as sunny as the region's famous sugar-white sand beaches. With list-price negotiations tightening, inventory shrinking and home prices inching up, veteran real estate professionals don't have to sugar-coat what they see — a market that is — dare we say it? — healthy.
It's been a long road to recovery. The 2000s were not kind to the Emerald Coast. Years before the Great Recession caused the real estate market to tank, the area and its feeder markets were hammered with a series of hurricanes in 2004, 2005 and 2006.
Then came 2007.
"That was a low point. It was a pretty sad year," said Ed Smith, 58, who opened Remax Coastal with his wife, Terri, 25 years ago. "In 2008, we were selling the heck out of REOs (lender-owned properties) and short sales as fast as we could. In fact, our company was the exclusive REO agent for Bank of America in this market for a while until they started to limit how many you could take on."
Then in April 2010, when real estate had just started to stabilize, things along the entire Gulf Coast went from bad to worse.
"We just started dusting off our britches to begin marching again when the BP oil spill happened," Smith said.
Five years later, local Realtors across the board are expecting 2015 to be a good year. Overall in Okaloosa and Walton counties home prices are on the rise. According to the Emerald Coast Realtor Association, in 2014 the average single-family home price rose from $400,000 to $427,000. The rental market is strong, too, as more and more homeowners are opting to rent their investment homes rather than sell them. And a surge in new home construction to meet the demand accounts for 18 percent of all homes listed for sale.
The weakest segment on the Emerald Coast, in Smith's view, is condominium sales.
"The Dodd-Frank Reform Act has hamstrung lenders on their ability to close loans on condos," Smith said. "So, while we often see 50 percent of sales in cash, sales have curtailed for the other 50 percent who are trying to finance."
Still, these highs and lows of the past decade are not the first time the market has fluctuated.
"This is really the same as what we saw in the '80s and early '90s," Smith recalled. "Condos got so cheap, they were selling more than single-family homes, and so the cycle has just sort of evolved."
A byproduct of the downtrodden economy has been the steady rise of distressed properties — foreclosures, REO (bank-owned) and short sales. Though Florida still leads the nation in foreclosures (one in every 441 homes was foreclosed in 2014, according to RealtyTrac.com), in Northwest Florida, some segments are improving.
The Emerald Coast Association of Realtors reports that distressed sales no longer control the local condo market. The number has been steadily falling since 2010. As inventory diminishes, what's left has become a hot seller for investors.
"They are looking for what they call a 10-cap," Smith explained. "If you can rent it out for $20,000 a year and it's worth $200,000, that's a good investment. Generally, if it's priced well, those little properties fly off the shelves."
Though Northwest Florida seems to be recovering a little more slowly than the rest of the country, some segments, such as the area around Scenic Highway 30A, are thriving.
"It's supply and demand," Smith said. "South Walton is appreciating, and it is attracting a certain type of buyer who is desiring that lifestyle despite the cost."
To make his point, he described a client who listed a 3,800-square-foot condo with floor-to-ceiling glass facing the Gulf in Destin's Regency Towers for $1.2 million, in order to move farther east toward 30A.
"They cannot find anything that comes close to what they currently have, not even for a half million more," Smith said. "You can't find this smack dab on the Gulf with all of the amenities. You are simply going to pay a whole lot more for the privilege of living on 30A."
Commercial
Gordon MacLean, a 20-year veteran Realtor who serves as the commercial director for ECAR, was recently in the midst of opening a Destin office for the Tallahassee-based Sperry Van Ness franchise. He says the loosening of purse strings has reactivated the commercial real estate market.
"The biggest change in the past 12 months is that debt is available," he says. "Now that you can get funding from your local bank there has been an increase in activity in the market."
MacLean cautions that real estate loans are still being very well underwritten. "They don't just check your credit score, they audit your whole global picture," he says, "but in the end there are more approvals which has led to an uptick."
The upswing in commercial real estate isn't just at the local level. MacLean says Emerald Coast real estate is attracting buyers at the regional and national level. "We are seeing investors from Birmingham, Atlanta, Memphis even Chicago, because the properties are priced based on a tertiary market, so they are getting a higher yield than they would in a larger market."
Within the commercial sector, office space is one of the swiftest moving segments. "It was tough for a while, but today we're seeing more tenants leasing and hiring, which means they are needing more space," McLean says.
30Avenue, Santa Rosa Beach
MacLean points to two mixed-use retail centers on Scenic Highway 30A in Santa Rosa Beach — The Hub and 30Avenue; a planned mixed-use town center at Seascape Resort in Miramar Beach; the sale of TerraMar apartment/condominium complex in Santa Rosa Beach; and the nearly 50,000 square-foot Lowes/Office Depot/Ross retail center listing in Pensacola as recent examples of the upswing.
There is also the expansion of the Gulf Coast Commercial Mutiple Listing Service, which now spans from 30A to Pensacola, allowing Northwest Florida real estate agents to better serve the growing commercial market. In March, Gulf Coast CMLS reported 1,571 active commercial listings in the Gulf Coast market, an indication the market is back.
At this year's Florida Realtor Convention & Trade Expo held in Orlando, panels discussed the integral relationship between housing, jobs and wages. Kinkaid counsels that to remain competitive, communities must be progressive on education.
"Okaloosa County is the fourth fastest in growth in the state. We need technical education such as STEM and skilled trade programs in our high schools to keep our workforce here," she said.
Despite setbacks over the past decade, Realtors insist the future of real estate remains bright for this tourist destination.
"The good news is our beaches are still strong," Kincaid said, "and one of the most positive things people are still saying is that we are friendly, gracious and welcoming, so that's good to hear."
Inland Regions and Less Populated Coastal Towns See Flickers of Progress
By Wendy O. Dixon
As more and more people move away from rural communities to larger cities or suburban communities, agricultural populations are dwindling. Fewer people are seeing rural commercial activities such as farming as a viable economic option, leaving the rural areas struggling. Still, there is a market in Northwest Florida for those who want several acres of land.
Robby Roberts, a second-generation real estate broker for Prudential Jim Roberts Realty, manages a diverse collection of real estate sales in Washington, Holmes, Jackson and Calhoun counties, including farmland, timber tracts, commercial and residential property. Roberts says 2014 was a good year, with a pick-up in the volume of sales.
"It's been stable, and in the last few months we've seen an increase in prices," he said. "There are still a lot of distressed properties, but they are diminishing, and in the long run, as they diminish the values start coming back up."
While some inventory is loaded up, these rural towns also have some shortage areas that will go up in value because of supply and demand, Roberts added.
"Across the state, values are up 10 percent, and we're a little behind big cities," he said. "Our economy has been struggling for some time, and people are finally seeing the light at the end of the tunnel. I'm excited about the upcoming market, and I think it's on its way back."
In agricultural regions, there's a big demand for row-crop farmland for peanuts, cotton and corn, particularly in larger acreages.
"There has been a lot of timberland property available," Roberts said. "And it's still struggling, because if a farmer wants to cut the timber and sell it, then clear the land and farm on it, it's still expensive."
Yet not all rural land buyers are planning to farm it. Dice Wyllie, a Realtor with ERA Neubauer Real Estate in Panama City, sees some clients snatching up rural land for recreational purposes.
"Some buyers are able to get rural development loans that are 100 percent financed," he said. "And I have a couple of buyers looking for 40 up to 120 acres to use for recreation."
Properties along less populated areas of the beach are also selling — and at higher prices than last year.
Barry Bostwick, a Realtor for Parker Realty of Mexico Beach, sees a shrinking inventory in that area of Bay County, as well as a reduction in the number of days on the market.
"Our inventory sells pretty fast, and prices have gone up 10 percent in the last year," he said, noting more eager cash-paying customers.
Although it hasn't seen the same kind of price hikes as along the busier 30A area in Walton County, prices have also gone up on St. George Island in Franklin County, making it a bargain for those looking for a quiet retreat.
"We are like Martha's Vineyard here on St. George, and people love the relaxed, unplugged environment here."
Says Jeff Galloway of Jeff Galloway Real Estate. "Some of these rental homes gross rent over $150,000 per year, and many of these homes will have positive cash flow with as little as 20 percent down. It's a great time to buy."
Between March 2014 and March 2015, the number of sales on the island dropped slightly from 100 to 90 single-family homes, according to Galloway. "But the average price increased to $591,000 over $536,000 the same 12 months of the previous year," he says. "Also, our inventory is drying up, and the shift is on from a buyer's market to a seller's market."
Commercial
When it comes to commercial property, the best prospects are in Gulf County, home to the Port of Port St. Joe. The 180-acre deepwater seaport, with nearly 1,900 linear feet of bulkhead at the ship-channel turning basin, is well suited for bulk and cargo shipments, offering access to rail, the U.S. Gulf Intracoastal Waterway, and state and U.S. highways. One of the port's greatest assets is the approximately 213 acres of combined ready-to-lease lands adjacent to the bulkheads and many more acres of land in the port environs available for immediate development. Eastern Shipbuilding Group of Panama City has leased 20 acres at the port site to expand its shipbuilding, vessel construction and repair, and industrial steel fabrication operations in the Gulf Coast region.
The St. Joe Company, which owns the rail, is working on a dredging project that will open the shipping channel up to a depth of 37 feet. St. Joe's David Graff says his company expects to have an operating port and railroad by late 2016. Once dredged, the port will be well positioned for new shipping and industrial opportunities.
"Florida ports are working hard to ensure that they are ready for prime trade opportunities, which means that they have to have the infrastructure and facilities necessary to compete," said Doug Wheeler, president and CEO of the Florida Ports Council. "We congratulate the Port of Port St. Joe in reaching this milestone in moving their port toward being a viable economic engine for their community and beyond."