Pours & Portions
Come heavy winds, labor shortages, supply chain issues or the occasional global pandemic, the beef must go on.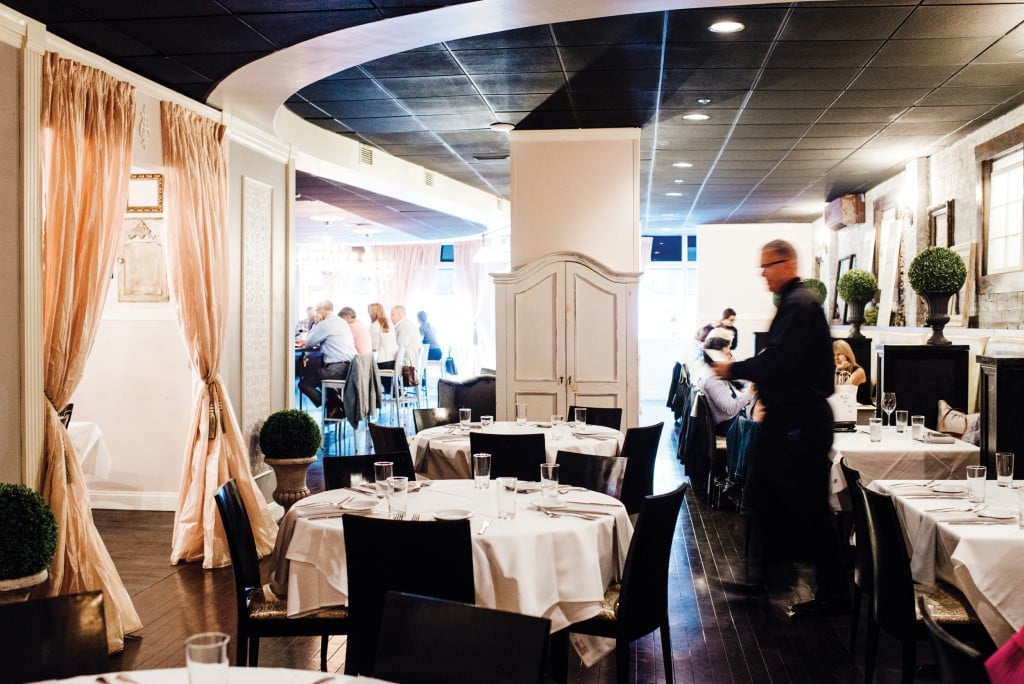 Come heavy winds, labor shortages, supply chain issues or the occasional global pandemic, the beef must go on. And the shrimp, the whole pompano, the blackened redfish, the chilled stone crab claws, the Oysters Rockefeller — the menu goes on. Florida's fine restaurants make it possible for all of us, residents and visitors, to treat ourselves. Memorable meals become part of stories that are told and retold, stories that begin with, "Remember the time we ate at that Silver-Spoon-award-winning restaurant right on the water? The sunset was magnificent, and everything from the shrimp cocktails to the digestifs was perfect." Such experiences are the product of top-notch ingredients, masterful preparation, exceptional services and, indispensably, the people whose hunger for delighting others is never fully satisfied.
A Hasty Evolution
For restaurants, the pandemic has been a mother of invention
Story by Rochelle Koff
Since the pandemic started, the restaurant industry has experienced more ups and downs than a kid on a seesaw.
Restaurateurs began adding takeout and curbside delivery, creating or expanding outdoor dining, offering cocktails to-go and even selling groceries — from toilet paper to top cuts of beef.
"It was tough, really tough," said Susie McKinley, editor of Florida Restaurant & Lodging Magazine, the official publication of the FRLA, which is headquartered in Tallahassee. "We lost thousands of businesses, thousands of employees."
The magazine is distributed quarterly and has a circulation of more than 38,000.
While restaurants are now booming, McKinley said, problems persist, among them labor shortages, supply chain disruptions and higher costs. Yet, she sees reason to be optimistic.
"On the bright side, so much technological innovation has come out," said McKinley, also the director of research and marketing support for the Florida Restaurant & Lodging Association. "The restaurant industry was never famous for its technological advances. They were just slow to move forward, but now things have totally changed.
"I've heard that the industry has jumped five to seven to possibly ı0 years due to the pandemic and everything they've had to do to adjust," she said. "The industry has changed forever."
In a recent edition of the magazine, McKinley featured technological advances with a cover story on the use of robots in the hospitality industry. Pictured below is a futuristic-looking robot at the Palm Beach Marriott Singer Island Beach Resort & Spa.
The 4ı-inch robot, named Servi, was developed by the startup Bear Robotics, and it can handle tasks such as food running, drink serving and dish bussing. The idea is to alleviate some of the staff's hard work, according to Bear Robotics co-founder and COO Juan Higueros.
Sergio's Cuban restaurant in the Miami area utilizes a Servi robot that can carry trays of food and return dirty dishes to the kitchen. Human servers still serve food to seated customers, but it cuts down on the physical demands of employees, a crucial issue now facing the industry.
The biggest challenges facing the hospitality industry are: "Workforce. Workforce. Workforce," said McKinley. "It was a challenge before, and now it's in a critical crisis mode."
Staff shortages are pervasive in hotels as well as restaurants.
"We have hotel general and regional managers going into hotels and making beds," she said. "I talked to one hotel in Pensacola, and the manager said, 'I'm the only front desk person we have seven days a week.' It's crazy. Everyone I know is working harder."
McKinley has been working hard for the industry for years. She studied history as a student at Stetson University and is also a certified professional manager.
Married to Will McKinley and the mother of two children, McKinley has been with the Florida Restaurant & Lodging Association for more than 20 years, joining the team headed by Carol Dover, the organization's CEO and president, and Dan Murphy, senior vice president of membership and corporate relations.
"I love working with hotels and restaurants," said McKinley, "It's a great industry, people-oriented."
She was formerly the Florida director of the Division of Hotels and Restaurants where she managed a staff of more than 300 and the regulation of restaurants and hotels across Florida. In her first stint at the division, McKinley started the inspector training program at the division. In this role she was trained by the U.S. Food & Drug Administration and became certified in fire safety training.
McKinley previously held management positions at the Florida Department of Agriculture and Consumer Services and was a partner in a Blockbuster Video franchise.
She's a big animal lover, passionate about horses.
"My dad was an attorney and a judge, and we moved from Indian Harbour Beach to Orlando to this house with no one around," said McKinley. "My dad thought it would be great to get my brother and me a pony. He joked it was the most expensive $ı00 he ever spent."
McKinley immersed herself in the horse world. She showed horses throughout the country as a junior rider competing in various levels and later, after launching her career, resumed riding as an adult amateur. McKinley still owns her own horses in Tallahassee, which she said "has a vibrant equestrian community."
McKinley is a United States Equestrian Federation licensed official and judges shows in Florida and the Southeast, and she's also the scholarship coordinator for the Southern Hunter & Jumper Association, among other volunteer positions.
McKinley jumped over hurdles in the equestrian world. Now she and her coworkers are helping those working in the hospitality industry to do the same. As for more innovations to help smooth the way:
◾Workforce gig hiring via an app or website. "You as a waiter might not want to work at one particular place," said McKinley. Instead, you can sign up as an independent worker on an app or website. Employers can contact you, and you can fill in at different restaurants.
◾Software that aggregates delivery companies.
◾Local marketing apps.
◾Voice inventory apps. "Usually inventory is a two-person job," she said. "With voice inventory, it can be done with one person."
◾QR code ordering, menu viewing and paying at the table. "The winner of 2020 was the QR code," said McKinley.
◾Tip out apps for servers to track and record tips.
◾Use of kiosks for ordering food.
◾New on-site communication tools.
An effective communication tool for the FRLA has been GreatFloridaJob.com, said McKinley.
The site aims to connect employers with job seekers. Since June ı, 202ı, 352 employers have posted ı,245 jobs, which included food runners as well as bartenders and fine dining servers, she said. There were applications for 754 of those jobs.
The site has had 56,652 page views since June ı, with 39,04ı unique views, McKinley said.
McKinley has visited restaurants all over Florida but "one of the things interesting in Tallahassee is that there are a lot of independent restaurants here," she said. "Sure, there are corporate restaurants, but there are a lot of independent restaurants with great, authentic flavors. A lot of cities don't have that."
With workforce issues pressing both independent and corporate restaurants, the FRLA has jumped on the "Be Kind" promotion instituted by the Rhode Island Hospitality Association.
"People wonder why there's a wait for a table when there are empty tables," said McKinley. "It's because there's not enough staff in the kitchen to put out the food or not enough servers to serve it."
The "Be Kind" tool kit conveys the message: "We're short-staffed. We're doing our best. The real challenge is the workforce, and we're doing everything we can to address it," she said.
The Florida Restaurant & Lodging Association has more than 10,000 members: 7,500 of those members are restaurants; 1,200 to 1,500 are suppliers and allied members; and the remainder are lodging members.
The association states that its mission is to protect, educate and promote Florida's $ııı.7 billion hospitality industry, which represents ı.5 million employees.
Among its efforts, the FRLA has been involved in advocacy efforts and at least four programs providing relief to the industry throughout the pandemic, said McKinley.
They include the CARES Act Employee Retention Credit; the Restaurant Revitalization Fund (emergency funding); the Payroll Protection Program (PPP); and the Employee Retention Tax Credit (to help keep staff on the payroll).
In addition, FRLA worked with industry partners to provide $75,000 to Children of Restaurant Employees (CORE); worked with For The Restaurant Hospitality to inform the industry of available small business loans and PPP; delivered more than ı million masks to industry employees statewide; and worked with the National Restaurant Association and the American Hotel & Lodging Association to lobby Congress for industry relief and liability protection.
The association regularly provides training, scholarships and education such as ProStart, the high school education program that's focused on culinary arts and restaurant management.
McKinley has had a front-row seat to the many trends in the hospitality industry, among them:
◾Outdoor dining and the continuation of streetlets, parklets or streeteries — structures to expand seating outdoors.
◾Alcohol to-go, which started after the pandemic hit. "Cocktails to-go was huge. It really kept a lot of people going."
◾"Cleanliness and food safety is the new gold standard," she said.
◾Takeout and curbside service are here to stay.
◾Rewards and customer loyalty programs.
◾ Higher salaries for employees.
◾Ghost kitchens for products that are delivery only. They might be a space in an existing restaurant, but they don't serve customers. They are often shared commissary spaces or used for virtual brands.
◾Virtual brands — restaurants, delivery services or ghost kitchens selling celebrity products such as cookies from Mariah Carey, tortas from TV host/actor Mario Lopez and Flavortown Kitchen from
Guy Fieri.
Another trend: Restaurants are cutting back on days or hours.
"If you can't get staff, you don't want to burn out who you've got," said McKinley, who lives in Tallahassee.
She remains hopeful the hospitality industry will overcome these challenges.
"It always seems like they have hard knocks, but they always seem to come back and serve the community," McKinley said. "With restaurants and hotels, they just keep on going."
---
For the FRLA, a Mixed Bag
Association won support for some of its legislative priorities
Story by Al Krulick
The Florida Restaurant & Lodging Association was in a position to claim a partial victory at the conclusion of the 2022 legislative session. It had advanced priorities including:
◾Vacation rentals
◾Special restaurant and hotel liquor licenses
◾Funding for Visit Florida
◾Swim-up bars
◾The tourist development tax
◾Data privacy
◾Corporate income tax/qualified improvement property
◾Clarifying the difference between guest and tenant
Only some of these issues were addressed in the session. Here is where things now stand:
Vacation Rentals
Regarding vacation rentals, which are licensed through the Florida Department of Business and Professional Regulation, the FRLA supported the following:
◾Requiring advertising platforms to confirm the licensing/registration of vacation rentals with the relevant state agencies prior to listing.
◾Requiring collection and remittance by the advertising platform of all taxes due.
◾Periodic reporting to the state by advertisers listing vacation rentals on their platforms, including the physical address, so that tax collection and legal compliance can be confirmed.
◾Reasonable penalty provisions for noncompliance. Clear and consistent audit provisions.
◾An option for local registration so that local governments can better understand and respond to what is happening in their jurisdictions.
Two identical bills were filed in the Senate and House that sought to pre-empt local control over online vacation-rental platforms like AirBnB and give that authority to the state. The bills would not have revoked local control over registration requirements and certain other aspects of operating a vacation rental property. The Senate bill died in Appropriations; the House bill died in the Ways & Means Committee.
Special Restaurant and Hotel Liquor Licenses
The financial success of food and lodging establishments benefits Florida's residents, its communities and its economy. Currently, hotels must have a certain number of rooms to receive a particular type of liquor license. Restaurants must also adhere to certain square footage and seating requirements to qualify for a special restaurant liquor license. The FLRA supported reducing these requirements and regulations to reflect developing trends in the hospitality industry, encourage the development of new businesses and increase the financial success of existing businesses.
With the passage of House Bill 1447, the Florida Legislature paved the way for smaller Orlando restaurants to obtain full liquor licenses. Approved by a Senate vote of 38-0, the bill reduces the square footage and seating requirements for restaurants in the Orlando "Downtown Restaurant Area" to qualify for a type "4COP SFS" full liquor license.
To qualify for this license, the new law merely requires that the restaurant fall within the Downtown Restaurant Area; occupy at least 1,800 square feet of contiguous space; be equipped to serve meals to at least 80 people at one time; and derive at least 51% of its gross food and beverage revenue from the sale of food and non-alcoholic beverages during the first 60-day operating period and each 12-month operating period thereafter.
Funding for Visit Florida
The FRLA supported continued funding for Visit Florida, the state's public-private tourism marketing group, because it plays a vital role in attracting visitors to the state. It also supported extending the repeal date for Visit Florida, allowing the organization to plan further out into the future, which will enable it to attract top talent and facilitate long-term marketing strategies. The Florida legislature voted to move Visit Florida's repeal date to Oct. 1, 2028.
Regarding the agency's funding, both the House and Senate bills provided $50 million in state money during the current year and $30 million in federal stimulus money. However, the House bill provided one-time funding not guaranteed in future years, while the Senate preferred recurring funding. In the end, the Senate concurred with the House bill.
Swim-up Bars
Currently, the Florida Building Code does not contain standards for swim-up bars. This means any establishment wishing to construct a swim-up bar on its premises must seek a special variance to do so. The FRLA supported requiring the Florida Building Commission to adopt requirements and procedures for the approval of swim-up bars at commercial and public pool locations in order to clarify the requirements and streamline the approval and construction process.
House Bill 719, which would have allowed for the construction and operation of aquatic bars serving food and beverages at hotels, theme parks and entertainment venues died in the Commerce Committee. Senate Bill 1044, which would have required the Florida Building Commission to adopt requirements and procedures within the Florida Building Code for the approval of swim-up bars at commercial and public swimming pool locations, died in the Community Affairs Committee.
The Tourist Development Tax
The FRLA opposed adding any new uses for state Tourist Development Tax revenues, believing that they are only intended to promote and market tourism.
HB 6075, which attempted to remove the provision requiring that a specified percentage of all tourist development tax revenues be used to promote and advertise tourism, died in the Tourism, Infrastructure & Energy Subcommittee, as did a companion bill, SB 1898.
Data Privacy
It is the FRLA's policy to keep confidential any information it may collect from its members and the general public, and believes that customers are entitled to have control over their personal information. However, it further believes that Florida must adopt reasonable regulations that take into account the changing nature of commerce. FRLA believes the cost of compliance for businesses must be carefully considered, and businesses must be given an adequate opportunity to correct any errors and respond to complaints without the threat of costly litigation.
Senate Bill 1864, which would have created the Florida Privacy Protection Act in order to codify the collection and protection of personal information, died in the Commerce and Tourism Committee. A similar House Bill, HB 9, died in the Judiciary Committee. Both bills were opposed by the FRLA.
Corporate Income Tax/Qualified Improvement Property
A temporary Florida Corporate Income Tax rate reduction expired on Jan. 1, 2022. Combined with Florida's decision to not adopt the federal deduction for qualified improvement property, this could mean significant increases to corporate income tax collections in Florida in 2022. The FRLA supported the Florida Legislature adopting the qualified improvement property "fix" to the federal CARES Act, making qualified improvement property eligible for bonus depreciation for Florida corporate income tax purposes. This would result in lower taxes for Florida companies subject to the Florida Corporate Income Tax.
Senate Bill 1090, which would have provided for adjustments taxpayers must make to adjusted federal income with respect to bonus depreciation died in the Appropriations Committee.
Clarifying the Distinction between Guest and Tenant
Section 509.141, Florida Statutes, has long provided that a lodging establishment operator may ask law enforcement to remove a guest who fails to make payment or engages in dangerous or undesirable behavior such as dealing in controlled substances, public intoxication or brawling.
The statute lacks fundamental clarity, however, which can make it difficult for law enforcement officials when they are called upon to remove a guest. This can also result in the lodging establishment owner being subject to lengthy landlord/tenant eviction proceedings, which were never intended to apply to lodging establishments.
The FRLA supports a revision of the statute to more clearly define the relationship between the guest and the lodging establishment from the outset. This will provide clarity and efficiency for the guest, the business and law enforcement.
No action was taken in the 2022 legislative session.
---
A Tall Order
Restaurants contend with rising costs, employee shortage
Story by Emma Witmer
In his ı6 years as a restaurant owner, Jesse Rice never had a problem finding employees. If Rice ever found his Tallahassee farm-to-table operation, Backwoods Crossing, to be low on staff, he would send out a social media blast, and within a matter of days, jobs would be filled. Today, that is not the case.
In February 2022, the U.S. Chamber of Commerce reported that the number of job openings in the country exceeded the number of job seekers by 5 million.
Businesses in many sectors are struggling to fill open seats, but the food and beverage industry has had an especially difficult time.
Countless people do restaurant work at some point in their lives, but few make it a career. Restaurants typically offer modest wages for entry-level jobs that attract students or unskilled workers. Historically, when one person quit or moved on to the next gig, a replacement was readily available to work the hostess stand or bus tables.
With the onset of the COVID-ı9 pandemic, restaurants across the country were forced to close their doors and lay off most, if not all, of their employees. In Florida, Gov. Ron DeSantis allowed counties to establish their own pandemic policies and protocols. Tourism-dependent coastal counties were among the first to announce that they were reopening.
Restaurant customers immediately came back, but employees were slow to do so. Stimulus checks and enhanced unemployment benefits afforded workers the chance to stay home and weigh options.
"In the last few years, I have had to do paid advertising to get people to come apply," Rice said. "Even when people do apply, it has become really toxic. Some people have acted like they wanted a job, showed up for one day and then realized that they could qualify for unemployment. All they had to do was show that they were applying for jobs, so once they had proof of that, we'd never see them again."
Maria Goldberg is the marketing director for Great Southern Restaurants. She and Southern Restaurants president Collier Merrill said there was no playbook on how to deal with challenges that restaurants have faced in recent years.
"We're calling audibles every day," Merrill said. "We have had to limit hours because we didn't have enough staff. Looking at Jackson's and Angelena's, our fine dining options, we had to shut down our brunch and lunch services. They are still shut down. We didn't want our service to be affected."
Great Southern took another hit in late 2020 when Hurricane Sally knocked out a section of Pensacola's Three Mile Bridge.
"Half our workforce lived across that bridge and we thought, 'Are you kidding me? What's next?'" Goldberg said. "Between the pandemic, natural disasters, inflation and an unreliable supply chain, we've had to adopt an attitude where we are ready and waiting for the next thing, where we are excited for a challenge because you just never know."
Firefly, a fine dining establishment in Panama City Beach, has had to cut back on hours, eliminating service one night per week.
"Trying to get 350 seats in the restaurant, we need a full staff," said Firefly owner Dave Trepanier. "You have a good group of staff, but you can't ask the good ones to come in every night."
In Panama City Beach, Trepanier said, the worker shortage began in 20ı8 when Hurricane Michael dramatically reduced the supply of affordable housing. As a result, most of his staff commutes from outlying communities.
"I had someone call out sick recently because they couldn't afford gas to get to work," Trepanier said.
Some see technology as a solution to the labor shortage problem.
In January 2022, GRUBBRR CEO Sam Zietz took to network television to promote his company's self-order kiosks as a labor shortage cure-all. Nationwide chains such as Del Taco, Bento and The Chicken Shack are using the equipment, but it is not for everyone.
"We have to have hands-on service," Trepanier said. "I'm not going to have iPads at the table. When you come to our restaurant, you pay a premium for service."
Restaurants are endeavoring to increase wages for hourly workers but are simultaneously dealing with cost increases due to supply chain issues and inflation.
"It's easier for corporate franchise restaurants to pay more money," Rice said. "You go to Carrabba's, for example, and all their sauces come in a bag, and their food costs are exactly ı8 percent, or whatever. They don't have a manager that's dedicated enough to do the dishes, so they offer more money than we can afford to compete with."
Rice said Backwoods Bistro has been understaffed for more than a year. Everyone from Rice's front house manager to Rice, himself, has had to pick up the slack washing dishes, seating diners or preparing food.
Most of his employees, Rice said, want to work in the creative environment produced by his revolving menu and farm-to-table concept. He has a strong core staff, but without more help, his most reliable employees have felt the strain.
Still, there is room for optimism.
"What has been so wonderful is that everyone, customers and staff, have been so patient and kind," Goldberg said. "They know what's going on, and we're all in this together. Every day, things are getting better."
---
Making It in the

Hospitality Industry

FSU PC program readies students for management roles
Story by Hannah Burke

Max Imm and Mason Taylor were about a month into their studies as hospitality and tourism management majors at Florida State University Panama City when the pandemic hit.

They and their classmates grew increasingly uneasy as restaurants, resorts and other businesses within the hospitality industry began shutting down. The jobs they one day hoped to secure were disappearing, and no one could predict what might be the long-term repercussions of a global pandemic.

Nonetheless, the FSU PC program, which is part of the internationally acclaimed Dedman College of Hospitality at FSU's main campus in Tallahassee, stayed true to its commitment to providing expert-led education for tomorrow's hospitality workers.

Professors employ Sims-like computer games that enable students to manage their own virtual hotel or restaurant. For an integrated marketing class, Imm and Taylor paired up to create a marketing plan for a bar through comprehensive web research and telephone communications.

"We had to get creative about how we learned and made connections," Taylor said. "But I went into this program knowing that the industry could always fluctuate and, at the end of the day, people were going to resume traveling."

Now an assistant general manager at the Courtyard by Marriott Panama City, Taylor is witnessing a recovery from the worst of the pandemic. Bed tax collections have skyrocketed and now exceed pre-pandemic numbers.

"Business travel is especially booming now, with some people staying for five to six days or three to four weeks at a time," said Taylor, who manages a team of over 20 staff members at the 84-room hotel. "Leisure travel, too. Visit Panama City Beach said they're expecting tourism to double this year, so we're anticipating that."

As an FSU PC student, Taylor satisfied an internship requirement by working at the Sheraton Panama City Beach Golf & Spa Resort. Upon graduating in 20ı7, he landed a job at a Marriott in Pigeon Forge, Tennessee, and was later excited to accept a management position back in Panama City.

Taylor said the program helped prepare him for his current responsibilities, which include overseeing daily operations, maximizing revenue, and hiring and training new associates.

FSU PC's lodging management course, he said, introduced him to Marriott's brand standards and reward programs. And, every week, he utilizes a cost conversions method he picked up from a food and beverage management class.

"It's the personal, one-on-one relationship you get from a smaller campus, where most classes are with the same professor, that helped me connect with the coursework," Taylor said. "Even if I had an online class I was struggling with, I knew there was someone on campus I could go to for help."

The same rings true for Imm, who got a job last spring as an assistant general manager at Drury Inn & Suites St. Louis Brentwood. His new apartment overlooks the Mississippi River and Gateway Arch, and Imm said he's already smitten with the city's food, sports and all that jazz.

"I can honestly say if it wasn't for FSU PC, I'd still be on the docks working for beer money," said Imm, who at one point dropped out of college to become a boat captain in Destin. "I was nervous to come back to school, but from my first class with my instructor Tracee Watkins, I felt at home. The program helped me understand my goals and got me set up with this job. I wouldn't have this view if I never went back."

Imm counts Watkins and FSU PC instructor Joy Saddler as both mentors and friends who continue to support him in his endeavors. Watkins gave Imm a winter coat before he left for Missouri, in which he posed beneath the Arch for a picture and sent it to the two women with a note: "I made it!"

"My biggest takeaway from that program was not the knowledge I gained from books, but from the professors who are industry professionals," he said. "Joy helped develop 30A and Seaside, managing the public works program there for years. Tracee specialized in restaurants. They helped sculpt me and often gave their personal time to help me."

Imm, whose first job at age ı6 was at the Emerald Grande at HarborWalk Village in Destin, said he could finally understand concepts such as average daily rate (ADR) calculations that he had heard about but never really comprehended. He still totes his managerial accounting and revenue management textbooks to work.

"The technical things you learn are invaluable," Imm said. "My job is car counts, budgeting, forecasting and meeting those goals. At my last job, I was even able to implement the predictive ADR calculator I learned about at FSU PC and do forecasting based on those numbers."

Imm said the program gave him an enhanced appreciation for hospitality. Through electives, he learned about innkeeper laws dating back to the Code of Hammurabi and explored the history of international wine, food and culture.

Recently, he "Zoomed" into one of Watkins' classes and was able to share his on-the-job experiences.

"It's cool being able to give back to what I consider one of the best decisions I've ever made," said Imm. "You don't necessarily need a degree to work in hospitality, but mine allowed me to hop, skip and jump into management.

"I'm now able to directly impact people's days with the work I do. From hotels to restaurants, your actions can directly affect somebody's happiness, and what a wholesome aspect of the industry that is."