Pinnacle Awards 2021
Eighth annual event recognizes 12 remarkable women in business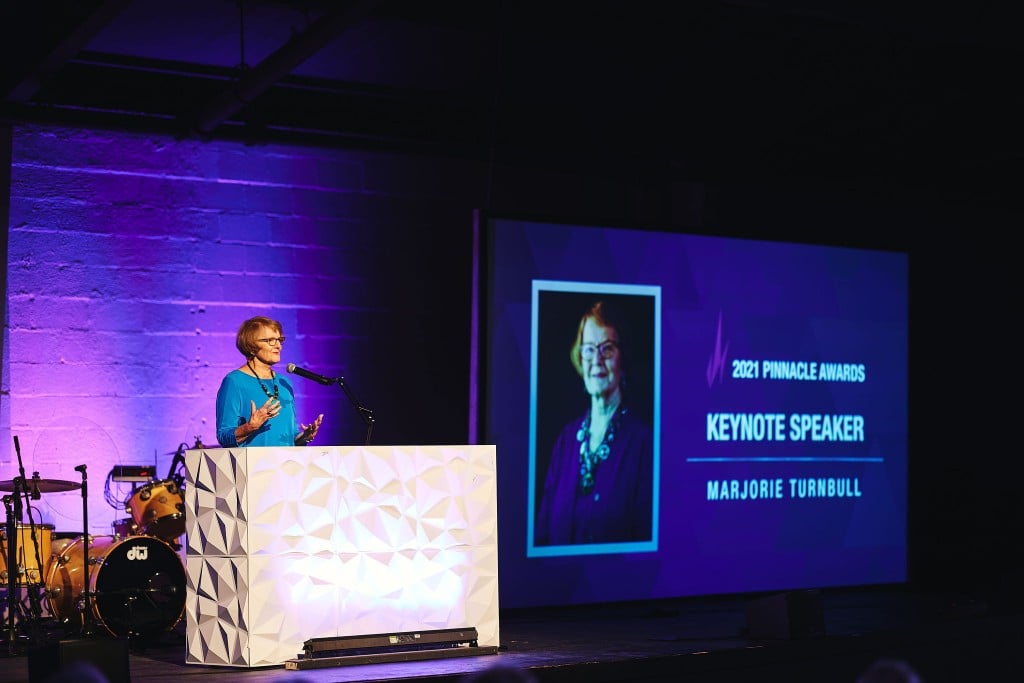 There's an irrepressible energy that occurs when a group of powerful women gather. Recipients, their guests and sponsors assembled in person, while colleagues, friends and family watched virtually — all attendees came together to honor 12 deserving female leaders from throughout Northwest Florida during the eighth annual Pinnacle Awards.
The show's energy was felt both as a comforting hum and an urgent pulse, a phenomenon Steve Bornhoft — executive editor of 850 Business Magazine — would comment on in his opening remarks.
Bornhoft had recently watched the Ken Burns documentary on Muhammad Ali, and he said that the 12 women honored by this year's Pinnacle Awards could, "float like butterflies and are capable of stinging likes bees."
In many ways, this comparison relates back to the plights of these women, who seem to float through life with grace and ease while having the tenacity and courage to fight for their roles as leaders. These traits are what made them Pinnacle Award candidates. The award is given to women with distinguished careers who emerge as accomplished professionals and community assets.
Presented by 850 Business Magazine and Bank of America, the event was held at mid-day on September 23, with attendees gathering safely at Downtown Community Church in Tallahassee while a larger audience joined virtually via Zoom.
In past years, the event has featured a luncheon, but as a result of COVID-19, guests were instead greeted with wrapped homemade treats from Uptown Café, including banana bread, cinnamon rolls and beverages.
McKenzie Burleigh, associate publisher of Rowland Publishing, welcomed those attending both in-person and virtually before turning over the microphone to Bornhoft, who introduced the event sponsors:
"We celebrate women of today," said Bornhoft, "who are moving colleagues, businesses, nonprofits, causes, visions and missions forward. Individually and collectively, these honorees are big deals."
He introduced a woman he and many others admire, keynote speaker Marjorie Turnbull. A past Pinnacle Award winner, Turnbull's career included stints as a county commissioner, a state legislator, a bank director, and executive director of Tallahassee Community College. In 2020, the Turnbull Award was introduced to the Pinnacle Awards to honor an up-and-coming woman sure to make her own mark on the world.
Like the many roles Turnbull has held throughout her life, she spoke on the numerous roles women play and how being mentors is one of the most influential. She said there is no template for leadership, and women must forge paths toward the roles that align with their interests and strengths.
"Receiving the Pinnacle Award is an honor," said Turnbull. "This is a time to share pride in being a woman. Today is a celebration of what women mean to the community."
After thanking Turnbull for her inspiring message, Burleigh shared a montage of pre-recorded videos that congratulated and recognized the winners. Through these heartfelt videos, colleagues, mentors, friends and loved ones shared why each winner was deserving of their award.
This year's 12 Pinnacle Awards winners are:
Susan Dunlap,

United Way of the Big Bend

(posthumously accepted by her daughter, Jessica Dunlap, and colleague, Berneice Cox)

Susan Fiorito,

Florida State University

Beth Corum,

Capital City Bank Group

Julie Montanaro,

WCTV Tallahassee

Kathleen Hudon,

Pensacola State College

Patrice Floyd,

Javacya Arts Conservatory

Rachael Gillette,

Studer Community Institute.

Susan Payne Turner,

Prime Meridian Bank–Tallahassee/Crawfordville/Lakeland

Pam Sutton,

Stone & Sutton, P.A.

The Cyborg Jillian Weise,

Florida State University

Lisa R. Williamson Plano, MD,

Fort Walton Beach Medical Center

Madison Zabala (Turnbull Award),

TC Federal Bank/Tallahassee Picnic
Profiles of all of the honorees will appear in the Winter 2021 edition of 850 Business Magazine.
Each honoree was recognized for her accomplishments, but their work will continue on into the future. We look forward to hearing these names again, watching their work make profitable impacts, and seeing them in future meetings as they add to their legacies.
Video Production by We Are The Workmans