Northwest Florida Economic Summit
Two-day event focused on growth and opportunity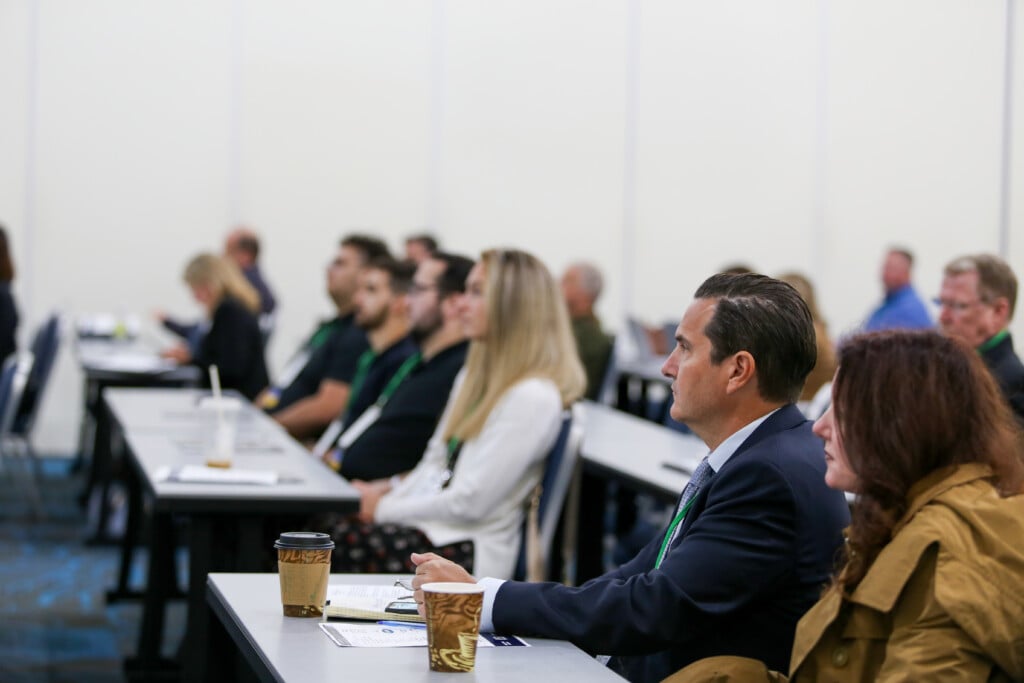 Building on the success of the Milcon and Air Force Contracting Summits held by the Defense Leadership Forum in recent years, the Northwest Florida Leadership Forum, also headed by William Loiry, presented its first ever Northwest Florida Economic Summit in October at the Destin-Fort Walton Beach Convention Center.
The event in many ways resembled Loiry's summits focused on military construction and procurement budgets, but this one encompassed, too, anticipated projects that will result from the $1.2 trillion federal infrastructure bill and the $715 billion federal transportation bill.
The Economic Summit addressed economic development funding and programs, energy and technology initiatives, military contracting opportunities and public-private partnerships while also speaking to Northwest Florida's growth dynamic.
Of particular value to contractors, the Economic Summit provided for one-on-one matchmaking discussions between business people and officials at local, state and federal agencies who are responsible for administering grants and awarding contracts.
The event's keynote speakers were Congressman Neal Dunn, who represents Florida's 2nd Congressional District, and Jennifer Conoley, the president and CEO of Florida's Great Northwest.
Dunn, a member of the House Committee on Energy and Commerce, addressed the summit regarding the fiscal year 2022 Department of Defense budget and anticipated spending in fiscal year 2023. In 2022, 19 percent of the DOD budget or $132.5 billion was reserved for procurement purposes and 16 percent ($112 billion) was earmarked for research and development. Those appropriations, versus far larger budgets reserved for operation and maintenance and military personnel, flow to private-sector businesses.
Dunn emphasized the continuing strategic importance of the Eglin Test and Training Range, which covers approximately 724 square miles of the Florida Panhandle and 120,000 square miles over the Gulf of Mexico. He described the range as irreplaceable. Too, Dunn provided an update on construction of Tyndall Air Force Base, which is being redeveloped at the cost of $5.2 billion as the Air Force "Base of the Future."
Conoley provided a regional perspective on economic diversification and development efforts.
A handful of large public investors stood up Florida's Great Northwest 22 years ago, intending that it serve to encourage businesses to locate and expand their operations in the Florida Panhandle. The economic development organization represents 12 counties: Escambia, Santa Rosa, Okaloosa, Walton, Holmes, Washington, Bay, Jackson, Calhoun, Gulf, Liberty and Franklin.
Its chief aim, Conoley said, remains economic expansion and diversification, but the organization also has arms dedicated to advocacy and community collaboration. It retains a lobbyist, she said, who safeguards the region's interests in Tallahassee, including by seeing to it that $1.5 billion in damages, paid by BP owing to the Deepwater Horizon disaster and designated for eight coastal counties in Northwest Florida, remain in the region.
Conoley counts as her competitors Alabama, Georgia, Mississippi, Louisiana and the Carolinas and said she doesn't like to lose. She spends a lot of time with site selectors, especially those who relate to Florida Great Northwest's targeted industries: aviation, aerospace and defense; cybersecurity; distribution and logistics; and manufacturing.
She pointed to regional assets including its talent ecosystem; a supportive financial environment; transportation infrastructure in the form of ports, airports and highways; and supportive business networks and communities.
Those assets, she noted, have yielded successes ranging from ST Engineering, a maintenance, repair and overhaul operation at Pensacola International Airport to Probes Unlimited, a temperature sensor manufacturer that set up shop with 18 employees in an old middle school building in Bonifay in Holmes County.
The 12-county region can be expected to experience rapid growth in coming years. Citing figures from the Bureau of Economic & Business Research at the University of Florida, Conoley noted that the area's population was projected to grow by 11.3 percent between 2021 and 2025 and by 51.3 percent by 2050.
Conoley was the keynote speaker at Rowland Publishing/850 Business Magazine's 2022 Pinnacle Awards presentation, held in Tallahassee in October.
Rowland Publishing executive editor Steve Bornhoft and associate publisher McKenzie Burleigh participated in an Economic Summit panel focused on the technology sector in the regional economy. Joined by Steve Millaway, the founder/CEO at Tech Farms Capital in Panama City Beach; Vincent Mayfield, the CEO at Bit Wizards in Fort Walton Beach and Keith Bowers, the director of the Office of Economic Vitality in Tallahassee, they discussed vulnerabilities and strengths of the entrepreneurial ecosystem involving tech innovators in Northwest Florida.
Their conclusion: The future is bright.
With all of that growth, of course, come growing pains.
Megan Harrison, the CEO at the Walton Area Chamber of Commerce, and Bill Imfeld, the executive director of the Walton County Economic Development Alliance, spoke to the need for affordable housing, daycare centers, roads and mass transit in Walton County, which is the second fastest growing county in the state and home to Florida's fastest growing city by some measures, Freeport.
The Northwest Florida Summit, then, provided an insightful look into the growth that will inevitably visit the region, the impacts that it will bring and ways in which businesses can position themselves to take advantage of what's next.
Find out about more Defense Leadership Forum initiatives, as well as all upcoming summit and networking events, by visiting usdlf.org.