Motorcycle rallies buoy Panama City Beach's shoulder seasons
Thunder Beach roars into town twice a year, bringing plenty of friendly bikers and lots of cash to local businesses.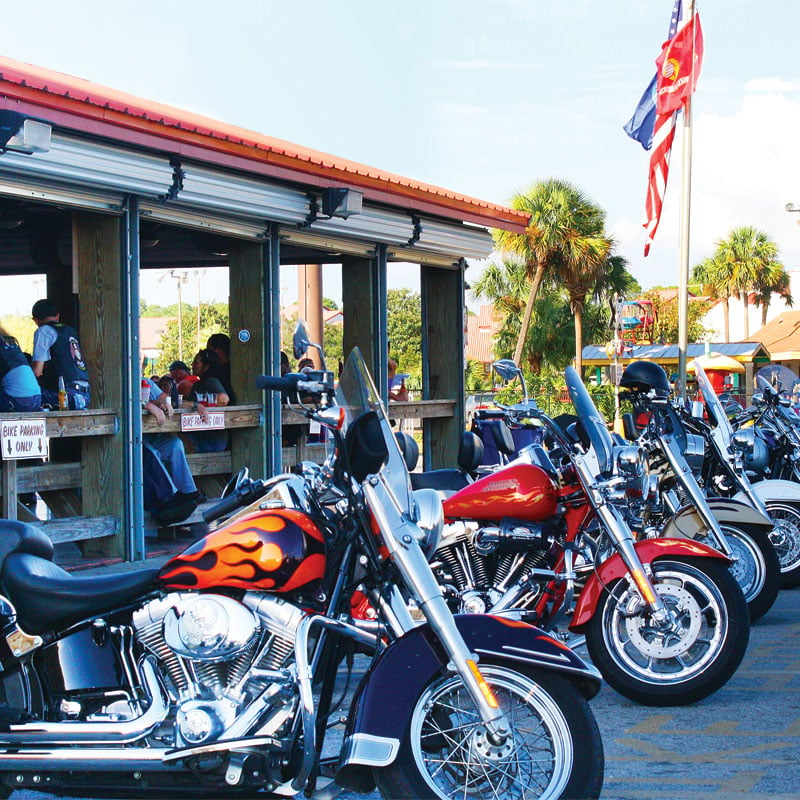 They arrive twice each year, in the spring and again in the fall, some traveling singly and others in pairs, as, uniformly dressed in black, they fill the tourist corridors of Panama City Beach.
We refer not to love bugs, those inescapable insects whose bodily juices undo automotive paint jobs and whose attachments are anthropomorphically seen to be emotional. Rather, we refer to the bikers of Thunder Beach, whose contributions to the local economy are almost universally seen to be worth the rumble.
In some, including an employee who works a register at Express Lane No. 44 a couple of blocks off the Gulf of Mexico, the riders even inspire jealousy. Turning to a familiar customer for whom she has pulled down two packs of discount cigarettes, she confesses, "I am always envious this time of year. My vehicle has four wheels, and it doesn't go very fast."
"I know what you mean," the smoker replies. "I like the wind in my face, too. But I also like to be able to get to sleep at three in the morning."
The fall 2012 edition of a recurring tropical disturbance formally known as the Thunder Beach Motorcycle Rally has downshifted into town. Bikers began to trickle in at midweek, but that presence of a few meant that a swarm was sure to follow.
Now at the weekend, Thunder Beach is full throttle and in full throat. To city leaders, tourism industry officials, hoteliers, restaurateurs and the proprietors of watering holes newly accessorized with bikini bike washes, it sounds like money.
"We systematically made decisions about who we wanted our audience to be," says Joe Biggs, the president of Thunder Beach Productions. "Not that we're prejudiced, but we wanted to avoid the 1 percent of riders, certain motorcycle clubs, that are likely to create trouble. To do so, we have targeted an affluent demographic."
That is, people who have no interest in camping out, unless in a tricked-out RV, who eat three meals a day in restaurants while on vacation and who have the capacity to return to the beach at other times of the year, with their kids and without their leathers.
"Our target audience is the same as the Harley-Davidson target — mature, well-established people, 35 to 65," points out Biggs, who owns a direct-mail business in Tallahassee. "Those who try to appeal to a greater cross-section of riders are likely to have more issues. My goal is to bring in an audience that will spend as much money in market as possible with as little disruption as possible."
To that end, Biggs has worked to establish and maintain close communication with both the Panama City Beach Police Department and the Bay County Sheriff's Office.
Drew Whitman, Panama City Beach's police chief, a motorcyclist both on and off the job, finds that rally-goers may occasion a few complaints due to excessive revving of engines or bikes cutting through residential neighborhoods, but he credits Thunder Beach riders with policing themselves well.
"We're talking about an older crowd, people with money, who watch one another's backs," Whitman says.
Throughout rally weekend, Beach Police who are stationed in a trailer at Frank Brown Park, Thunder Beach's largest venue, dispense information on local laws and advice on how best to get along with the community. But the rally weekend is otherwise business as usual. While they have the discretion to do so, shift supervisors will not find it necessary to authorize any overtime hours.
"It's good business," Whitman says in summing up the rally.
Precisely how much business is hard to say. It's impossible to segregate bed tax revenues attributable to Thunder Beach because rally venues are free and not gated.
"We do know the impact is substantial, equating to many millions of dollars, especially in the spring," Biggs says. "It used to be that hoteliers on Panama City Beach would move to their summer rates at Memorial Day. Now, the seasonal rates kick in with our rally in early May."
Meanwhile, Thunder Beach has started to become a victim of its own success.
The rallies are sustained by three revenue streams: advertising on its website, vendor space rental and the sale of official merchandise. Businesses that Biggs dismisses as "bottom feeders" have emerged as sellers of T-shirts designed to look like the real deal, affecting one of those streams.
Too, Biggs has found that lodging establishments who know that they will be full during rally weekends regardless as to whether they participate as a Thunder Beach advertiser, get around to not advertising, affecting another stream. Biggs hopes now to replace local advertising dollars with national accounts: Geico, Progressive, Jack Daniels, Budweiser.
"For me, Thunder Beach is a passion," says Biggs, who is an avid biker. "It's not about the money. It's about growing a quality event for vendors, the community and participants. But I'm not a public service. Some people think the rallies occur organically, that they just happen. I'm here to tell you; that's not the case."
Kickstarting Thunder Beach in the first place wasn't easy.
It originated in 1999 as a modest get-together founded by a group of bikers from Macon, Ga., with a Panama City Beach habit. The "Bike and Beach Bash" was staged at the Sandpiper Beacon Beach Resort, a property with a reputation for biker friendliness. The fledgling event was enough to attract the attention of Bob Hopper, then the assistant director of the Bay County Tourist Development Council, who believed that a motorcycle rally might flourish on the "World's Most Beautiful Beaches."
The TDC contracted with a couple of promoters to advance Hopper's vision, and the first Thunder Beach rally was conducted in the spring of 2000. About 2,500 bikers, many of them local, participated. (Attendance was easily calculated at the time.) But mistakes were made. The rally took place over nine days, including two weekends. The support required by an event of that length wasn't there.
Biggs fell in with the promoters in connection with an event, Blues on the Beach, held during the Labor Day weekend in 2000. It bombed. Biggs didn't get his investment back, but he strong-armed the dubious promoters into awarding him Thunder Beach.
In the spring of 2001, Biggs tried to make the nine-day format work. He struggled. In the fall, he brought about a gated camp-in at a drag strip north of Panama City and secured professional Harley dragsters as entertainment. The event was overshadowed by 9/11, the turnout was slight and Biggs entertained thoughts of bailing on Thunder Beach.
Before doing so, however, he resolved to try a free, three-day event closer to the water.
"I looked around for a venue and hooked up with the property manager at the Shoppes at Edgewater in 2002," Biggs recalls. Ever since, that location has served as the Thunder Beach welcome center. "Our spring event that year was fairly successful. Feedback was positive, the audience was bigger and I figured we were onto something that made sense."
Thunder Beach began to add more venues — the Spinnaker Beach Club, the Boardwalk Beach Resort. Marketed through its first successful years primarily via motorcycle magazines (and now increasingly via social media and word of mouth), the whimper grew to a roar. The training wheels were off.
Soon, Thunder Beach will have outlived an unwanted distinction as the only motorcycle rally of consequence in the country hosted by a community without a Harley dealership.
Groundbreaking ceremonies for a dealership on U.S. Highway 98 at a five-acre site not far from Frank Brown Park coincided with the fall 2012 Thunder Beach rally. Beth Oltman, then executive director of the Panama City Beach Chamber of Commerce, was there.
"October 12th was a groundbreaking day," Oltman says, then acknowledges her unintended pun. "For years, Harley-Davidson dealt with economic, environmental and regulatory hurdles on their way to project feasibility and approval. This dealership is a great fit with our demographics. Our spring and fall Thunder Beach rallies are going to be bigger because of it. Throughout the year, people will come from throughout the region to learn to ride here, buy their bikes here and have them serviced here."
Gary Bang, a co-owner of the soon-to-be dealership and vice president of the Tampa Harley Group, says Panama City Beach appealed to him given its "strong promise of population and economic growth and a growing tourism industry." He is confident that the business, including 38,000 square feet of retail space and service bays, will attract riders from throughout the world to vacation in Northwest Florida. Construction is expected to be complete in April 2013.
Biggs is, of course, delighted, anticipating that Harley's impact will make his pursuit of national advertisers easier and that it may be enough to make both his spring and fall rallies profitable. Thus far, he has found it necessary to rob from Peter to pay fall. In 2012, the spring rally attracted 200 vendors versus the 145 who participated in October.
Some things will not change, however. Biggs will continue to promote an event that attracts lots of characters without bringing around any bad actors.
At the welcome center for the fall 2012 rally, there are more ponytails than exist in the whole of Marion County, but there is not an Outlaw or a Hell's Angel to be found. Quite to the contrary, one finds Terry Gable, a fixture at these events and the president of the Panama City chapter of the Christian Motorcyclists Association. He stands before his Kicker 5150 motorcycle, which he built from a kit shipped in four boxes. On its gas tank, he has painted crosses.
"For the biker who may be lost, we are here when he decides he needs us," says Gable, a Lockheed Martin engineer Monday through Friday. "We're not in your face. We will wait for you to raise a hand."
Gable is joined at the CMA booth by Scott Cagle, who introduces himself this way: "I'm Scott, I coached high school football for 34 years in Fort Worth, Texas, and don't you know every little town in Texas has two things — a Dairy Queen and a recruiter from the University of Oklahoma."
Cagle finds that many of the riders who approach CMA have been ostracized or otherwise judged by organized religion.
"Here, everyone is welcome," he says.
There is room beneath the big Thunder Beach tent for Ben Collins, too. He retired from the Air Force after 20 years and is today a gun-seller and the assistant rabban at the local Shrine Temple.
He's back at Frank Brown Park for another rally, retrieving beers from an ice bath. Standing in front of him on an impromptu platform is Lindsey, an FSU-Panama City student clad in heels, a bikini and a floral tattoo that takes up most of her torso. Lindsey is working for tips, and 100 percent of the beer proceeds go to the Shriners' Children's Transportation Fund.
When interviewed, the presidential election was not far off and Collins was of two minds about it. An Obama victory might be good for business, he reasoned, but Collins is no Democrat. More people, he says, need to recognize the need to arm themselves.
But no one here at the park is packing heat, at least not outwardly, and Lindsey, who identifies herself as a newlywed, feels completely safe.
"Even my husband is good with this," she says. "Everyone here is so nice."
Just the way Biggs drew it up.