Moms Turn This Hobby Into a Money-Making Business
Mommy Bloggers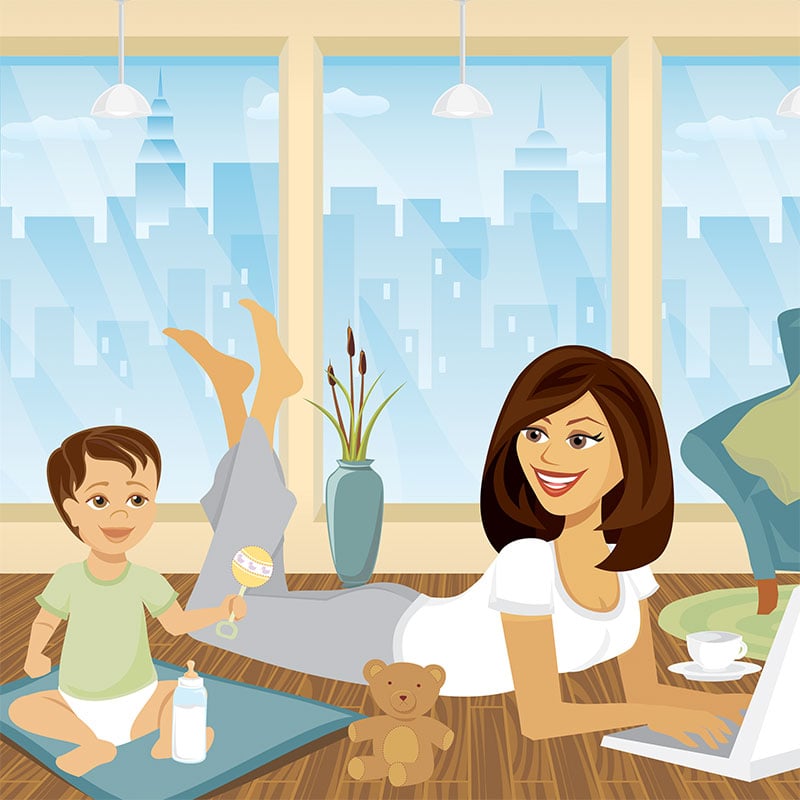 Eight years ago, Brandi Best started a simple blog to vent about the sometimes crazy-making experiences of being a stay-at-home mom with five kids.
Life with Five Monkies was her quiet corner of the Internet, a social outlet where she could share a little about motherhood — including her newborn twins — and have conversations with other adults. As she puts it, she was "just kinda ramblin' and learning how to write again."
But then she discovered the business side of mommy blogging, and her new hobby quickly turned into a vocation. And it's easy to understand why — the business has little start-up cost, pays well if you're willing to work hard and has great perks, such as free trips to Hollywood movie premieres and meetings with major celebrities.
Today, Best is one of a handful of mommy bloggers in the Florida Panhandle who make a full-time living promoting brands like Disney and Toyota to readers who depend on them in making purchasing decisions.
They are the influencers.
'A More Powerful Experience'
Advice from the Experts
What is your best advice to anyone, not just moms, thinking about starting a blog?
---
Brandi Best, fivemonkies.com
Write about what you're passionate about. Whether it's food, family, products you use, or entertainment. Write what feels natural. Decide early if you are going for a long-term goal of making an income. If you are, buy your domain name and url! Make sure your social media channels are similar, preferably the same, as your blog name.
Mommy blogging is basically what it sounds like: mothers writing about their experiences raising children and managing households. When they first started becoming popular in the mid-2000s, the blogs tended to be journal-like but over time have evolved to focus more on kid- and family-oriented products.
The significance of mommy blogs is in the way they can influence consumer spending. Marketing research has consistently shown that women make or heavily influence the majority of purchasing decisions in a household. And what helps inform their decisions? According to a 2012 survey by online platform BlogHer, at least half of the participants reported making purchasing decisions based on something they read on a blog.
Shannon Colavecchio, senior director at Moore Communications Group in Tallahassee, has worked with mommy bloggers on successful campaigns for clients such as the Florida Prepaid College Board. She said their strength is in the connection that they can make with readers.
Being a mom is a very personal thing, she said, and bloggers and readers bond over their shared experiences in motherhood. Frequent readers see a mother going through the same things they do and begin to feel as if they really know the blogger. So when the blogger recommends a product, it carries more weight than if it was coming from a stranger.
"It's a much more powerful experience" than seeing an ad or a booth at an event, Colavecchio said.
Turning a Profit
Market research commissioned by H&R Block puts the estimated number of mommy blogs in the United States at about 4 million. But only a few thousand of them are likely to turn a profit.
What makes the difference?
Advice from the Experts
---
Ashley Langston,
frugalcouponliving.com
Considering starting a blog? Find something you are passionate about and go from there. Blogs need to inspire not only your readers but also you! What would you blog about for free?… and if the money comes following your starting point, then great!
"You can play office all day long and not make any money," said Pensacola mom blogger Lynsey Jones, who writes at MoscatoMom.com and also teaches other moms how to blog. To be successful, "you have to treat it like a business. What you put into it is literally what you're going to get out of it."
Jones said mommy bloggers have to focus on the "profit-producing activities" — writing useful and compelling content, growing traffic through the use of proper search-engine optimization and making strategic pitches to brands.
Mommy bloggers typically start off doing reviews in exchange for free products, then gradually add revenue streams such as advertising or affiliate links to their blogs. The most profitable option for mommy bloggers is sponsored content, in which brands pay them to write about specific products, product lines or promotional campaigns.
Depending on a blog's audience size and social media influence, payment for sponsored content can range from $25 per post all the way up to $2,000 or more for some of the top blogs.
It can be a fine line to walk, giving truthful reviews of products while not alienating the paying clients. Most of the bloggers said they deal with that by sticking to products they trust and already use. Regardless, they have to be careful to maintain readers' trust — and meet Federal Trade Commission regulations governing compensated bloggers.
"It's expected that we give our honest opinion about stuff," Jones said. "The brand is taking a little bit of a risk … even if there's a payment, we're going to give our honest opinion."
Getting Into the Mommy Blog Business
Best said she started by partnering with small mom-and-pop Etsy shop owners to do blog giveaways. Once she had an audience, she pitched Suave and started writing reviews of the brand's hair care products.
Advice from the Experts
---
Lynsey Jones, moscatomom.com
If you treat your blog like a business, it will pay you like one. Do not be afraid to reach for the stars — they are closer than you think!
That led to other opportunities — including a promo with Honey Nut Cheerios that got her face on a cereal box — and eventually to writing sponsored content for brands such as Disney and Nutrisystem. She also integrated display ads into her blog.
Even after taking an extended period of time off because of a death in the family, she is still seeing year-over-year revenue growth from her blog, she said from her home near Panama City.
"It kind of evolved," she said. "But it was a lot of work, and a lot of hours spent in front of a computer screen."
Sometimes the success is more sudden.
Ashley Langston was a fifth-grade teacher on maternity leave from Gilchrist Elementary in Tallahassee when she started her blog in 2008.
She called it Frugal Coupon Mom, and at first, it was open only to family and friends who'd asked her to share how she saved so much money on groceries and drugstore items.
Two months after making the blog public, U.S. News & World Report wrote a profile that referred to her as a "coupon master." The next week, she was invited to go on the "Dr. Phil" show to talk about grocery budgeting.
"I didn't seek it out, it just fell in my lap," she said.
The content evolved with her as her children began to grow and her own life circumstances changed. She updated the name of the blog to Frugal Coupon Living and moved away from groceries to more online shopping, such as a jeans promotion she worked on with Target. By 2011, the blog was her full-time job.
However, "in my heart, it's still very much a hobby for me," said Langston, who remarried and moved to Washington, D.C., several months ago. "I enjoy the work."
She echoes Jones and Best about the work that mommy blogging requires. For example, she doesn't spend much time on Thanksgiving with her family because she has to get the blog ready for Black Friday, she said.
That's why it's important for mom bloggers to pick a niche — clothes, cooking, green living, entertainment — they really enjoy.
"Expect to work full time, expect to work for free (at first) and don't quit your day job," she said. "Write and do something you love, because if you aren't doing something you love, you aren't going to have the passion to do the work."
Blogging Has Its Perks
With the right niche, the perks can be exciting.
Best said Disney flew her to Los Angeles for the premiere of the movie "Tomorrowland," where she met George Clooney.
"That was probably the highlight of my blogging career so far," she said.
Advice from the Experts
---
Lynsey Jones, moscatomom.com
If you treat your blog like a business, it will pay you like one. Do not be afraid to reach for the stars — they are closer than you think!
And apparently that's not an uncommon experience for mommy bloggers.
Navarre blogger Toni Patton writes about family-oriented lifestyle products, particularly travel and entertainment, on her blog, JustStopScreaming.com. Thanks to sponsors, she's stayed at an all-inclusive resort in Mexico, ridden a Mardi Gras float for Universal Orlando, and visited the set while "Captain America: The Winter Soldier" was being filmed. She's also interviewed numerous celebrities, including Chris Pratt and Angelina Jolie Pitt.
"I love being able to travel, and (the blog) opened doors that probably wouldn't have been opened without blogging," she said. "It's a lot of work when we get home, but it's worth it if that's what you enjoy."
It's been the same for Jones, the Moscato Mom, from L.A. movie premieres to behind-the-scenes tours of Kennedy Space Center.
"Not every benefit to blogging has a dollar amount attached to it," she said.
Brands are willing to spend money on sponsored content and foot the bill for trips like these because of the bang they get for their buck, according to Colavecchio.
One of the main advantages from mommy bloggers, aside from the personal connection they have with readers, is the measurability. Brands can see exactly how many visitors read a blog post and, through social media tools, how many people shared that information. They also can see real-time reactions to promotional campaigns.
Colavecchio offered this recent example: Her firm conducted a Twitter chat with seven bloggers about a client's promotional campaign. The chat lasted 90 minutes and generated more than 500,000 "impressions" — a measurement of tweets delivered to eyeballs — in that time. Feedback was immediate, and the brand knew right away what people were saying about the campaign.
Compare that to spending considerably more on advertising and never knowing who sees it, Colavecchio said.
"If I'm Reebok and I have $30,000 to spend, think about how much further that can go if I invest that in an army of bloggers versus spending that on ads," Colavecchio said. "Businesses are starting to see that when they spend that money through bloggers, they have a huge reach, and it really amplifies itself."