Maximizing Synergies
Although easily overlooked by most residents, research and technology are economic drivers in Tallahassee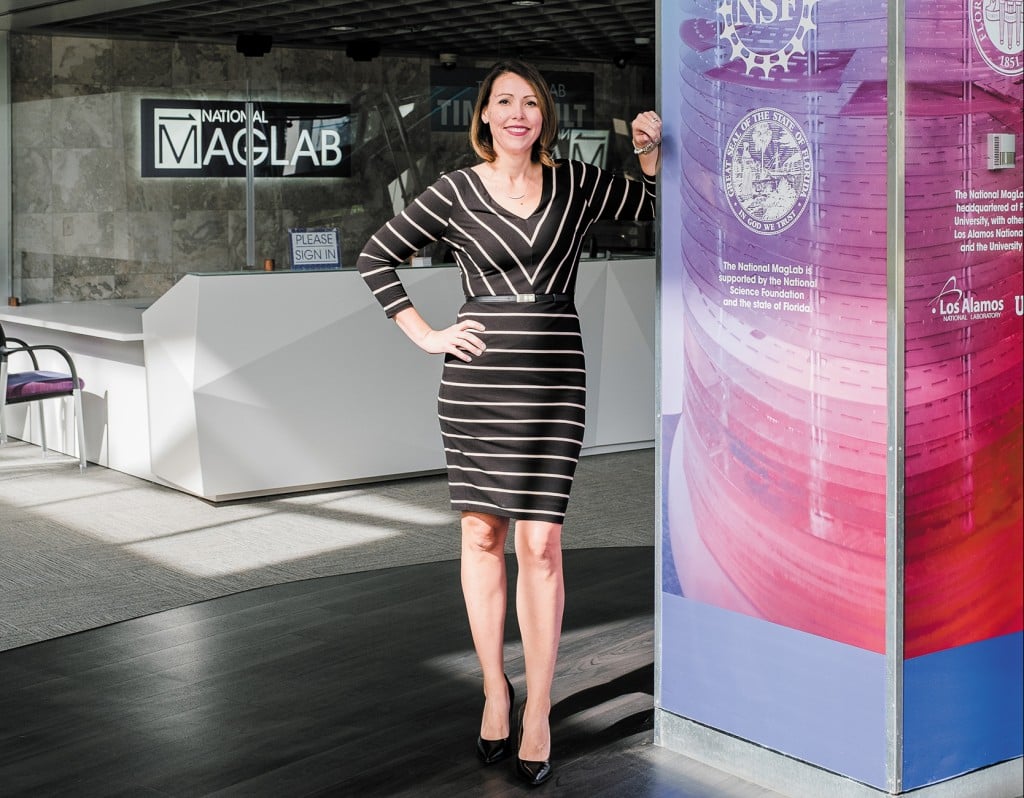 Cristina Paredes is the director of the Leon County/Tallahassee Office of Economic Vitality, established in 20ı6 to be a catalyst to entrepreneurship. It has programs to welcome new businesses of any size, recognizing that getting operations established in a new location can be a challenge.
"You want someone to open the front door and introduce you to people that you know," Paredes said, "and we help make those introductions."
Whether it's breaking ground on new construction or providing space for small innovative companies, the OEV has resources available for entrepreneurs interested in moving to the region.
They provide information on how to obtain local, state and federal incentives that minimize the costs of doing business in Tallahassee and can provide technical assistance in procuring the capital necessary to launch new businesses and grow existing companies. Their team is equipped with state-of-the-art technologies to aid clients in selecting the optimal location for their business, based on real estate trends and consumer spending patterns.
"Research is the bunt that hopefully gets you that run," Paredes, a baseball fan, said about innovation and business development.
She has worked with startups, including Sensatek and QuarryBio, to help facilitate a smooth transition out of research and development and into successful product development. The OEV helped procure funds for North Florida Innovation Labs for expansion of their business incubator.
Her offices also work with larger corporations looking to expand here.
"We have put a lot of momentum behind our 'Magnetic Capital of the World' campaign," Paredes said, noting six projects in the pipeline in applied sciences and technology. Under the leadership of Ricardo Schneider, Danfoss Turbocor has broken ground on their third expansion in Tallahassee. The latest addition to the international energy-technology giant's local operations will create 230 new jobs in the area of manufacturing, as well as engineering and research.
But it's the synergy between companies and research facilities that will push Tallahassee to the next level as a center for technological advancements and business development. Paredes said that Schneider and Prof. Gregory Boebinger, the director of the National High Magnetic Field Laboratory,
"… have been huge advocates on how industry and research can work together to anchor here in Tallahassee."
Technology is not the only area of interest for Paredes. Recently, OEV picked up a few distribution and logistics-based projects. With I-ı0 cutting through the capital city, Paredes considers Tallahassee a "logistical wheel" with quick access into South Georgia and to ports in Jacksonville and Pensacola. Being centrally located in Northern Florida has made Tallahassee an ideal hub for many distribution companies, most notably the Amazon Fulfillment Center, which is slated to finish development in 2022.
Amazon will be adding close to ı,000 jobs to the region. While many businesses are struggling to fill jobs in the service industry, Paredes remains optimistic about the opportunities Amazon will bring to the region.
"People and capital move, but place doesn't. So making Tallahassee a great place that keeps human resources here will help attract and grow your workforce," Paredes said, adding that over the last ı8 months, Tallahassee has seen wages grow, making jobs more attractive and driving people into vacancies.
The Amazon Fulfillment Center will offer a starting wage of at least $ı5 an hour and employee benefits, including educational and advancement opportunities after one year of employment. Currently, the OEV is discussing potential partnerships with Lively and TCC to "upskill" these jobs.
"Amazon shouldn't be your main highway, it should just be your ramp to your main highway," Paredes said. In the Tallahassee area, 56 percent of people have a liberal arts degree or higher, so low-skilled labor positions are seen as a stepping stones. The recruitment campaign will focus on attracting young, eager workers, looking to use the entry-level jobs at the fulfillment center as a lowest rung on their climb to the top of their ideal career ladder.
Of all the exciting new projects on her desk, Cristina is most excited about the "Love Your Local" campaign, which encourages community support of local businesses. During the holiday season, the OEV works to promote locally owned retailers as a first option for shoppers.
The campaign has attracted widespread attention, winning the OEV an award from the International Economic Development Conference.
The campaign highlights local establishments with signage in their windows and is a favorite initiative for Paredes.
It encourages everyone to "step out and experience a locally owned company," she said.