Managed IT
Bit-Wizards brings the tech magic to keep you competitive and streamlined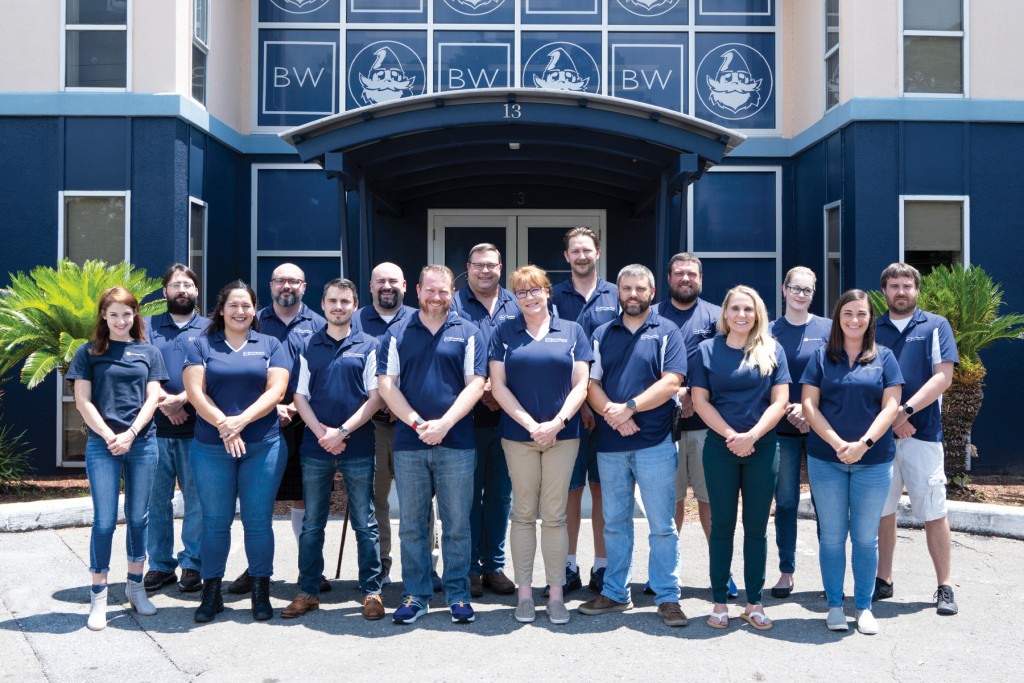 In today's competitive business market, every company is a technology company. Bit-Wizards doesn't want to be a mere vendor. This Fort Walton Beach technology company wants to be in the trenches handling the complex and continuously changing technology landscape so you can focus on what you do best: run your business and service your customers.
"We're looking to get into the details with our clients to figure out what makes their business tick," says Jason Monroe, Associate Director of Solutions Delivery for Bit-Wizards. "We are an extension of their company operating as their IT department, but we're also their technology partners."
A traditional "break/fix" information technology (IT) approach is no longer competitive. Today's constantly changing business needs to dictate a proactive and continuous approach to IT called Managed IT. Like keeping your house well maintained, managed IT operates on a principle of iterative monitoring and inspection, preventive maintenance, proactive security, and defensive backup and recovery strategies, combined with a well-oiled IT Help Desk.
Bit-Wizards utilizes best-in-class cloud and on-premises hardware and software services based on Fortune 2000 company best practices. Their offering is priced and tailored to meet the needs of small, medium and large businesses, all receiving the same high-level service and commercial, enterprise-grade equipment installed by a team of technology experts.
What can you expect when you retain Bit-Wizards for Managed IT services?
After Monroe and his team of technical Wizards do a deep dive into your business to understand your needs and form a plan to address them, they set up a structure to monitor your systems in real-time. The overarching goal is to ensure you have seamless and secure business operations — every day.
Part of their protocol is to ensure that you back up your computers regularly; you have an enterprise-grade firewall and servers secured with proper antivirus protection. They provide your employees with the latest commercial-grade email and productivity suites. On top of that, they will connect you to their 24-7 Bit-Wizards Help Desk. Think of it as a speed dial for when Outlook is offline, PowerPoint is not producing and the printer is kaput.
"We are very intentional about our services," says Samuel Blowes, Director of IT for Bit-Wizards. "Once we understand how a client's business runs and what it is they're trying to accomplish, then we tailor our solution within a core framework to meet their needs."
Meeting and exceeding business needs is precisely what Bit-Wizards did locally for Kitchen & Bath Center. Kitchen & Bath Center has several locations across Northwest Florida, and the owner initially engaged Bit-Wizards to get its network running smoothly. Unfortunately, their network was slow and intermittent, causing problems sharing files and servicing customers. Over time, their network evolved and was not built to service multiple locations with limited bandwidth. Partnering with Bit-Wizards resulted in immediate and dramatic improvements to their sales, customer service and delivery.
Now Kitchen & Bath Center has a proactive approach to its IT, keeping the entire company connected, allowing them to do what they do best — deliver spectacular kitchen and bathroom solutions to their customers.
"Kitchen & Bath's success demonstrates the value of IT operating from a business point of view," says CEO Vincent Mayfield. "The goal of our Managed IT service is to offer IT management from a holistic and proactive view. Most importantly, they are happy customers, utilizing our services for nearly a decade."
Today, IT is essential to every business. That said, Bit-Wizards clearly understands that few of us went into business to deal with the pains of technology — technology is an enabler. Bit-Wizards wants more for you and your business.
"We want to be our clients' Chief Technology Officer," Blowes explains. "So, when it comes time to make decisions to grow the business, they have someone available to guide them and help plan out these changes within their day-to-day operations so that they can focus on their business, not IT headaches."
Bit-Wizards
13 Memorial Parkway SW, Fort Walton Beach|BitWizards.com|(850) 226-4200