Icons of the Photo Business
Bob and Gail Knight have created millions of memories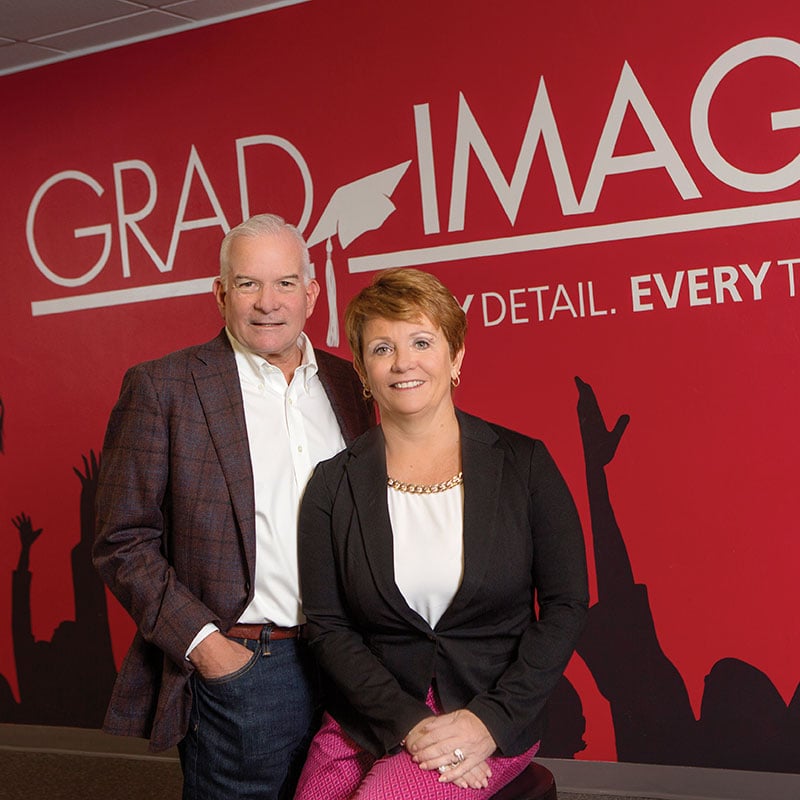 Anyone graduating from a Florida high school or college or crossing the finish line at one of the world's prestigious endurance races — or simply placing a child on Santa's lap at the mall — is probably doing business with Gail and Bob Knight.
For 40 years, the Knights' firm has photographed iconic events in people's lives and captured the pride, excitement and drama of those defining moments. What started with Bob Knight photographing sorority parties for beer money as a Florida State University freshman has grown into a multimillion-dollar company, now known as Iconic Group. It provides professional photography services at 10,000 events worldwide and takes 53 million consumer images per year.
The company's beginnings were modest. With only a Minolta SLR camera, one flash unit, 20 rolls of film and a $5,000 loan from his dad, Bob's first big job was sorority bid day in 1976. He ran his business, known as Bob Knight Photo (BKP), from his one-bedroom apartment near campus and sorted photos on his coffee table.
His business quickly expanded to six other college campuses throughout Florida.
In 1977, Knight approached Leon High School's principal about photographing its commencement.
"At the time, no one was doing that," he remembers. "There were plenty of portraits but no graduation pics."
The principal loved the idea, but Knight had to figure out how to do it. He says he and his "intrepid team" figured out how to run 100 yards of electrical extension cords out to two cameras in the middle of the football field where commencement would take place. The photographer would shoot and change cameras while the other one was reloaded.
"It worked," Knight says. "It was wildly successful. Parents loved it."
Today, his company is the world's largest commencement photography business, with 77 percent market share of Florida high schools and 96 percent market share of Florida colleges, as well as substantial market share all over the country.
In 1979, Knight began dating Gail Fitzgerald. She graduated from FSU in 1982 with an accounting degree, then moved to Miami, where she worked with Peat Marwick Mitchell & Co. and became a Certified Public Accountant. Gail returned to Tallahassee in 1983 and married Bob the following year.
"At this time, BKP was doing $2 million in revenue, shooting 100,000 graduates," Gail Knight says. In January 1985, Gail Knight left the local accounting firm she was working for and joined BKP full time.
"We had vowed we would never put all our eggs in one basket," Bob Knight recalls. "We didn't know how long this gig would last. We thought it might be a house of cards and any moment come falling down. For both of us to be in this fledgling business was risky."
But the risk paid off. BKP rapidly expanded through the 1980s and '90s and became a solid regional firm.
Bob Knight says the best advice he was given was to find that one thing he was really good at and do that one thing better than anybody in the world.
"That really helped us focus," he says. "My business is all about large volumes of pictures for large volumes of people, no family pictures or portraits. If you have 5,000 people and you need them all photographed and identified and products sent out in a short period of time, that was what we were good at."
In 1986, those abilities landed BKP the opportunity to work with the Walt Disney Company. The company was hired to photograph Disney's Grad Night. Over a four-night period, BKP photographed 12,000 students a night and mailed the photos within 48 hours. BKP then took on Disney's Cast Christmas party and ticketed events such as Mickey's Very Merry Christmas Party and Mother's Day at Epcot.
For 15 years, Disney was BKP's single biggest client. Annual revenues were $500,000.
"(Disney's) Michael Eisner sent us a letter when we crossed the 2 million photo mark," Bob Knight recalls. "We were adding them up like McDonalds' (hamburgers)."
In 2005, the Knights purchased a California graduation photography business.
"We were then shooting 300,000 graduates and were a $10 million firm," Bob Knight says.
The couple soon realized that future growth would have to come through acquisitions.
"But every time we bought, Bob and Gail were on the line and as we went on, we realized we didn't want to risk everything we had on these acquisitions," Gail Knight explained.
So they began looking into private equity investment, with the goal of taking on acquisitions but using someone else's money. Their new private equity partners recapitalized their business by buying BKP.
"BKP sold in March of 2007 and Event Photography Group (EPG) was born on the same day. That allowed us to buy the rest of the country," Gail Knight says. "Within three months of that deal, we had more than doubled the size of our portfolio because we bought two key businesses, the biggest ones in the country, with the help of our private equity friends.
"Now instead of 300,000 graduates, we had 1.4 million graduates, all within that first year, which made selling Bob Knight Photo look pretty smart."
Between 2007 and 2013, EPG purchased 15 other firms. Gail Knight was heavily involved in the accounting process and Bob Knight in the acquisitions.
One of those acquisitions was MarathonFoto, the largest endurance-race photo-graphy company in the world. Another is WorldWide Photography, which sends 600 naturally bearded Santas to malls in 48 states. These brands join GradImages and University Photo.
"Gail and I are still major stockholders," Bob Knight says. "We replaced ourselves in 2013, and that was always the goal, to put management in place so we could step away. One day we woke up and we had done it. It was like, 'OK, clean out your desk.'"
The Knights still sit on the board, and Bob Knight walks through the Tallahassee office about once a week on behalf of the board, to see how things are going. Most of BKP's management team remains with the company, now called Iconic Group. A new CEO, Denise Conroy, was recently brought on to lead it.
"Bob and Gail's partnership and marriage is legendary and has left an indelible mark on Iconic Group's business, even to this day," Conroy says. "From the moment you walk into our Tallahassee office, you feel their presence. They're the perfect combination of 'left brain/right brain,' with Bob building the foundation for the business' sales and marketing ethos and Gail complementing that with her financial acumen and analytical genius. They continue to advise and propel our business forward."
When Bob Knight steps back to reflect on the birth and growth of the business as objectively as he can, he admits, "It is an amazing story. We had a lot of help along the way and we had some great people working for us, some really smart people. It wasn't just me and Gail, it was the team that Gail and I were able to put together that was key."